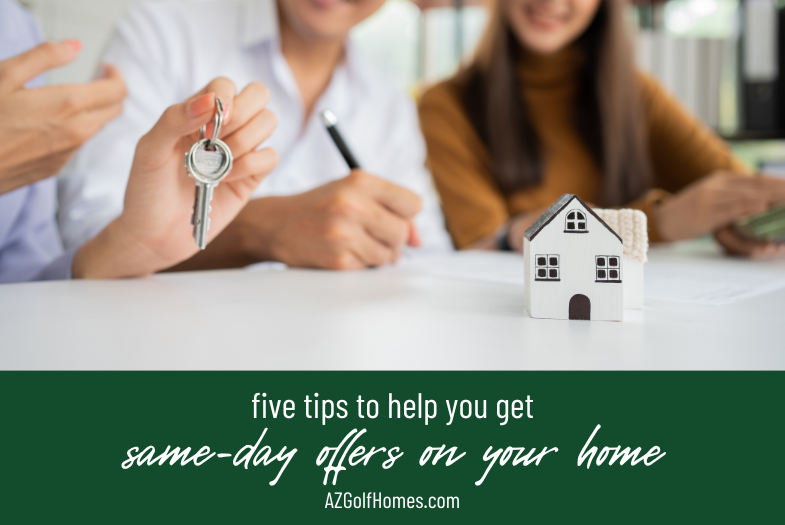 Selling your home is a big task – and you know that getting it ready for showings is more than half the battle. But even when people meticulously prepare their homes for sale, sometimes they sit, unsold, for weeks. Is there anything you can do to encourage buyers to make an offer the day you list (or even the same day they tour)?
Absolutely! This guide covers five things you can do to get buyers to make a same-day offer on your home.
5 Things You Can Do to Get Buyers to Make a Same-Day Offer
Check out five things you can do to help buyers get excited about your home – so excited that they may even make an offer right after seeing your home:
Price your home properly according to your real estate agent's guidance
Clear out clutter
Style every room to create maximum impact
Clear out pets and their belongings
Make sure people feel comfortable in your home, from temperature to lighting
Here's a closer look at each.
Tip #1 to Encourage Buyers to Make a Same-Day Offer: Price Your Home Properly According to Your Real Estate Agent's Guidance
You've probably heard that pricing your home too high is a mistake. Buyers will see it as overpriced, and worse, they'll compare it to other, properly priced homes; that means your home is going to come up short.
Still, you should ask a fair price for your home. The best way to do that is to talk to your real estate agent, who will perform a comparative market analysis, or CMA. A CMA is a snapshot of the prices of similar homes in your area that have recently sold, those that are currently on the market, and those that were on the market but were withdrawn without selling.
The primary reason agents do CMAs is to get a good picture of what buyers are currently willing to pay for homes. The homes your agent compares yours against will be very similar; they'll typically have the same number of bedrooms and bathrooms, and somewhere around the same square footage. They'll also be close to your current home because market conditions are often different in different neighborhoods – even when they're very close to each other.
From there, you and your agent can work together to come up with a listing price that's fair to you and attractive to buyers.
Tip #2 to Encourage Buyers to Make a Same-Day Offer: Clear Out Clutter Before Showings
Prospective buyers want to be able to envision their belongings in your space, which means you need to clear out anything that could prevent them from doing so. Whether you have furniture that crowds a room or you have personal items like family photos everywhere, it's time to put them away.
It may seem like a challenge to clear out all your belongings, but remember – you're moving anyway! This is a great opportunity to start packing. And if you're really struggling with the idea of getting rid of things, consider renting a storage unit for the duration of your home's listing. That way, you can keep your belongings close by, but they won't be in the way when buyers come to see your home.
Tip #3 to Encourage Buyers to Make a Same-Day Offer: Style Every Room to Create Maximum Impact
After the clutter is cleared out, it's time to stage. This means arranging the furniture you have in a way that's pleasing to the eye and makes each room look its best.
You may find the following posts helpful when you're staging your home to sell:
Tip #4 to Encourage Buyers to Make a Same-Day Offer: Clear Out Pets and Their Belongings
If you have pets, it's important to make sure they're not in the way when buyers come to see your home. Not everyone loves animals, and even those who do may be allergic. Plus, having pets in the home can be a distraction for potential buyers who want to focus on inspecting your home.
Ideally, you should make arrangements for your pets to be out of the house during showings. This may mean hiring a pet sitter, taking them to daycare, or asking a friend or family member to take them for the day.
Tip #5 to Encourage Buyers to Make a Same-Day Offer: Make Sure People Feel Comfortable in Your Home, from Temperature to Lighting
The final tip for encouraging buyers to make a same-day offer is to make sure they're comfortable in your home. This includes everything from the temperature of the home to the lighting in each room.
If it's a warm day, make sure your air conditioning is turned on so buyers don't feel like they're walking into a sauna. And if it's a cold day, turn on the heat so they don't feel like they're in a icebox.
As for lighting, you want to make sure each room is bright enough that buyers can see everything clearly. Open the curtains and turn on any overhead lights before buyers come to see your home.
Are You Buying a Golf Course Home for Sale in Scottsdale?
If you're selling your home and buying another one, call us at 602-694-3200 or fill out the form below to talk to a REALTOR now.
While you're here, you can also check out:
Don Matheson
REALTOR® | Founder
The Matheson Team – RE/MAX Fine Pro
21020 N. Pima Road, Scottsdale, AZ 85255
602-694-3200