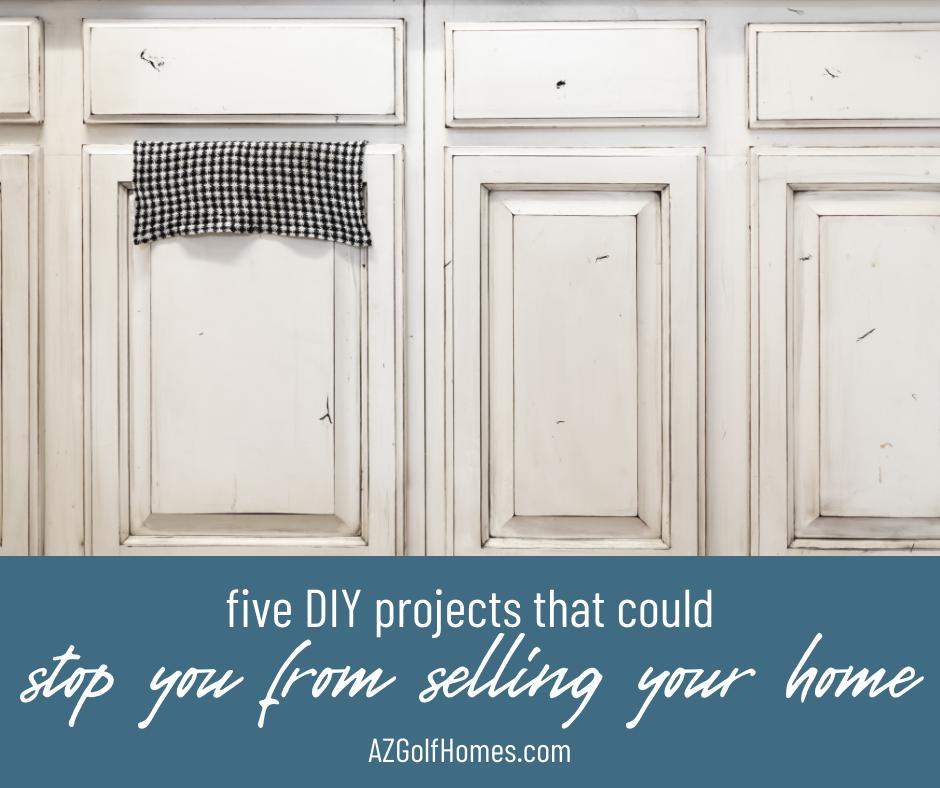 If you're like many people, you're fairly handy around the house. But check out these five things you should never DIY if you intend to sell your home in the future.
5 Things NOT to DIY if You Ever Want to Sell Your Home
Though these are all trendy things to do around the house, you shouldn't attempt them if you ever intend to sell:
Distressing your cabinets
Opting for only open shelving in the kitchen
Painting your floors
Repurposing closets
Using stick-on tiles
Here's a closer look at each.
Sale-Killing DIY Project #1: Distressing Your Cabinets
Distressed furniture is trendy, but distressed cabinetry isn't. The distressed look isn't for everyone, either, which means distressing permanent fixtures in your home may alienate buyers who don't want to make cosmetic adjustments after moving in.
Related: 5 things to do today if you're selling your home this summer
Sale-Killing DIY Project #2: Opting for Only Open Shelving in the Kitchen
Open shelves look great in many kitchens, so if you have a few, buyers may love the look. However, removing all of your kitchen cabinets and replacing them with only open shelving may not be so appealing to prospective buyers. Buyers prefer kitchens with storage for cookware, appliances and other kitchen accessories they don't want on display all the time.
Sale-Killing DIY Project #3: Painting Your Floors
File painted floors under "Too Much Personalization" – they're not buyer-friendly. In fact, paint isn't the best solution for high traffic areas because it can wear down really quickly. That can lead buyers to think that your home isn't properly cared-for or that they'll have to do a lot of work to maintain it. When it comes to flooring, keep it simple; buyers like hardwoods, laminates, tile and other flooring options better. If you have carpet, you should talk to your real estate agent about whether you should replace it or leave it where it is.
Related: Should sellers hire a home inspector, too?
Sale-Killing DIY Project #4: Repurposing Closets
Though one of the latest trends involves repurposing closets to serve as workspaces (or anything else), buyers want to see storage space. And even if you get a lot of use out of your closet-turned-workspace, it may not be practical for your prospective buyers. It may be worse turning the space back into a closet before you list your home for sale.
Sale-Killing DIY Project #5: Using Stick-On Tiles
Stick-on tiles are a fast, easy way to give your space (usually a kitchen or bathroom) a quick style boost, but sometimes they don't look great in person. And over time, they peel away from the wall. If your tiles are old and dated (or if they're damaged), it's probably worth hiring a professional to install a tile backsplash for you.
Related: 3 big mistakes sellers make (and how to avoid them)
Why Trendy DIY Projects Can Hold Up a Sale
Many sellers find that trendy DIY projects are perfect for their lifestyles, but not necessarily so for prospective buyers. In fact, many trends are largely taste dependent, which means they won't appeal to everyone. The last thing you want to do is alienate prospective buyers who can't see past cosmetic issues they don't like.
Before you make any improvements to your home, you should talk to your real estate agent about what's selling. Your agent deals with hundreds of homes every month, and they'll be able to tell you what buyers like, what they're looking for and not finding, and what they hate. That way, you can focus your efforts where they'll bring you the best return on investment.
Are You Buying a Golf Course Home for Sale in Scottsdale?
If you're selling your home and buying another one, call us at 480-405-4228 or fill out the form below to talk to a REALTOR now.
While you're here, you can also check out:
Don Matheson
REALTOR® | Founder
The Matheson Team – RE/MAX Fine Pro