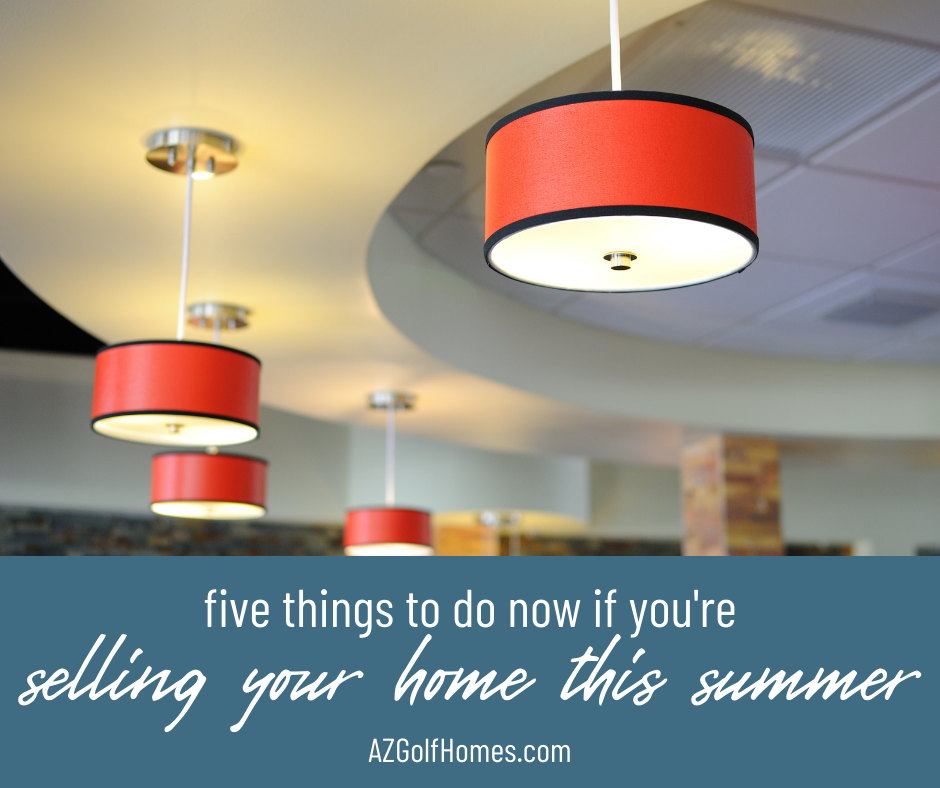 If you're selling your golf course home in Scottsdale this summer – or if you're still thinking about it – check out these five tasks you should tackle now.
5 Things to Do Now if You're Selling Your Golf Course Home This Summer
Here are five things you should get a jump on if you're planning to sell your golf course home in Scottsdale this summer:
Make repairs
Repaint
Pull up carpet
Update your light fixtures
Declutter everything
Here's a closer look at each. 
Task #1 to Tackle if You're Selling Your Home This Summer: Make Repairs
If you know that your home needs some repair work, now is the time to get it done. After you list your home and a buyer makes an offer that you accept, your buyer will hire an inspector. The inspector will go through your home looking for any issues that may impact the buyer's enjoyment after purchase, and any issues that they uncover can be used in negotiations later. That means it's in your best interest to make all repairs now, before an inspector discovers them.
Related: 3 places you need mirrors in home staging
Task #2 to Tackle if You're Selling Your Home This Summer: Repaint
Repainting your home's interior is typically a simple, straightforward job, and it's one way to revitalize the space so buyers feel like it's more updated. Repainting your walls is a great idea if you are putting your home on the market this summer, particularly when you consider the fact that many buyers ask sellers to repaint the walls anyway.
Task #3 to Tackle if You're Selling Your Home This Summer: Pull Up Carpet
If your home has any carpet in it, it may be best for you to replace it with hardwoods, tile, or just about any other type of flooring. Today's buyers are not into carpet, so you should talk to your real estate agent about what's right for your home. If your home has carpet, your future buyers may ask you to replace it with different flooring, or they may ask you to give them a credit so they can do it themselves. If you get a head start on this process, you choose the contractors and how much you spend.
Related: 3 simple ways to get weeds out of your yard before you sell
Task #4 to Tackle if You're Selling Your Home This Summer: Update Your Light Fixtures
Updating light fixtures is a simple way to revitalize many of the spaces in your home. The best part is that new light fixtures are typically easy to install, and many are very affordable; just head to your favorite home improvement store and look in the lighting department to see what your options are.
Task #5 to Tackle if You're Selling Your Home This Summer: Declutter Everything
It's very important that buyers see how spacious your home is, and the best way to help them do that is by decluttering. Decluttering is typically a big task, so the sooner you start, the better. 
Take a critical look at your home, starting with big items; if you have any furniture that makes a room appear crowded, it's time to put it in storage (at least until you move into your new home) or get rid of it. Then, go through each room in your home looking for items you haven't used in the past six months or more. You don't have to get rid of these items, but you do need to put them in storage if you want to keep them. 
One other thing: Go through the clothes closets in your home and remove at least half of the items hanging in them. That way, your closets will appear more spacious.
Related: The simplest decluttering guide you'll ever read
Are You Buying a Golf Course Home for Sale in Scottsdale?
If you're selling your home and buying another one, call us at 480-405-4228 or fill out the form below to talk to a REALTOR now.
While you're here, you can also check out:
Don Matheson
REALTOR® | Founder
The Matheson Team – RE/MAX Fine Pro