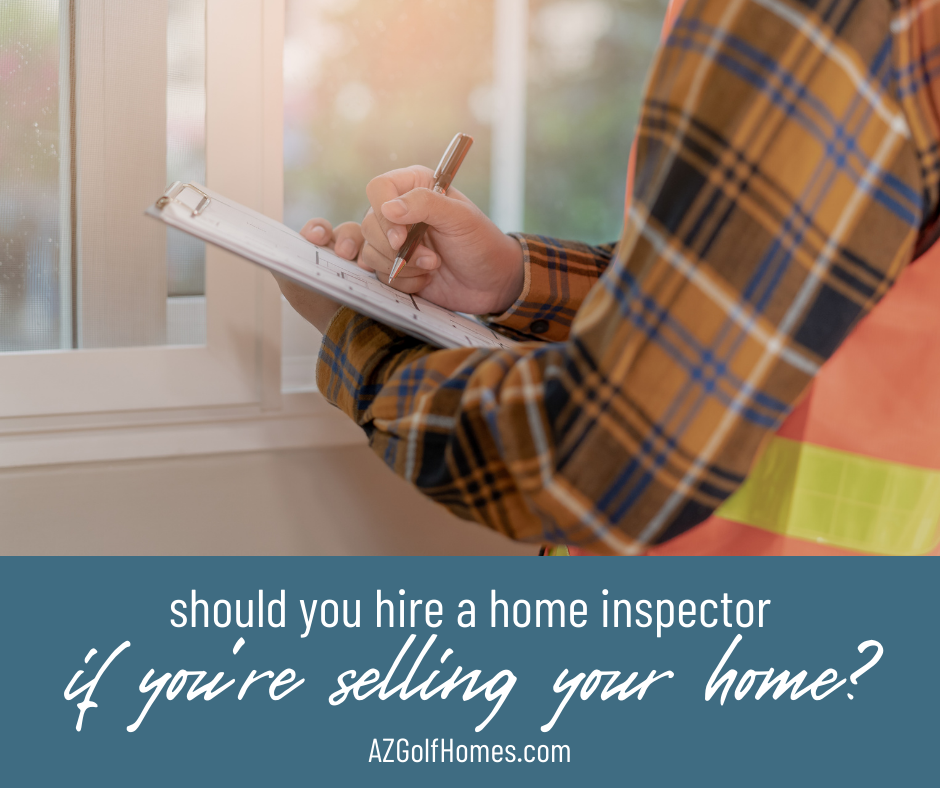 If you're like many people selling a home in Scottsdale, you know that after you accept a buyer's offer, your buyer will hire a home inspector. Your buyer's inspector will check all of the major components of your home to let the buyer know what they're really getting into if they purchase from you. It makes sense to address all the major concerns a buyer could have before you list your home for sale, but does that mean you should hire an inspector of your own before you list your home for sale? This guide explains.
Should You Hire a Home Inspector Before You Sell Your Home in Scottsdale?
Some sellers find that it's a good idea to hire their own home inspector before listing a space for sale. However, this isn't the right choice for everyone. In fact, if you've been doing regular home maintenance and keeping tabs on your home's condition, hiring an inspector before you list would most likely be a waste of a few hundred dollars. 
Related: 3 tips for making buyers fall in love with your home office
What an Inspector Will Look For
Home inspectors check out all the major systems and components that make a home livable. For example, and inspector will turn on the HVAC unit, flip the light switches, turn on the water and have a peek at the roof and gutter system. They'll also test windows and doors to see if they open and close properly, look for cracks in the walls, listen for creaks in the floor, test doorknobs and locks, and perform a huge range of other checks to determine whether the home has minor or major issues that could affect a buyer's enjoyment of it.
Related: The simplest guide to decluttering… ever
Is it Worth it for Sellers to Hire a Home Inspector?
If you already know how your home is performing, you don't need an inspector to tell you. If there are minor fixes that you need to make – such as those you would make if you were staying in the home – you shut address them before you list your home for sale. You don't need an inspector to tell you what's wrong, because you already know.
But in some cases, it does make sense to hire an inspector. If you haven't been able to keep up with routine maintenance, or if you suspect there are issues you don't know about happening behind the scenes, you may want to hire someone who can tell you exactly what's going on. In this case, it's a simple investment; you'll be able to address issues that buyers could eventually use to negotiate your price down.
Related: 3 simple ways to remove weeds from your yard
Why Do You Need to Know What's Wrong With Your Home?
Generally, if you know something is wrong with your home, you're required to tell prospective buyers about it. If you don't know something is wrong, but a buyer's inspector uncovers the issue during a home inspection, the buyer will most likely use the inspector's report to negotiate the home's sales price. Buyers may also choose to ask you to fix the issues the inspector uncovers, or they may ask you to give them a credit at closing (which comes out of your profits) so they can fix the issue themselves.
As a seller, it's almost always in your best interest to fix any issues your home has before you sell it. That way, you can get as close as possible to your asking price and avoid hiccups in the closing process.
Are You Buying a Golf Course Home for Sale in Scottsdale?
If you're selling your home and buying another one, call us at 480-405-4228 or fill out the form below to talk to a REALTOR now.
While you're here, you can also check out:
Don Matheson
REALTOR® | Founder
The Matheson Team – RE/MAX Fine Pro