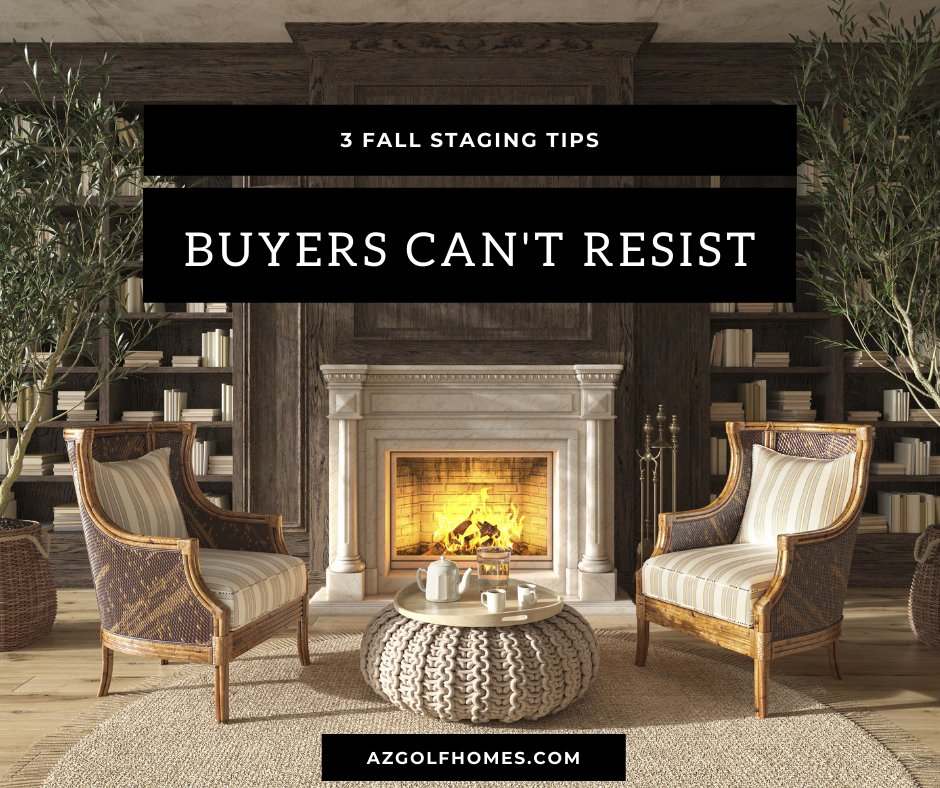 When you make the decision to sell your home in the fall, your agent will probably have a handful of home staging tips and tricks to share with you – but check out these three tips specifically for fall that buyers can't seem to resist.
3 Fall Home Staging Tips Buyers Can't Resist
Staging is the act of preparing your home to appeal to the widest possible range of prospective buyers, and it's absolutely essential if you want to sell your home quickly and at the best possible price. When you're staging your home, you should first clean it from top to bottom; then, remove all the clutter. Finally, replace personalized decor (such as sports memorabilia, religious pieces and risque art) with neutral items. The goal is to make your home look like a model home that appeals to everyone.
But in the fall, these are three special things you can (and should) do to make your house even more appealing to buyers:
Use seasonal scents
Mix in fall colors
Improve your lighting
Read more below.


Fall Staging Tip #1: Use Seasonal Scents
People want to celebrate the end of a long, hot summer, and what better way to do that than to step inside a beautiful home and smell the scents of the season? Apples and cinnamon, pine and other fall-friendly scents are a nice way to help your prospective buyers step into the spirit of the season. 
Though you shouldn't overdo it on the scents, there's nothing wrong with simmering some cider on the stove before a showing, adding cinnamon sticks to jars in strategic locations around your home, or leaving a pine-scented candle open (but unlit) on your bathroom countertop. If you're good in the kitchen, you can even bake cookies and leave them out for your guests!
Pro Tip: Be very careful when using scents to stage your home. If you use too much fragrance, or if you go heavy on synthetic fragrances, be aware that you could put off some buyers – especially those who are sensitive to smells. Additionally, your prospective buyers could feel like you're trying to hide a more unpleasant scent.
Related: 5 bathroom improvements that can help you sell
Fall Staging Tip #2: Mix in Fall Colors
Try to add accent pieces and items that make your space feel cozy. Throw pillows and blankets make great fall additions around the home. Warm colors are best – think dark red, dark green, burnt orange and gold – when you're choosing. If you choose to add fresh flowers to a vase on your counter, these are the shades to pick! Additionally, you can put out a basket of crisp, red apples on the counter.
Pro Tip: If you have a fireplace, draw attention to it without going overboard. Move fireplace tools to the foreground and place some seasonal decor on the mantel.
Related: Do you really have to stage your laundry room to sell your home?

Fall Staging Tip #3: Improve Your Lighting
The days start getting shorter in fall, so your interior lighting has to be on-point to make sure buyers can see the best of your home. Check around the house for dark corners (particularly early in the morning and at dusk), and if you find them, invest in a few standing lamps. 
Related: Living room style hacks that buyers find irresistible
Are You Buying a Golf Course Home for Sale in Scottsdale?
If you're selling your home and buying another one, call us at 480-405-4228 or fill out the form below to talk to a REALTOR now.
While you're here, you can also check out:
Don Matheson
REALTOR® | Founder
The Matheson Team – RE/MAX Fine Pro