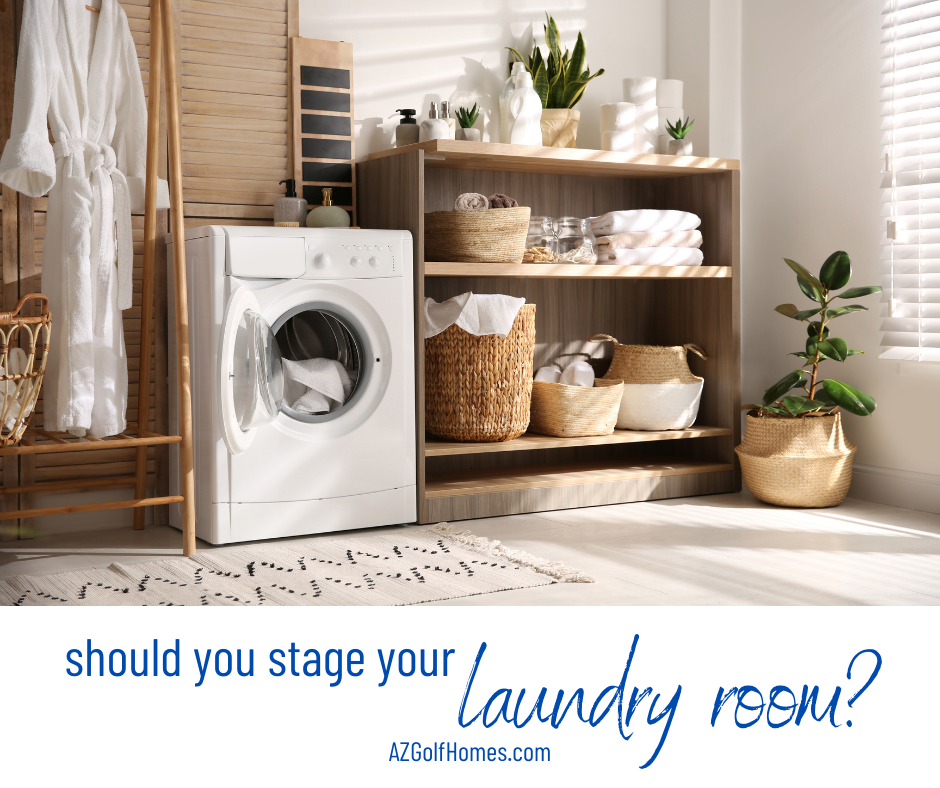 When you're selling a golf course home in Scottsdale, your REALTOR® will talk to you about how important it is to stage your space – and that may include your laundry room. In fact, the main idea of staging is to ensure that it's as appealing as possible to a wide range of prospective buyers. 
But do you really need to stage your laundry room? This guide explains.
Should You Stage Your Laundry Room to Sell Your Home?
A lot of people overlook the laundry room when they're selling a home. After all, it's generally a small space – and it's only a utilitarian one, at that. However, staging your laundry room to make doing laundry seem like less of a chore can work in your favor. That's because when you sell your home, you're doing more than selling four walls and a roof; you're selling a lifestyle. You want to show buyers that living in your home makes life easier and more convenient. Considering that Americans do about 300 loads of laundry every year, the laundry room is an excellent place to sell the easy, convenient lifestyle.

What Do Buyers Look for in a Laundry Room?
Like most other areas in a home, buyers want to see a laundry room that's light, bright and airy. They also want to see that it's easy to keep organized and clean.

How to Stage Your Laundry Room
First things first: Clean your laundry room from top to bottom before you list your house. That means pulling the machines out from the wall, cleaning behind them, checking the dryer vent for lint, and cleaning the floors underneath both the washer and the dryer. Look for splatters of detergent or fabric softener (and grime), dust off the shelves and remove any items that don't belong in the space. You should also clean out your laundry machines themselves, which can collect dirt and grime (particularly under the lids).
Pro Tip: Never, ever leave laundry in your laundry room when buyers are coming in for a tour. You don't want dirty (or clean) laundry anywhere near prospective buyers. That may mean whisking away the basket and putting it in your car when you leave for a showing. Remember, even though buyers know you live in the home, they don't need to see evidence of it.
Related: 3 living room style hacks that buyers find irresistible
From there, consider these ideas to stage your laundry room to sell your home:
Put on a fresh coat of paint. If the paint in your laundry room is tired-looking, it can't hurt to refresh it.
Add a new light fixture. If the fixture in your laundry room is standard (read: boring), it may be a good idea to spruce it up.

 

Organize the detergent and laundry supplies. Make sure that your available storage space looks great – and that you aren't using every inch of it. (If you have too much "stuff" on the shelves or in the cabinets, buyers will feel like the space is cramped and crowded – even when it isn't.)
Put the "fun" in functional. Though the laundry room is a functional space, that doesn't mean it should be drab. Hang some neutral-themed wall art to spice things up and make it look like a great space to spend time.
Related: How to modernize your guest bedroom to sell your home faster
Are You Buying a Golf Course Home for Sale in Scottsdale?
If you're selling your home and buying another one, call us at 480-405-4228 or fill out the form below to talk to a REALTOR now.
While you're here, you can also check out:
Don Matheson
REALTOR® | Founder
The Matheson Team – RE/MAX Fine Pro