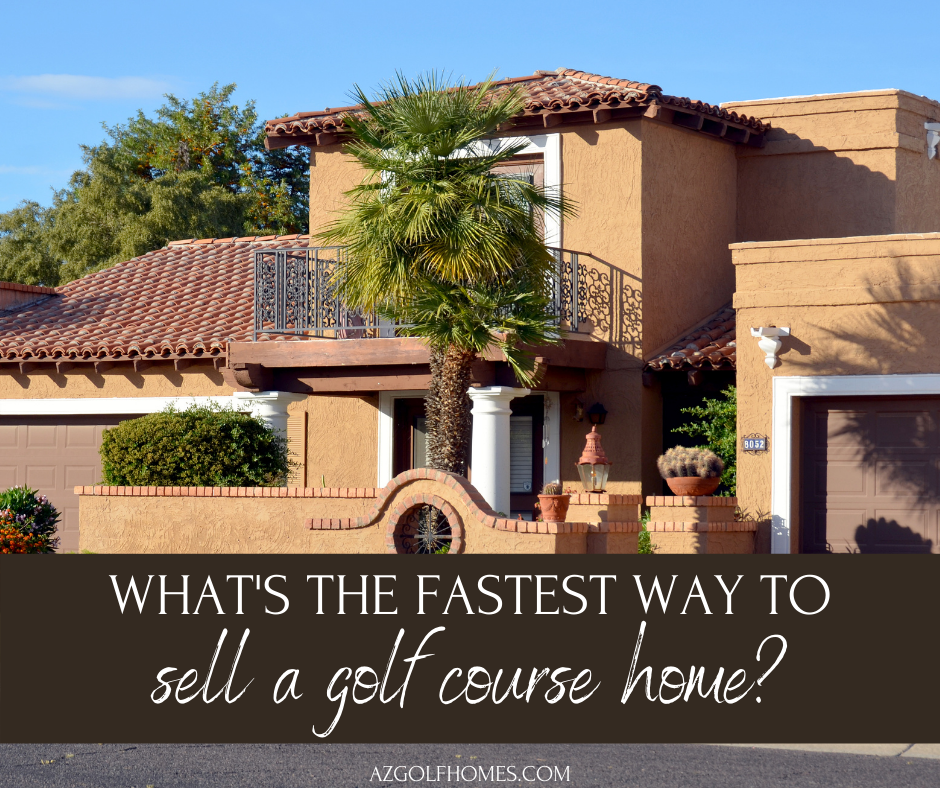 If you're selling a home in Scottsdale, your REALTOR® will have plenty of tips for you so you can sell it quickly and at the right price – but in the meantime, check out these five tips.
What's the Fastest Way to Sell a House? 5 Tips to Move Your AZ Golf Home Quickly
These five tips can help you sell your home faster than it would otherwise:
Brighten up your curb appeal
Make sure seasonal items are stored
Hire a professional cleaner for a one-time deep-clean
Make small changes (nothing drastic)
Bring in the outdoors
Here's a closer look at each.
Tip #1 for Selling Your House Quickly: Brighten up your curb appeal
Most people know whether they like or dislike a home within five minutes – and part of that time includes when they pull up at the curb for a tour (or as they're driving by to decide whether they'd like a tour). That means you need to make your home's outdoor appearance shine; that gives buyers a favorable first impression. To do so, you can:
Pull all the weeds
Add potted plants to your landscape
Put on new house numbers and install a new mailbox
Clean up the porch and add furniture, if appropriate
Make your windows sparkle
Related: What are your chances of selling a house in winter?
Tip #2 for Selling Your House Quickly: Make sure seasonal items are stored
Buyers can – and will – look in your closets. The best thing you can do is make those closets appear larger by stashing seasonal items that you're not currently using; it's definitely worth renting a storage unit until you move into your next home.
Tip #3 for Selling Your House Quickly: Hire a professional cleaner for a one-time deep-clean
When you sell a home, you're not just selling the house itself. You're selling a lifestyle – and a home that's spotlessly clean sells faster every time. You may find it easier to hire a professional cleaner to kick things off; that way, you only have to maintain things until your home sells. Another benefit to hiring a pro is that he or she will know where all the "hot spots" are – places that you may miss. Aside from that, you'll save time; you don't have to spend hours cleaning your home from top to bottom when you can leave it to someone who's likely more efficient.
Related: How to modernize a guest bedroom to sell your home
Tip #4 for Selling Your House Quickly: Make small changes (nothing drastic)
Little improvements can go a long way. Think about:
Decluttering storage spaces
Replacing old, dated light fixtures and faucets
Removing heavy drapes
Replacing personalized decor with more generic decor
Tip #5 for Selling Your House Quickly: Bring in the outdoors
Adding a few plants to your indoor living space can make it feel more vibrant, fresh and welcoming, so think about putting a few plants in your space. Don't go overboard, though; you don't need to create a whole greenhouse. Aim to add plants to unused corners and spaces that need a little push in the right direction.
Related: 5 home upgrades Scottsdale buyers want right now
Are You Buying a Golf Course Home for Sale in Scottsdale?
If you're selling your home and buying another one, call us at 480-405-4228 or fill out the form below to talk to a REALTOR now.
While you're here, you can also check out:
Don Matheson
REALTOR® | Founder
The Matheson Team – RE/MAX Fine Pro