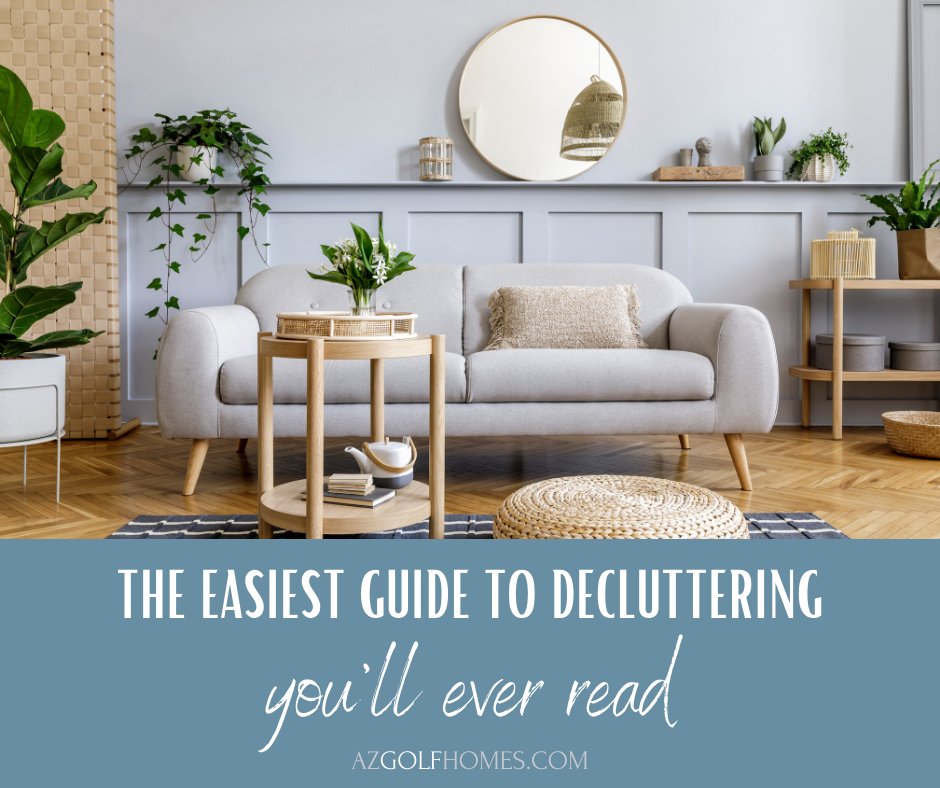 When you're preparing to sell your home in Scottsdale, your REALTOR® will probably sit down and talk to you about home staging – the art of making your home more appealing to buyers. The main idea behind staging is to create a space that buyers can imagine themselves living in. Part of that includes removing your personal effects and getting every last piece of clutter out of the way to make room for buyers' imaginations. This is the ultimate guide to decluttering before you sell your home. 
The Simplest Decluttering Guide You'll Ever Read
Decluttering your home doesn't have to be hard. In fact, it can be pretty simple and straightforward. An easy rule of thumb to follow is to get rid of everything you haven't used in the past six months. You don't have to throw away those items; you can donate them, sell them or put them in storage until you move into your next home.
But first, let's define clutter. Clutter is anything that doesn't add value to your life or won't help you sell your home. It's also anything that would distract buyers from seeing the value in the home itself. In addition to making your home easier to sell, decluttering will give you a sense of peace – and make your move easier, too. To declutter effectively, you need to:
Give yourself a timeline
Create a simple sorting system
Get the clutter out
It's that easy! Here's a closer look at each step.
Step 1 in Decluttering to Sell Your Home: Give Yourself a Timeline
When you're selling your house, you have to declutter before you can thoroughly clean your home – and you have to clean thoroughly before you can stage the space. That means you may not have tons of time on your side; ultimately, the amount of clutter you have in your home will determine how much time you need to spend on the project. 
After you give yourself a timeline:
Tackle only one room at a time, starting with the most cluttered
Plan to spend a couple hours (or several) in the most cluttered spaces
Give yourself extra time by starting as early as you can
Related: 5 garage staging tips that can help you sell your home
Step 2 in Decluttering to Sell Your Home: Create a Simple Sorting System
Set up a sorting system that helps you keep things organized. That means setting up three cardboard boxes:
Box 1 is for things you're keeping. Items that belong in your house but aren't in their proper place (such as toys or books in the living room) go in this box.

 

Box 2 is for items you're going to sell, donate or throw away. If you haven't used an item in six months or more, or if you've been meaning to fix something for a while and haven't yet, it belongs in this box.
Box 3 is for items you intend to store. Everything that you can live without for a few months (the whole time your home is on the market) but that you aren't ready to part with belongs in this box.
Related: Ready, Set, Impress: 3 living room style hacks that buyers can't resist
Step 3 in Decluttering to Sell Your Home: Get the Clutter Out
When you complete a room, tackle the boxes. Put away all the items in Box 1, list the items in Box 2 in buy-and-sell groups or throw them out, and seal up Box 3 to take it to your storage unit. It's okay if you have more than one box for each category – it happens to everyone! Just make sure that you take action on the boxes immediately after you've gone through each room, whether they're partly full or overflowing.
Related: How to modernize your guest bedroom to sell your home
Are You Buying a Golf Course Home for Sale in Scottsdale?
If you're selling your home and buying another one, call us at 480-405-4228 or fill out the form below to talk to a REALTOR now.
While you're here, you can also check out:
Don Matheson
REALTOR® | Founder
The Matheson Team – RE/MAX Fine Pro