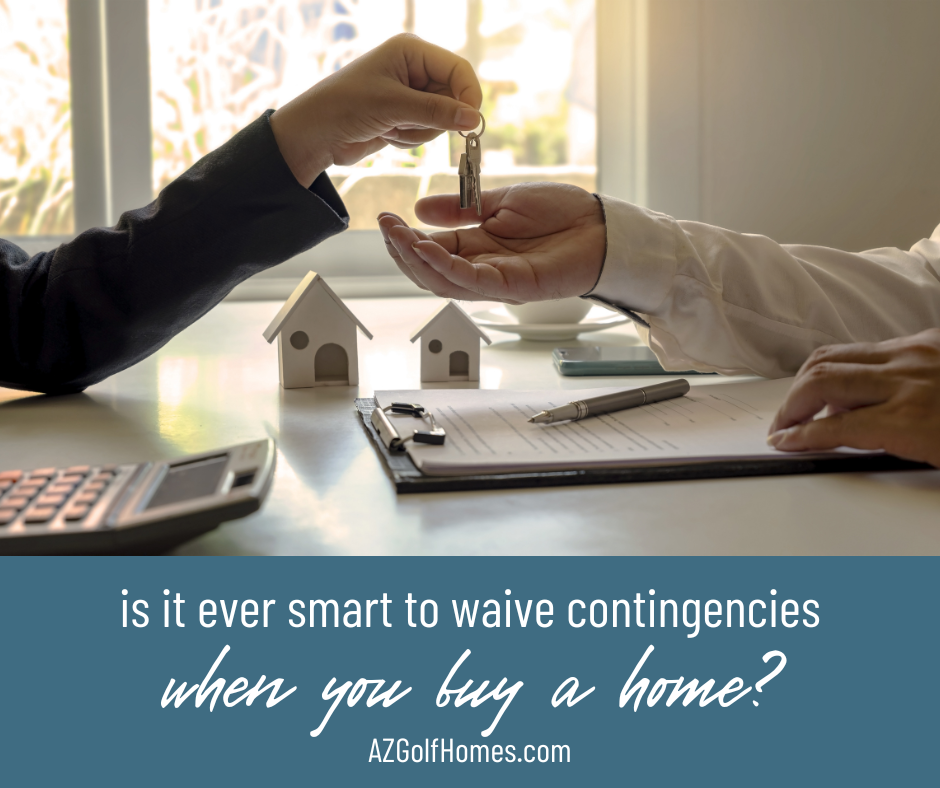 If you're like many people purchasing a golf course home in Scottsdale, your real estate agent will most likely build contingencies into your real estate purchase contract. But should you pick and choose which contingencies your agent includes, and is it ever wise to waive some of them? This guide explains.
Is it Ever Smart to Waive Contingencies?
It's pretty standard for real estate agents to build contingencies into their clients' contracts. Contingencies are conditions that must be met in order for a transaction to go through. These protective clauses are designed to ensure that a client has the most favorable terms and conditions possible.
Usually, you shouldn't waive contingencies without talking to your real estate agent about your options. In some cases, it may be smart to waive certain contingencies, but in others, it's too big a risk.
Related: Read these 9 tips before you relocate to Scottsdale
The Most Common Contingencies
Contingencies can be about anything, but these are some of the most common that you'll find in real estate purchase contracts:
Appraisal contingencies. These contingencies help protect a buyer from having to buy a home if the appraisal comes back low. Because lenders won't allow a borrower to borrow a dollar more than a home is worth (at least in a professional appraiser's opinion), having an appraisal contingency in your contract is typically smart. For example, if a home you want to purchase for $550,000 appraises at $520,000, this contingency prevents you from having to come up with the additional $30,000 on your own; instead, you can walk away from the deal, negotiate the price with the seller, or find another way to get the cash.
Home inspection contingencies. These contingencies give you the right to have a home inspected by a professional before you sign the dotted line that makes it yours. If the inspector turns up anything you can't live with, you have the right to ask the seller to fix it, negotiate the price down, ask for a credit so you can fix it yourself or walk away from the deal while keeping your earnest money deposit intact.
Financing contingencies. When You need a mortgage to purchase a home, you have to make a good faith effort to obtain one. But if you can't, a financing contingency prevents you from having to purchase the home anyway.
Should You Waive an Appraisal Contingency?
As with any other type of contingency waiver, you're going to need to talk to your real estate agent about whether it's a good idea to waive an appraisal contingency. If you waive this contingency, you may be backed into a corner if the appraisal comes back low. If you have extra cash stashed for a home purchase, that may not be an issue for you. However, if you're relying on a fully funded mortgage to purchase the home because you don't have additional money set aside, it may be a bad idea to waive this contingency.
Related: 5 of the most beautiful golf communities in Scottsdale
Should You Waive a Home Inspection Contingency?
It's usually not a good idea to waive the home inspection contingency. That's because you really need to know what you're getting into before you purchase a home. If you don't send a qualified inspector to the home to determine whether it has any major issues, you could be in for some very real (and very unpleasant) surprises after you move in. Some home problems are extremely costly to fix, such as roof and foundation issues, so it's probably best that you keep this contingency unless you have a very good reason for waiving it.
Should You Waive a Financing Contingency?
Many people have to obtain a mortgage loan to purchase a home. If you're one of them, you may not want to waive your financing contingency. However, you may want to talk to your real estate agent about whether it's a good idea; it may be if you have plenty of money in the bank to purchase a home without financing and you don't mind dipping into it to make the purchase. But as with any other type of contingency, you should talk to your real estate agent at length before you decide whether you should waive it or not.
Related: The 10 best places to take your grandkids when they visit you in Scottsdale
Are You Buying a Golf Course Home for Sale in Scottsdale?
If you're selling your home and buying another one, call us at 480-405-4228 or fill out the form below to talk to a REALTOR now.
While you're here, you can also check out:
Don Matheson
REALTOR® | Founder
The Matheson Team – RE/MAX Fine Pro