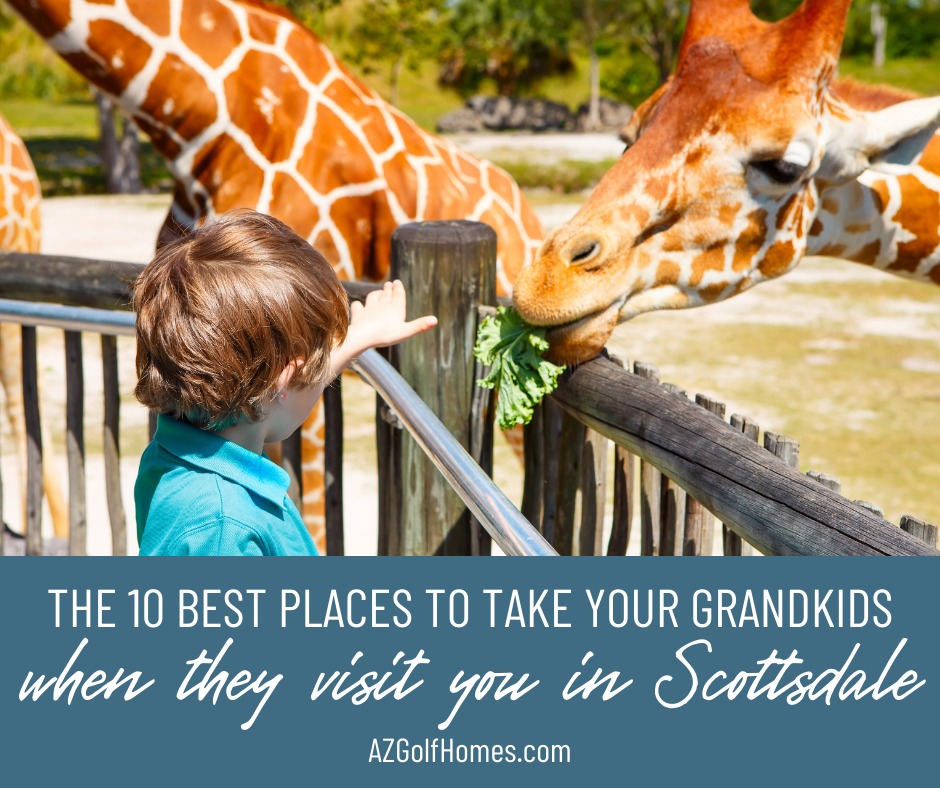 If you're a grandparent thinking about buying a golf course home in Scottsdale or one of the surrounding communities, you'll be glad to know that there are plenty of places you can build memories with your grandkids when they come to visit. This guide gives you a quick glance at ten of the best places to take grandkids when they visit you in your new home in Scottsdale.
10 Fabulous Places to Take Your Grandkids When They Visit You in Scottsdale
Check out these ten fun places your grandkids will love:
The Phoenix Zoo
Castles 'N Coasters
Wet 'n' Wild Phoenix
Arizona Science Center
Pueblo Grande Museum and Archaeological Park
The Children's Museum of Phoenix
McCormick-Stillman Railroad Park
Taliesin West
Phoenix Art Museum
Musical Instrument Museum
Here's a closer look at each.
#1 Place to Take Your Grandkids in Scottsdale: The Phoenix Zoo
Though it's not in Scottsdale, it's just a few minutes away. The Phoenix Zoo is one of the top zoos in the country, and it's a great place to spend a day with your grandkids. You can see everything from lions and tigers to giraffes and gorillas, and there are also exhibits on reptiles, amphibians and birds. There's also a playground and a petting zoo, so there's something for everyone at the Phoenix Zoo.
Website: https://www.phoenixzoo.org
Address: 455 N Galvin Pkwy, Phoenix, AZ 85008
Phone: (602) 273-1341
#2 Place to Take Your Grandkids in Scottsdale: Castles 'N Coasters
Castles 'N Coasters is an indoor and outdoor amusement park that's perfect for a day of fun with your grandkids. The indoor part of the park has Go-Karts, laser tag, and arcade games, while the outdoor part has rides like the Desert Storm roller coaster and the Tower of Doom. There's also a miniature golf course and a batting cage, so there's plenty to keep everyone entertained at Castles 'N Coasters.
Website: https://www.castlesncoasters.com
Address: 9445 N Metro Pkwy E, Phoenix, AZ 85051
Phone: (602) 997-7575
#3 Place to Take Your Grandkids in Scottsdale: Wet 'n' Wild Phoenix
Wet 'n' Wild Phoenix is a great place for children (and adults). There are slides, pools, and water play areas for all ages, as well as a lazy river and a wave pool. There's also a kids' area with smaller slides and water features. Wet 'n' Wild Phoenix is always a fun place to play, and it's a great escape from our hot summer days.
Website: https://www.wetnwildphoenix.com
Address: 4243 W Pinnacle Peak Rd, Glendale, AZ 85310
Phone: (623) 201-2000
#4 Place to Take Your Grandkids in Scottsdale: Arizona Science Center
The Arizona Science Center is a great place to take your grandkids if they're interested in science. There are hands-on exhibits on topics like space, the human body, and the environment, as well as a planetarium and an IMAX theater. The Arizona Science Center is popular with kids and adults of all ages because of its interactive exhibits and high-quality displays.
Website: https://www.azscience.org
Address: 600 E Washington St, Phoenix, AZ 85004
Phone: (602) 716-2000
#5 Place to Take Your Grandkids in Scottsdale: Pueblo Grande Museum and Archaeological Park
The Pueblo Grande Museum and Archaeological Park is a great place to take your grandkids if they're interested in history and archaeology. The museum has exhibits on the Hohokam people who lived in the area, as well as a replica of a Hohokam village. The archaeological park has hiking trails and an ancient ballcourt, and it's a great place to explore with your grandkids.
Website: https://www.pueblogrande.com
Address: 4619 E Washington St, Phoenix, AZ 85034
Phone: (602) 495-0901

#6 Place to Take Your Grandkids in Scottsdale: The Children's Museum of Phoenix
The Children's Museum of Phoenix is a great place to take your grandkids if they're looking for a fun and educational place to play. The museum has hands-on exhibits on topics like art, music, and science, as well as a playspace for younger kids. The Children's Museum of Phoenix is a lot of fun for adults, too – you can explore and learn right along with your favorite little ones.
Website: https://www.childrensmuseumofphoenix.org
Address: 215 N 7th St, Phoenix, AZ 85034
Phone: (602)253-0501
#7 Place to Take Your Grandkids in Scottsdale: McCormick-Stillman Railroad Park
The McCormick-Stillman Railroad Park is a great place to take your grandkids if they're interested in trains. The park has scale model trains that kids can ride, as well as a museum with exhibits on the history of railroads in Arizona. The McCormick-Stillman Railroad Park has been a local hotspot for years, and there are plenty of shade trees for you to relax beneath while your grandkids play.
Website: https://www.thetrainpark.com
Address: 7301 E Indian Bend Rd, Scottsdale, AZ 85250
Phone: (480) 312-2312
#8 Place to Take Your Grandkids in Scottsdale: Taliesin West
Taliesin West is a great place to take your grandkids if they're interested in architecture. The site was the home and studio of famed architect Frank Lloyd Wright, and it's now a National Historic Landmark. There are tours of the site available, as well as a museum with exhibits on Wright's life and work. Taliesin West is more likely to be exciting for older kids; there's not much to see or enjoy for smaller children.
Website: https://www.franklloydwright.org/taliesin-west
Address: 12621 N Frank Lloyd Wright Blvd, Scottsdale, AZ 85259
Phone: (480) 860-2700
#9 Place to Take Your Grandkids in Scottsdale: OdySea Aquarium

OdySea Aquarium is a great place to take your grandkids if they're interested in marine life. The aquarium has over 30,000 animals, including sharks, stingrays, and sea turtles. There are also hands-on exhibits, a 4D theater, and a café. OdySea Aquarium is a local favorite, too.
Website: https://www.odyseaaquarium.com
Address: 9500 E Via de Ventura, Scottsdale, AZ 85256
Phone: (480) 291-8000
#10 Place to Take Your Grandkids in Scottsdale: Desert Botanical Garden
The Desert Botanical Garden is a great place to take your grandkids if they're interested in plants and nature. The garden has over 50,000 plants, as well as hiking trails, a butterfly garden, and an art gallery. The Desert Botanical Garden has plenty of great photo-ops, too.
Website: https://www.dbg.org
Address: 1201 N Galvin Pkwy, Phoenix, AZ 85008
Phone: (480) 941-1225
Are You Buying a Golf Course Home for Sale in Scottsdale?
If you're selling your home and buying another one, call us at 480-405-4228 or fill out the form below to talk to a REALTOR now.
While you're here, you can also check out:
Don Matheson
REALTOR® | Founder
The Matheson Team – RE/MAX Fine Pro