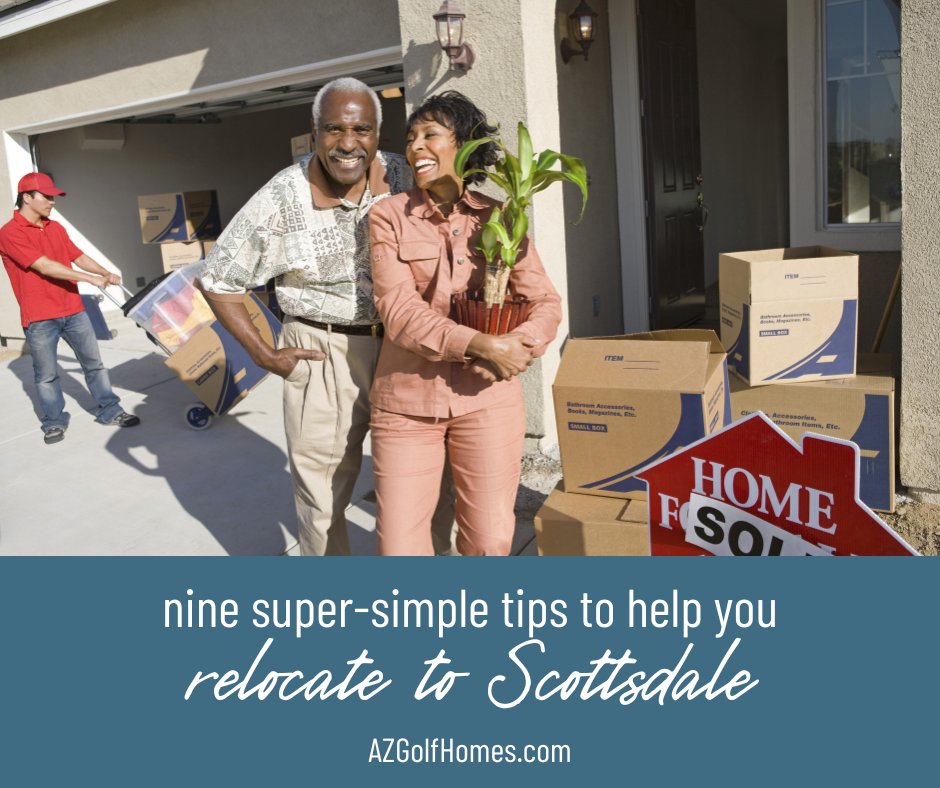 Are you relocating to Scottsdale? If you are, whether it's for work, family or another reason, these nine tips will help get off on the right foot.
Relocating to Scottsdale? Read These 9 Tips First
If you're relocating to Scottsdale, these nine tips will help you get on track for a successful move:
Get in touch with a local expert to help you find your new home
Outline your relocation budget
Plan your first visit
Scout out schools
Find pet necessities in Scottsdale
Organize and declutter your belongings
Pack early (and often)
Make transportation plans
Hire your movers and schedule the big day
Scottsdale Relocation Tip #1: Get in Touch With a Local Expert to Help You Find Your New Home
When you're considering a move to Scottsdale, it's important to have an expert in your corner who knows the ins and outs of the local market. With their help, you'll be able to find the perfect home for your needs and budget. (We happen to know some people…)
Scottsdale Relocation Tip #2: Outline Your Relocation Budget
Before you start packing your boxes, it's critical to sit down and outline your relocation budget. This will help ensure that you don't overspend on your move and keep you on track to settle in comfortably.
Related: The best places in Scottsdale to take out-of-towners
Scottsdale Relocation Tip #3: Plan Your First Visit
If you're relocating to Scottsdale, plan your first visit to get a feel for the city and what it has to offer. We recommend touring different neighborhoods, checking out local attractions and getting a sense of the overall lay of the land.
Scottsdale Relocation Tip #4: Scout Out Schools
If you have school-aged children, one of your top priorities will be finding the right schools for them to attend. Luckily, Scottsdale is home to some great public and private schools. Research your options in advance so you can make the best decision for your family.
Scottsdale Relocation Tip #5: Find Pet Necessities in Scottsdale
If you're moving with pets, it's important to do your research in advance to find all the pet necessities in Scottsdale. This includes things like veterinarians, groomers, pet stores and dog parks.
Related: How to design the perfect xeriscape in Scottsdale
Scottsdale Relocation Tip #6: Organize and Declutter Your Belongings
Before you start packing for your move, it's a good idea to go through your belongings and get rid of anything you don't need. This will not only make packing easier, but it will also help you save money on your move.
Scottsdale Relocation Tip #7: Pack Early (and Often)
One of the biggest mistakes people make when moving is waiting until the last minute to start packing. This can lead to a rushed and stressful move. To avoid this, start packing as early as possible and do it little by little so you're not overwhelmed.
Scottsdale Relocation Tip #8: Make Transportation Plans
Whether you're flying or driving into town, make your plans early. You should also plan to transport your pets, if you have them, and figure out how you'll get around after you arrive.
Scottsdale Relocation Tip #9: Hire Your Movers and Schedule the Big Day
After you've taken care of all the logistics, it's time to hire your movers and schedule the big day. Make sure to give yourself plenty of time to do this so you're not rushed.
Are You Buying a Golf Course Home for Sale in Scottsdale?
If you're selling your home and buying another one, call us at 480-405-4228 or fill out the form below to talk to a REALTOR now.
While you're here, you can also check out:
Don Matheson
REALTOR® | Founder
The Matheson Team – RE/MAX Fine Pro