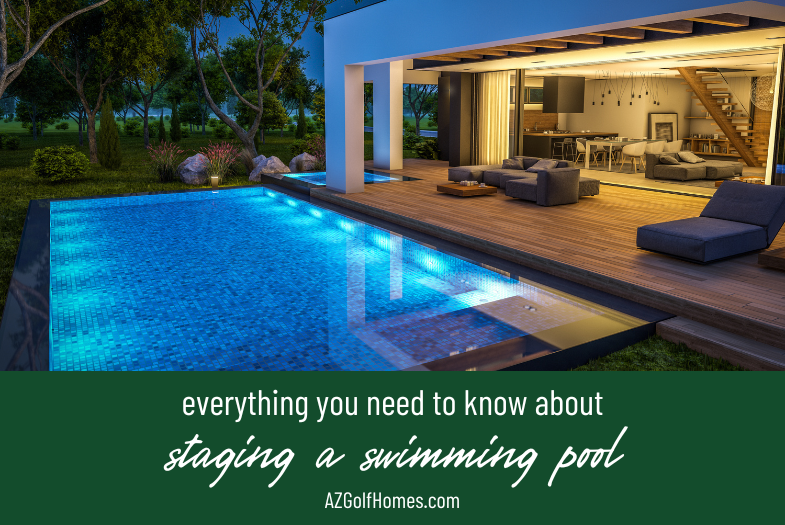 If you're selling a home in Scottsdale with a swimming pool, your real estate agent will most likely talk to you about staging it so it looks its best. The main idea: You need to make a great impression on prospective buyers. This guide explains what you need to know about staging your pool and its surrounding area so you can wow buyers – and so they'll leave your home ready to make an offer.
What is Home Staging, and Why's It So Important When You're Selling Your Home?
Home staging is the process of preparing a home for sale. In practical terms, this can include everything from clearing out clutter to redecorating and changing furniture. The goal? You want to create an inviting atmosphere that shows off your home's best features and helps prospective buyers see themselves living there.
Related: 13 places to donate household items in Scottsdale around the holidays
How to Stage a Swimming Pool
Staging a swimming pool is similar to staging any other part of the home. You want to create a pleasant and inviting atmosphere, while also highlighting the features of your pool. Start by sprucing up the area around the pool with some colorful plants, flowers, and outdoor furniture. If you have an outdoor grill or kitchenette in that space, make sure it looks clean and inviting.
What to Consider Before You Start Staging Your Pool
Before you start staging your pool, consider the age and condition of your pool and what kind of renovations or repairs may be necessary. Have a professional inspect it if needed before listing your home so you can get an accurate assessment of any potential issues. You should also consider the effects of the weather on your pool, such as evaporation and algae growth, and take steps to minimize those problems if necessary.
Related: 7 great places to take your grandkids when they visit
The Benefits of Staging Your Pool
Staging your pool can help boost the appeal of your home and make it stand out from other houses on the market. It can also help create an inviting atmosphere and encourage buyers to linger longer in your home. Plus, staging can help you get closer to the asking price that you're looking for when it's finally time to sell.
How to Make Your Swimming Pool Look Its Best
To make your swimming pool look its best, make sure it is clean and well-maintained. This includes skimming leaves and debris off the surface, scrubbing the sides and bottom of the pool, and ensuring that any equipment such as filters and pumps are in good working order. Check for signs of algae or bacteria, which can turn buyers off. You should also make sure your water is at a comfortable temperature, since buyers will want to test the waters and make sure it's comfortable for swimming.
Tips For Keeping Your Pool Staged Correctly
Once you've staged your pool, you'll need to keep it looking its best throughout the selling process. This includes regularly skimming debris off the surface of the water, cleaning filters, and checking for signs of algae or bacteria growth. You should also check the pH levels of your pool to make sure they are balanced and safe for swimming.
Related: 5 things you can do to get buyers to make an offer after seeing your home
Additional Tips for Selling a Home With a Swimming Pool
In addition to making sure your pool is clean and inviting, there are other things you can do to boost the appeal of your home when selling it with a swimming pool. Consider placing some fun pool accessories around the area, such as a floating cooler or inflatable toys. You can also create an outdoor living space with comfortable furniture and accent pieces, like potted plants and string lights. Finally, don't forget to clean up your decking or patio surfaces – they should look just as inviting as the pool itself.
Are You Buying a Golf Course Home for Sale in Scottsdale?
If you're selling your home and buying another one, call us at 602-694-3200 or fill out the form below to talk to a REALTOR now.
While you're here, you can also check out:
Don Matheson
REALTOR® | Founder
The Matheson Team – RE/MAX Fine Pro
21020 N. Pima Road, Scottsdale, AZ 85255
602-694-3200