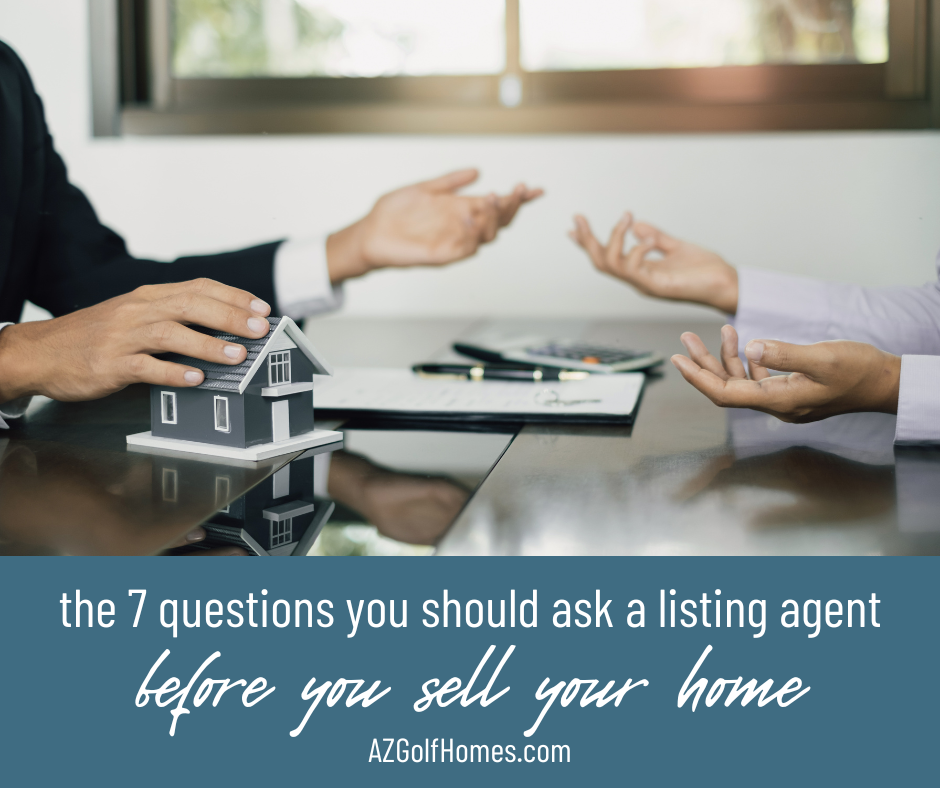 When you're ready to sell your home, it's important to find the right real estate agent – especially if you want to sell quickly and at the right price. Check out the seven questions below to help you make the best decision possible.
7 Questions to Ask to Find the Right Agent to Sell Your Home
These are the seven questions you should ask every listing agent you're thinking about hiring:
What are your credentials?
Do you specialize in this neighborhood?
How many deals did you close last year?
How do you find the right listing price for a home?
What's your marketing strategy?
How much will it cost me to sell my home?
What should I do to get my home ready to sell?
Here's a closer look at each.
Question #1 to Ask a Listing Agent: What Are Your Credentials?
You wouldn't hire a surgeon who didn't have the proper credentials, so why would you do the same with a real estate agent? When interviewing listing agents, make sure to ask about their experience and education. Though there's nothing wrong with choosing a newer agent, you should only pick someone you believe has the skillset to sell your home quickly and at the right price.
Related: 5 things to ask any home stager you're thinking about hiring
Question #2 to Ask a Listing Agent: Do You Specialize in This Neighborhood?
It's important to choose an agent who knows the ins and outs of your neighborhood. An agent who specializes in your area will have a better understanding of things like recent home sales, current market trends and what buyers are looking for.
Question #3 to Ask a Listing Agent: How Many Deals Did You Close Last Year?
When evaluating agents, pay attention to how many deals they closed last year. This number will give you a good idea of whether or not they're actually moving homes. It also tells you whether they approach real estate as a full-time or part-time job; you generally want to work with people who can devote their full attention to listing and selling your home.
Related: 5 landscaping tips that can help you sell your home
Question #4 to Ask a Listing Agent: How Do You Find the Right Listing Price for a Home?
You don't want to overprice or underprice your home. The right listing agent will be able to give you a realistic idea of what your home is worth by taking into account things like recent comparable sales, current market conditions and trends, and the overall condition of your property. In fact, a good listing agent will bring you (or email you) a sheet of data that compares your home to others that have recently sold. That sheet gives you an idea of what your home may be worth. (And when an agent is prepared for your listing appointment, you know they've done their homework; that's a good indicator that you're working with a true professional.)
Question #5 to Ask a Listing Agent: What's Your Marketing Strategy?
Your home isn't going to sell itself. A good listing agent should have a comprehensive marketing plan that will get your home in front of as many buyers as possible. When interviewing agents, pay attention to their ideas for marketing your home. If their ideas seem outdated or they seem inexperienced, keep looking. Modern marketing includes using high-resolution photos, aerial and drone photography when appropriate, 3-D tours and making heavy use of the internet to reach buyers.
Related: The five signs that say it's time to sell your home
Question #6 to Ask a Listing Agent: How Much Will it Cost Me to Sell My Home?
A good agent will be prepared to answer this question. They'll tell you about their commission (and the buyer's agent's commission), as well as the costs associated with updating or repairing your home. Great agents also calculate how much it'll cost a seller to purchase a home warranty for their buyers, cover closing costs, and handle a variety of other services that buyers may ask them to pay for.
Question #7 to Ask a Listing Agent: What Should I Do to Get My Home Ready to Sell?
A great agent will give you an honest assessment of what needs to be done to your home before it hits the market. They may even have a list of reliable contractors who can help you make any necessary repairs or updates. You should rely on your agent to give you this information, because they're on the ground every day with buyers – and they know exactly what buyers are looking for.
Are You Buying a Golf Course Home for Sale in Scottsdale?
If you're selling your home and buying another one, call us at 602-694-3200 or fill out the form below to talk to a REALTOR now.
While you're here, you can also check out:
Don Matheson
REALTOR® | Founder
The Matheson Team – RE/MAX Fine Pro
21020 N. Pima Road, Scottsdale, AZ 85255
602-694-3200