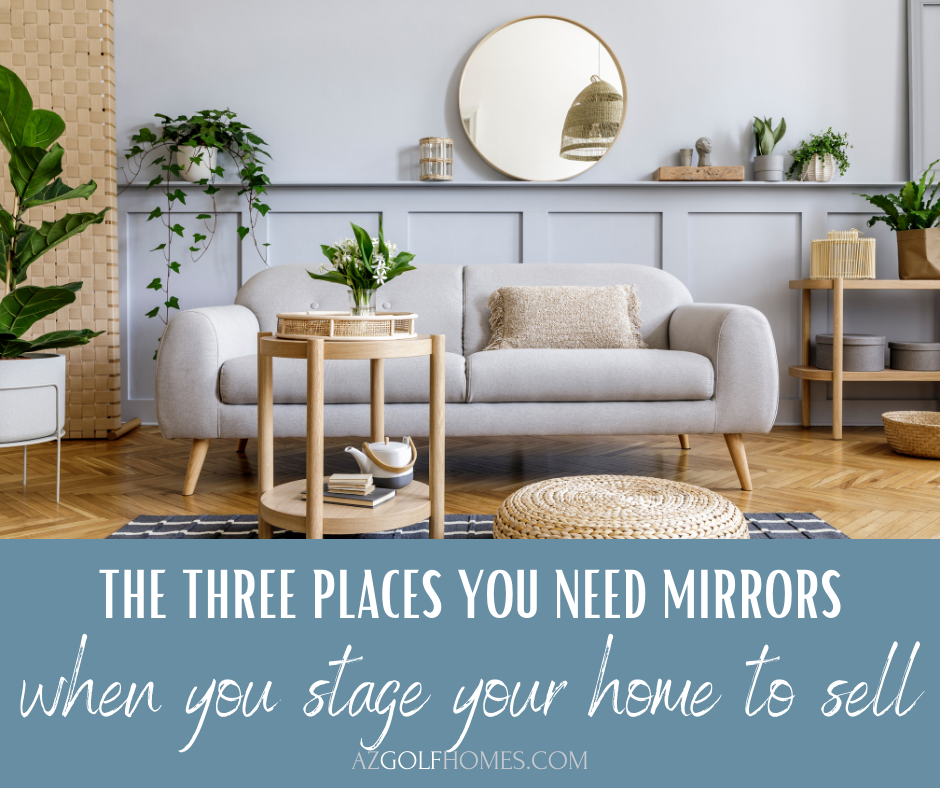 When you're selling a golf course home in Scottsdale, your REALTOR® will talk to you about home staging. Staging is the art of making your home as appealing as you can to prospective buyers. The idea is to show buyers that their "stuff" will look great in your space, and that they'll have a great time living in your home. 
And a key part of home staging is the strategic placement of mirrors. Mirrors can make your space brighter, and they can even make it appear larger. Here's what you need to know.
3 Places You Need Mirrors in Home Staging
When you're selling your home, your REALTOR may suggest that you hire a professional home stager. However, if that's not in the cards for you, you may want to consider adding mirrors to the following spaces:
Above desks
Above console tables
Behind sofas
Here's a closer look at each. 
Place #1 to Add a Mirror in Home Staging: Above Your Desk
The blank wall behind a desk is the perfect place for a mirror, centered at eye-level for the average standing person. From that point, it can reflect light and make the overall room brighter, but it'll be high enough that the person using the desk won't be distracted by their own reflection (or get sun in their eyes while they're working). The best kinds of mirrors for above-desk placement feature shapes different from their surroundings, so you could choose a circular mirror and accent it with a few rectangular or square pieces of art.
Related: 3 tips to help buyers fall in love with your home office
Place #2 to Add a Mirror in Home Staging: Above Your Console Table
Placing a mirror above a console table is smart. It helps add height and balances out the space, and it's a nice, classically elegant touch. For an extra splash of visual appeal, use a multi-paneled mirror – it can break up monotonous reflections, and it'll look great if you're light on decor on other walls. These types of mirrors are perfect for long hallways, the awkward space at the top of the stairs and small spaces, too.
Related: 3 things to fix if you're selling your home this spring
Place #3 to Add a Mirror in Home Staging: Behind Your Sofa
Adding a mirror behind your sofa makes your living room appear larger, and it's a great move to put one there if you want buyers to feel comfortable in the space. A large mirror will reflect plenty of light, too, which brightens the entire room – and buyers love that. 
Related: What should you fix before you list your home for sale?
Mirror Don'ts When You're Staging Your Home
Check out this quick list of things not to do when you're using mirrors in home staging:
Don't go overboard with mirrors in your bedrooms. It's fine to have one above your headboard, as part of your vanity, or built into your dresser, but you should probably stick to just one.
Keep mirrors out of the kitchen. They're not necessary there, and besides, they need more frequent cleaning than mirrors in other areas of the house.
Don't point mirrors toward light fixtures. You want them to reflect the room at eye-level when they're hanging on the wall.
Avoid placing a mirror opposite a window with a bad view. If your living room window overlooks your neighbor's dilapidated fence, for example, you don't want to put a mirror across from it; your unlucky buyers will have to see the fence twice.
Are You Buying a Golf Course Home for Sale in Scottsdale?
If you're selling your home and buying another one, call us at 480-405-4228 or fill out the form below to talk to a REALTOR now.
While you're here, you can also check out:
Don Matheson
REALTOR® | Founder
The Matheson Team – RE/MAX Fine Pro