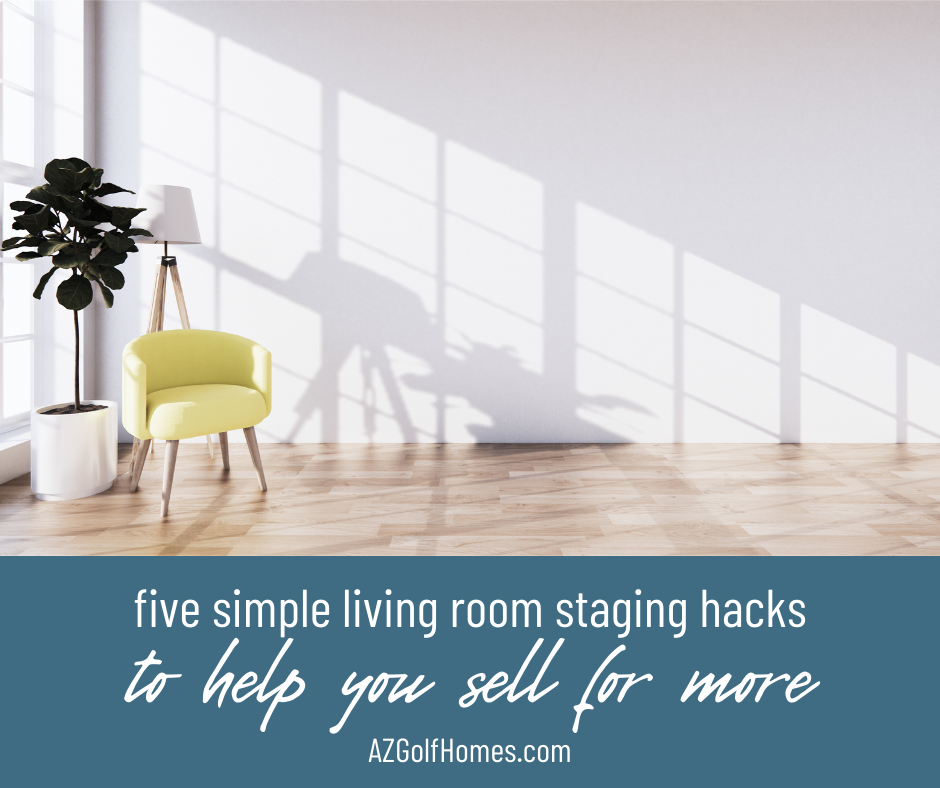 Selling your home? Check out these five simple living room staging hacks that can help you sell it for a better profit.
5 Simple Living Room Staging Hacks to Help You Sell Your Home for More Money
If you're like many people selling a home in Scottsdale, you want to sell it as quickly as possible and for the best possible profit. Though every room in your home is important, the living room is a great opportunity to show buyers what they need to see to fall in love. Check out these five easy living room staging hacks that can help you sell your home for more money:
Let in the light (and supplement it as necessary)
Keep it simple
Bring in live plants
Use a mirror to expand the space
Replace "dead space" with shelving or storage
Here's a closer look at each.
Living Room Staging Hack #1: Let in the Light (and Supplement as Necessary)
Buyers like to see light, bright spaces, which means you should let in as much natural light as possible when people come to tour your home. If you have heavy drapes, replace them with more lightweight alternatives, and when you know someone is coming, raise the blinds as high as they'll go. Additionally, if you have older light fixtures or those that seem to second light away from your space, consider replacing them with modern fixtures. Head to your favorite home improvement store to check out your options.
Related: 3 home-selling taboos that will send buyers running
Living Room Staging Hack #2: Keep it Simple
Your living room should be clean and clutter-free before people come to tour your space. If you have furnishings that make the room look crowded, consider putting them in storage until you move into your new home. Additionally, don't overwhelm prospective buyers with too much art and decor; use one or two pieces to accent the room.
Living Room Staging Hack #3: Bring in Live Plants
Life plants can make a space feel like home, so bring some in for your coffee table, end tables or fireplace mantel. Some of the best plants to use in staging your living room include peace lilies and mother-in-law's tongue, which are both easy to maintain, require little light and water, and most likely won't die during the time your home is for sale (even if you're not a very good gardener).
Related: How you can prep your home for sale now
Living Room Staging Hack #4: Use a Mirror to Expand the Space
placing a mirror opposite a window with a great view can work wonders for any space. First, it reflects natural light, which is what buyers like to see. Second, it also makes your space appear larger; finally, it can bring more of that spectacular outdoor view inside, which will improve the way buyers feel about the space.
Living Room Staging Hack #5: Replace "Dead Space" With Shelving or Storage
If you have an empty corner or other dead space in your living room, make use of it. Naturally, you don't want to overcrowd the room, but adding shelving or another type of storage option can really help buyers see the room's potential.
Related: The 3 best ways to get weeds out of a rock yard
Are You Buying a Golf Course Home for Sale in Scottsdale?
If you're selling your home and buying another one, call us at 480-405-4228 or fill out the form below to talk to a REALTOR now.
While you're here, you can also check out:
Don Matheson
REALTOR® | Founder
The Matheson Team – RE/MAX Fine Pro