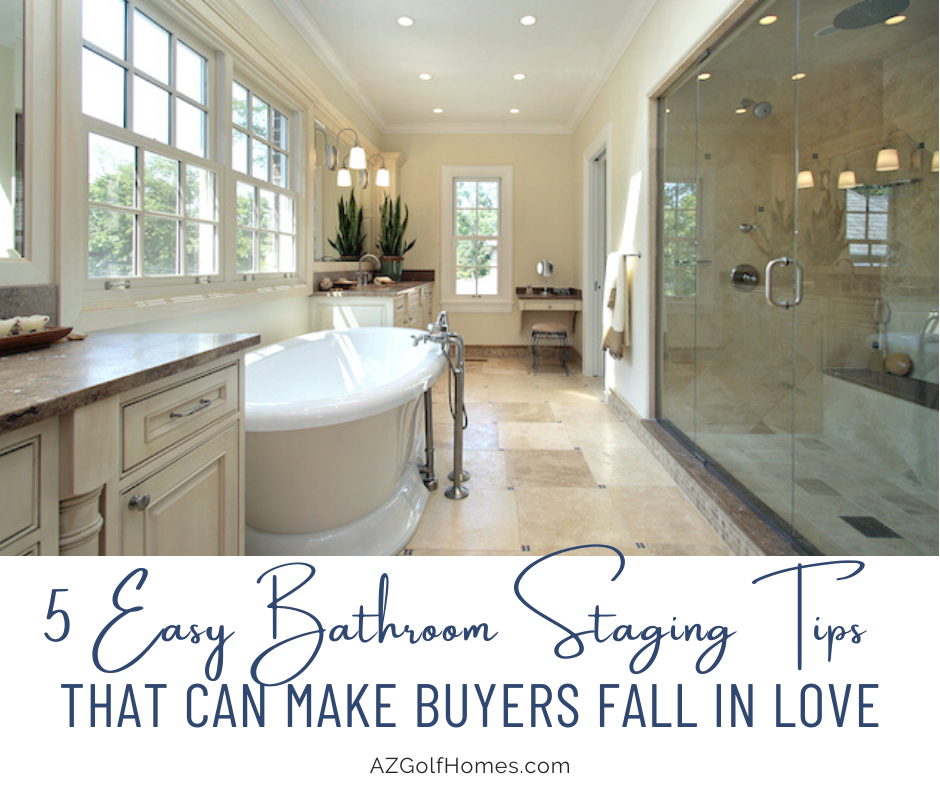 When you're selling a golf course home in Arizona, your REALTORR® will talk to you about home staging – the process of making your space as appealing as possible to a wide range of potential buyers. However, you can get a head start by implementing these five bathroom staging tips.
5 Easy Bathroom Staging Tips That Can Make Buyers Fall in Love
Most sellers focus their energy on rooms like the kitchen and living room when it comes to home staging, but the bathrooms are equally important – and that means you need to put in a little bit of work to ensure that they give buyers the most favorable impression possible. Check out these five easy bathroom staging tips you can use now:
Clean and declutter everything
Take out all your personal hygiene products
Repaint your walls
Upgrade your fixtures
Add finishing touches
Here's a closer look at each.
Easy Bathroom Staging Tip #1: Clean and Declutter Everything
Cleaning and decluttering your bathroom is absolutely essential. The whole room should sparkle from top to bottom. Remember, the people who come to see your home don't know you – so although you may not feel like a splash on the faucet handle or a damp toothbrush in its holder is a big deal, buyers do. The fact is that buyers don't want to imagine you actually living in your home, so it's important that you remove as many traces of your use as possible.
Pro Tip: Hire a professional cleaning company to come through your home and give it a thorough cleaning. That way, you only have to maintain what the experts have done while your house is on the market.
Related: 5 bathroom improvements to make before you sell your house
Easy Bathroom Staging Tip #2: Take Out all Your Personal Hygiene Products
Speaking of toothbrushes, the rest of your personal hygiene products need to be tucked away or removed when buyers come to call. Shampoo and conditioner, body wash, and your back-scrubber can't stay in the shower, so you have two options. You can put them neatly in a bin beneath your bathroom sink, where buyers will only see them when they open the cabinet (and they will), or you can use this home-seller secret: Keep an empty plastic laundry basket in your bathroom. When you get the word that prospective buyers are coming to see your house, whisk everything into the basket and put it in the trunk of your car before you leave for a showing. 
Easy Bathroom Staging Tip #3: Repaint Your Walls
If it's been a while since you repainted your bathroom, or if you have bold colors on the walls, you should repaint them before you list your house. Go for a neutral color, which will appeal to more buyers than anything bold will. Using neutral colors lets buyers use their imaginations, so they'll be able to envision themselves living in your home and decorating it the way they want to.
Related: Simple landscaping tips that can help you sell your home
Easy Bathroom Staging Tip #4: Upgrade Your Fixtures
If your fixtures have seen better days, it's time for an upgrade. That goes for light fixtures, switch and outlet plates, cabinet handles, drawer pulls and even your medicine cabinet. The good news is that you can find replacements at your favorite home improvement store – and you only need to hire a professional if you're not comfortable making the changes yourself, or if they require electrical or plumbing work.
Easy Bathroom Staging Tip #5: Add Finishing Touches
After everything's cleaned and updated, it's time to add finishing touches. Invest in a new set of towels and only put them out for showings; put them away between guests and don't use them until you move into your new home. The same is true if you buy a new bath mat.
Put a vase of fresh flowers – or better yet, a live plant – on your countertop, make sure any art you have on display is neutral, and make sure everything is neat as a pin so buyers can fall in love with your bathroom.
Are You Buying a Golf Course Home for Sale in Scottsdale?
If you're selling your home and buying another one, call us at 480-405-4228 or fill out the form below to talk to a REALTOR now.
While you're here, you can also check out:
Don Matheson
REALTOR® | Founder
The Matheson Team – RE/MAX Fine Pro