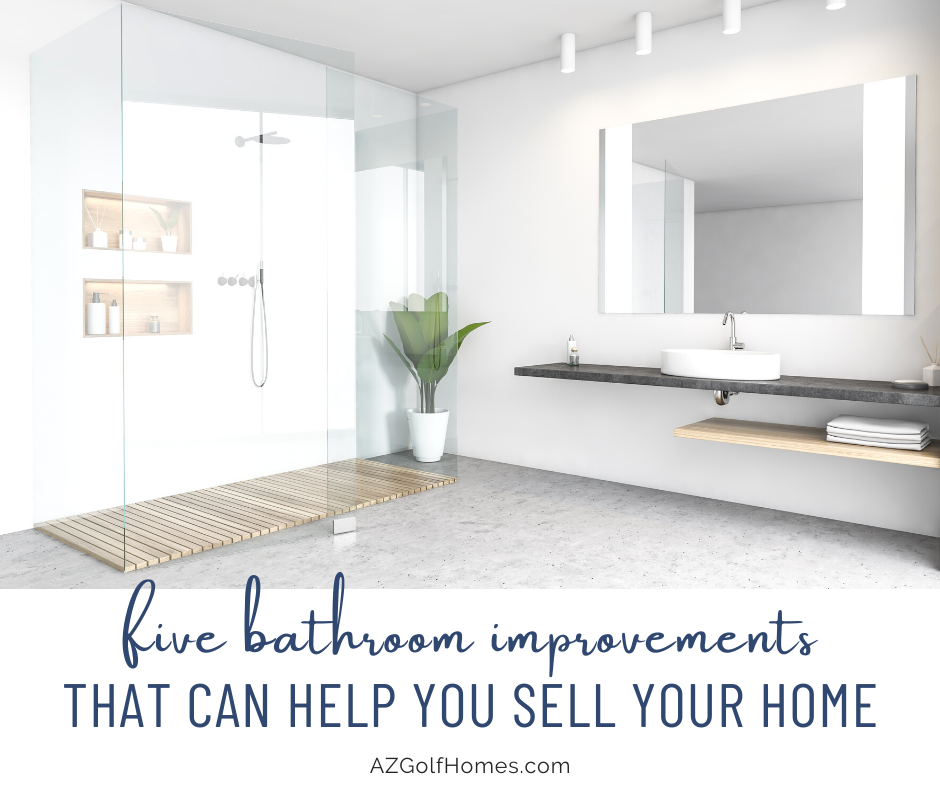 If you're selling your golf course home in Arizona this summer, check out this list of five bathroom improvements that can really pay off at the closing table.
5 Bathroom Improvements You May Want to Make Before You Sell Your Home
Buyers rank bathrooms pretty high up on the list of "make-or-break" rooms when they're touring homes for sale, so it makes sense to ensure that yours is up to par when you're selling. Your real estate agent will talk to you about making improvements where necessary, but you may also want to consider these five upgrades that can help buyers fall in love with your home:
Double sinks in primary bathrooms
Fresh hardware and accessories
A new coat of paint
Updated flooring
New light fixtures
Here's a closer look at each.
Bathroom Improvement #1: Double sinks in primary bathrooms
In a primary bathroom, buyers expect to see double sinks – and they're not just for show, either. People want that space to be exceptionally functional.
You may be surprised to see that even if your bathroom is on the cozy side, you could still fit a double sink inside. And if you can't, no worries; a new vanity with a more modern sink may do the trick. You should talk to your real estate agent about making such a big upgrade, though; you may not need to in your home. Your agent can tell you what upgrades are selling and whether double sinks are one of them.
Related: 5 landscaping tips to help you sell your house this summer
Bathroom Improvement #2: Fresh hardware and accessories
If your bathroom hardware is old enough to vote, it's time for an upgrade. Head to your favorite home improvement store and start looking at new faucets, cabinet handles and drawer pulls.
Hardware and accessories are typically DIY improvements, and they should take you less than an afternoon to complete.
Pro Tip: Opt for towel hooks instead of a standard towel bar. They're more modern and versatile, and buyers appreciate the way they look.
Related: Spotlight on Mirabel Golf Course community
Bathroom Improvement #3: A new coat of paint
It may be a good time to repaint your bathroom in a soft, neutral color – white isn't as popular as it used to be, and if it's been a while since your space has been "freshened up" with a new coat of paint, go for it. Just make sure to take down the mirror and tape off anything that you don't want to get paint on. If you're not an experienced painter, it may be worth hiring a professional to come in and tackle the job for you. Drips and sloppy edges can send buyers running for the door.
Bathroom Improvement #4: Updated flooring
If it's been a while since you last updated your bathroom flooring, it may be worth looking into. You don't have to install a radiant heating system (though it could help you sell your home faster and for more money), but it's probably a good idea to ditch the vinyl or chipped tile.
Related: Should you replace your roof to sell your home?
Bathroom Improvement #5: New light fixtures
Light fixtures are a simple and cost-effective update. While you're in your favorite home improvement store looking for new hardware, check out the selection of light fixtures and see whether you can find a perfect match.
Are You Buying or Selling a Golf Course Home for Sale in Scottsdale?
If you're selling your home and buying another one, call us at 480-405-4228 or fill out the form below to talk to a REALTOR now.
While you're here, you can also check out:
Don Matheson
REALTOR® | Founder
The Matheson Team – RE/MAX Fine Pro
[gravityform id="1″ title="true" description="true"]