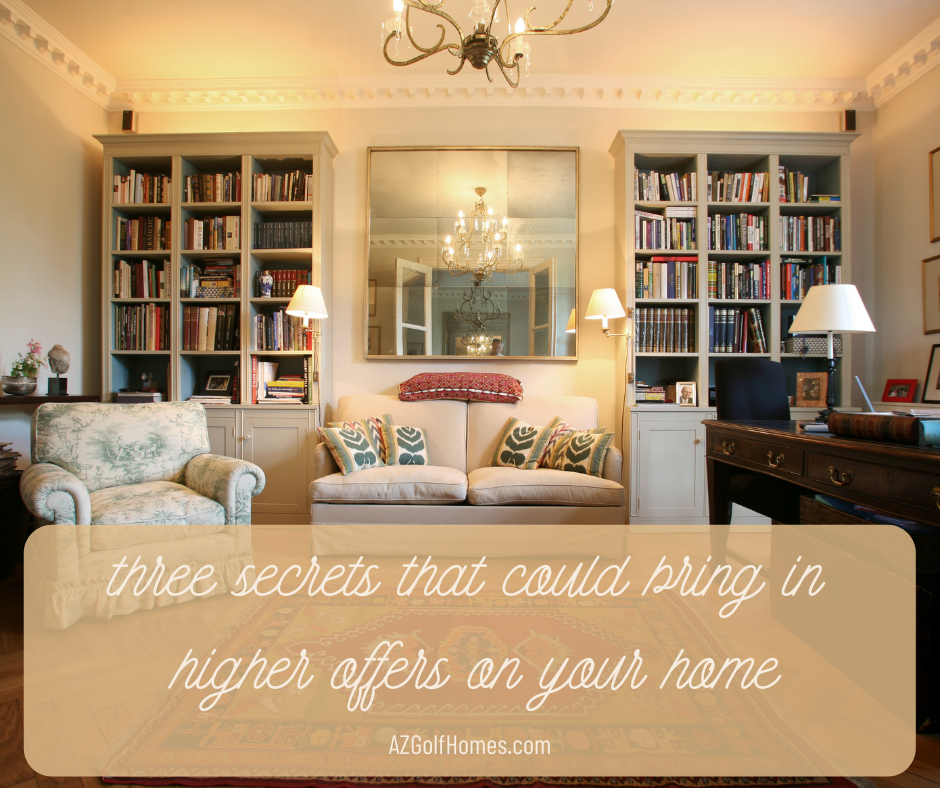 When you're selling a home in Scottsdale, the main idea is to sell it quickly and for the best possible profit – and with these three secrets, you may be able to bring in higher offers than you imagined.
3 Secrets That Could Get Your Home Higher Offers
Whether you've bought and sold one home or ten, these three secrets could push you along the path to higher offers from qualified buyers:
Create an emotional connection with prospective buyers.
Dish on insider information that only a homeowner would know.
Sell the neighborhood's culture.
Here's a closer look at each – and why each could help you get top dollar when you sell your home.
Home-Selling Secret #1: Create an Emotional Connection With Prospective Buyers
When you sell a house, you're doing more than selling four walls and a roof; you're selling a story. The story you tell is up to you, but if you want to reach prospective buyers and make an emotional connection that really resonates, it should revolve around how easy it is to love life while living in the home.
First, you want to show prospective buyers that your home is easy to clean and maintain. The best way to do that is by ensuring it's completely spotless and handling all repairs (minor and major) before you put the house on the market.
Then, you want to show that living in the home is like paradise. You do that through home staging, which enables your home to appeal to the widest possible range of buyers.
Finally, you may want to consider sharing your true-to-life story of living in the home. You may be able to do that by writing a hand-written letter detailing your experiences, framing it, and putting it on the kitchen counter. Think about including things like how your children have grown and changed, how much everyone loves gathering in the kitchen after soccer games, or how much fun the neighborhood is during the holidays, when everyone in the neighborhood puts up fabulous decor.
Related: 5 simple bathroom staging tricks
Home-Selling Secret #2: Dish on Insider Information That Only a Homeowner Would Know
If there's a little free library around the corner, a fantastic and little-known café up the street or one of the best restaurants in Scottsdale just a short drive away, let prospective buyers know. The more inside information you can share with prospective buyers, the more likely they are to feel connected with your house.
Related: List of private schools in Scottsdale
Home-Selling Secret #3: Sell the Neighborhood's Culture
Is your neighborhood exceptionally walkable? Are you close to the community pool, do kids play basketball at the end of the street, and do dog walkers get together for morning or evening strolls? Sharing that kind of information about a neighborhood's sense of community and its culture can make a tremendous difference for prospective buyers. When all the other homes they see are just four walls and a roof, yours is a place to actually live – and that can mean selling your home faster (and for more money) than you anticipate.
Related: The five best bars and clubs in Scottsdale
Are You Buying a Golf Course Home for Sale in Scottsdale?
If you're selling your home and buying another one, call us at 480-405-4228 or fill out the form below to talk to a REALTOR now.
While you're here, you can also check out:
Don Matheson
REALTOR® | Founder
The Matheson Team – RE/MAX Fine Pro