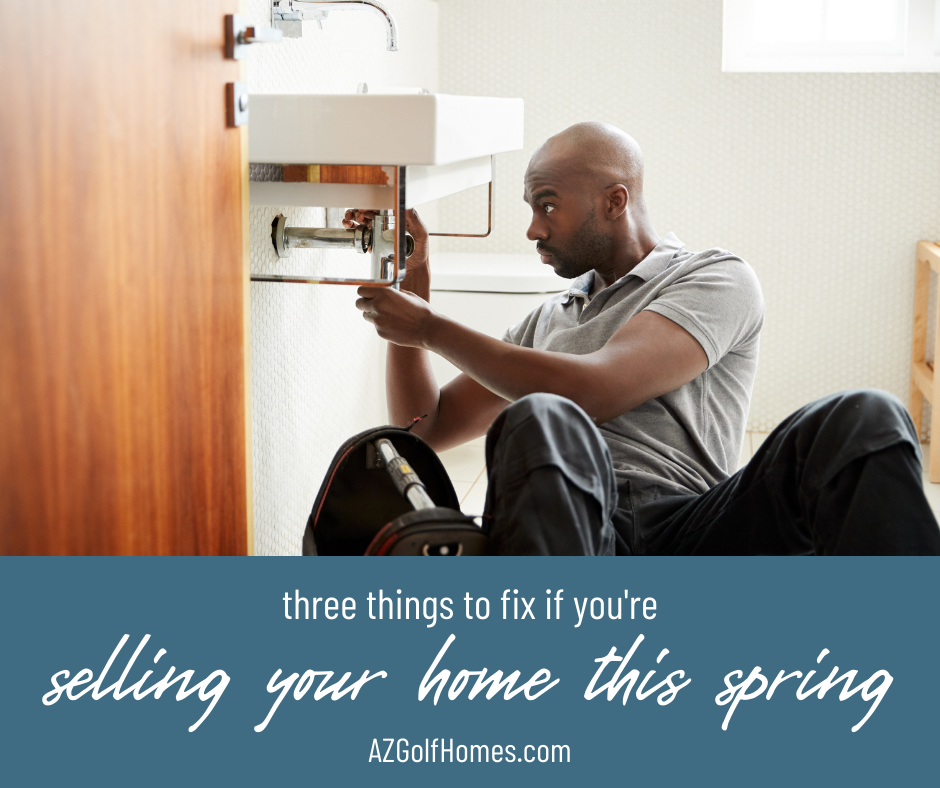 Getting ready to sell your home this spring? Here are three things you should fix before you put your house on the market. 
3 Things to Fix if You're Selling Your Home This Spring
Your REALTOR® will walk through your home with you and point out potential improvements you could make to sell your home faster (and for more money). In the meantime, check out this list of three things to fix if you're selling your home this spring:
Broken systems
Outdated appliances
Scratched or damaged flooring
Here's a closer look at each. 
#1 Thing to Fix if You're Selling Your Home This Spring: Broken Systems
If anything major is wrong with your home, your REALTOR is probably going to advise you to fix it. That includes the roof, your HVAC system, the electrical system or the plumbing. Your agent will probably tell you to be proactive because these are all major systems – and keeping them in working order is part of normal home maintenance. Buyers want to know that you've taken care of the space; if they don't feel you have, they're not going to be willing to pay what buyers are paying for similar (but better-condition) homes. 
It's up to you to figure out everything that's wrong with your home before you put it on the market – and it's also your responsibility to disclose any major issues it has to prospective buyers. If you know the roof leaks, for example, you're legally obligated to tell prospective buyers about it (and failing to do so can get you into serious legal trouble). For this reason, many sellers choose to hire a home inspector of their own. Sure, the buyers will hire one – but you can be proactive and fix major problems before your house hits the market. If you do that, you can ask more for your house, sell it faster, and not deal with disappointed buyers who may choose to back out of the deal when their inspector discovers major issues.
Related: 5 post-COVID real estate myths we can all start ignoring now
#2 Thing to Fix if You're Selling Your Home This Spring: Scratched or Damaged Flooring
Your flooring contributes to the overall ambiance of your space, so if it's scratched or damaged, it doesn't leave a good impression. Homeowners who care about their houses take good care of the floors (and everything else), so if yours are scratched or damaged, they're worth repairing – that way, buyers don't feel like you've let other home maintenance tasks slip by. 
You may not have to rip up your flooring and start fresh; you may be able to get by with hiring a professional to make repairs or refinish your floors. However, if you have carpet, your REALTOR may suggest removing it and replacing it with something that buyers favor more.
Related: Tips for selling your house when you have pets
#3 Thing to Fix if You're Selling Your Home This Spring: Outdated Appliances
If your appliances have seen better days, you may want to upgrade them before you put your house on the market. Buyers are looking for energy efficiency – and a 15-year-old refrigerator just doesn't deliver the same efficiency that a more modern model does. New appliances can give your kitchen and other rooms a more updated look, too, so the benefit is double in some cases.
Related: 5 tips to make your garage irresistible to buyers
Are You Buying a Golf Course Home for Sale in Scottsdale?
If you're selling your home and buying another one, call us at 480-405-4228 or fill out the form below to talk to a REALTOR now.
While you're here, you can also check out:
Don Matheson
REALTOR® | Founder
The Matheson Team – RE/MAX Fine Pro