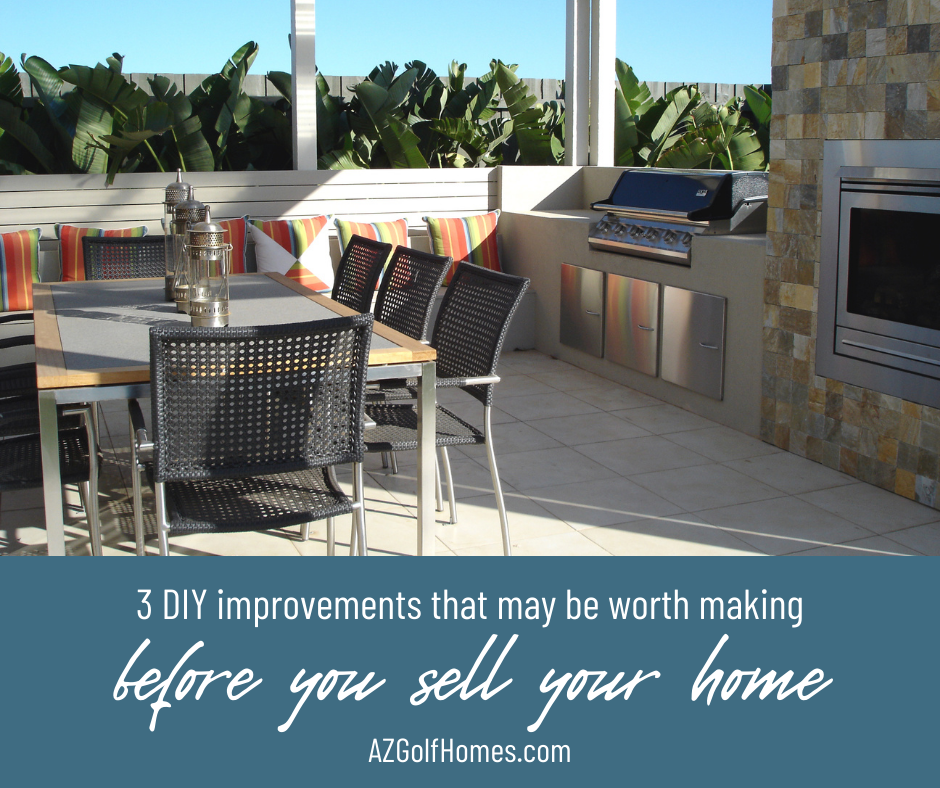 If you're like many people, you know that home improvements are only worthwhile in two scenarios: One is when you're going to enjoy the improvements yourself, and two is when they're going to help you sell your home faster or for more money. So how do you know which home improvement projects are worth making in the latter scenario? This guide explains. 
3 DIY Improvements Worth Making This Month
If you intend to sell your home in the near future, talk to your Scottsdale REALTOR® before you make any improvements. That's because you may not need to make them; if buyers don't really care about something, you're better off putting your renovation dollars elsewhere. 
With that said, here are three DIY home improvements that may be worth making if you're ready to sell your home:
Rejuvenated kitchen cabinets
Upgraded outdoor living space
Added storage space
Here's a closer look at each. 

DIY Improvement #1 to Help You Sell Your Home: Rejuvenated Kitchen Cabinets
Kitchens are make-or-break spaces in many homes, and buyers like to see modern, upgraded features – even if they're not big on cooking. That means refreshing your kitchen cabinets can be a way to get a lot of bang for your buck.
You don't have to rip out your cabinets and start fresh, though you can if you'd really like to. Simply adding a fresh coat of paint or refinishing them can work wonders for the overall feel of your kitchen. And even better, you may only need to add new cabinet handles and drawer pulls; you can find great modern options at really affordable prices at your favorite home improvement store. 
Related: 5 garage staging tips to help you sell your home fast
DIY Improvement #2 to Help You Sell Your Home: Upgraded Outdoor Living Space
Buyers see outdoor living space as an extension of your home. If there's a deck or garden, seating around a fire pit, a pool with a built-in grill or anything else out there that can help enhance a buyer's enjoyment of your home, that's a good sign. You don't have to build a deck (though again, you can if you'd really like to), but you do have to carve out a space where prospective buyers can envision themselves spending time after the deal is done.
That may mean putting a movable firepit in your yard, placing a bench under a shade tree or doing something similar. If you're not sure how to enhance your outdoor living space, talk to your REALTOR – they'll know exactly what buyers can't get enough of right now.
Related: Do you need a REALTOR if you find your own buyers?
DIY Improvement #3 to Help You Sell Your Home: Added Storage Space
Buyers like to see plenty of storage space in homes – even the most spacious homes. Adding convenient and easy-to-use storage space can encourage buyers to make an offer. Whether you install cabinets under your stairs, add built-in (or even wall-mounted) shelving in your bathroom, or put in a closet organization system, buyers will be able to visualize the possibilities for their own stuff. In the end, that's what you want: for buyers to envision themselves living in your space.
Related: How to make buyers fall in love with your bonus room
Are You Buying a Golf Course Home for Sale in Scottsdale?
If you're selling your home and buying another one, call us at 480-405-4228 or fill out the form below to talk to a REALTOR now.
While you're here, you can also check out:
Don Matheson
REALTOR® | Founder
The Matheson Team – RE/MAX Fine Pro