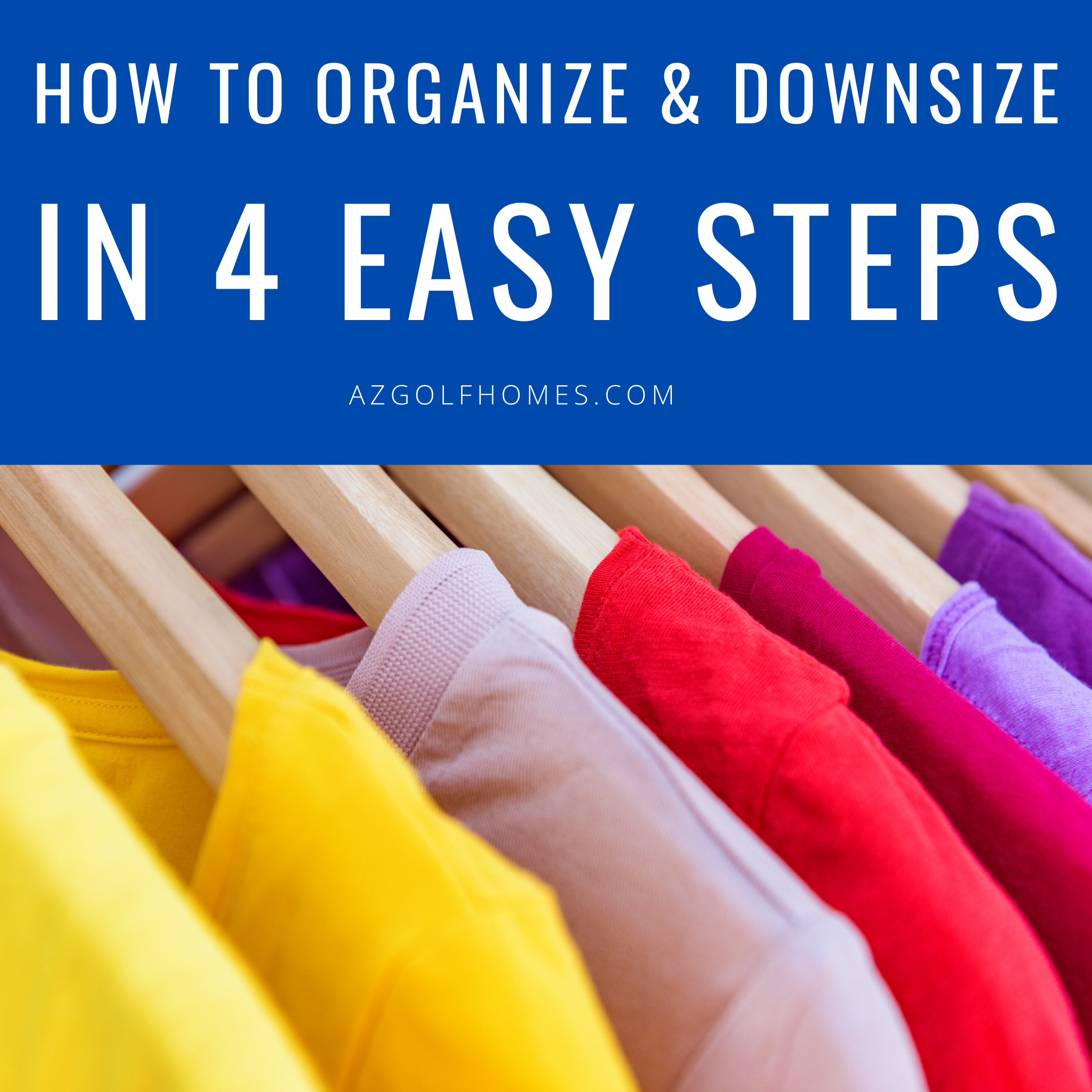 If you're selling your golf course home in Scottsdale, it's a good idea to organize and downsize your belongings; the less you have to move, the better. Even if you're not downsizing your home, it's a good idea to go through everything you own and find a new owner for the things you no longer use. Here's how to organize and downsize your belongings in four simple steps.
Selling Your Home in Scottsdale? Here's How to Organize and Downsize in 4 Easy Steps
When you sell your home, your REALTOR® will talk to you about the importance of staging. That's the act of making your home as appealing as possible to prospective buyers, and the best way to get a head start on that is to declutter and organize everything you have. Here's what to do:
Get rid of everything you haven't used recently.
Donate or sell items that are still serviceable.
Zero in on organization.
Think about storage.
Here's a closer look at each.
#1. Get rid of everything you haven't used recently.
When you go through your home to downsize your belongings, dig deep – look on high closet shelves, in the backs of cabinets and your attic. If you haven't used something in the past 6 months, is it something you really need to keep? Obviously keepsakes, holiday decorations and heirlooms don't count, but if there's a blender in the back of your kitchen cupboard that you haven't used in ages, it might be time to find it a new home.
Related: 5 garage organization hacks from the pros
#2.  Donate or sell items that are still serviceable.
When you build up a collection of items you no longer use but that still work, consider donating them to your favorite charity or selling them. You'll be relieved to know that someone can still enjoy these items – and that you don't have to move them.
Related: 7 places that need you to donate household items before you move

#3. Zero in on organization.
Once you've downsized and found new homes for all your belongings, it's time to focus on the things that remain. You might add a closet organizer to improve your home's appeal to prospective buyers, invest in pantry organizers or choose a more customized solution. Either way, the more organized your home looks, the more buyers will love it. That's because you're selling more than just a home; you're selling a lifestyle. When your space is clutter-free and impeccably organized, you're showing prospective buyers that they'll have an easy time keeping things that way, too.
Related: 5 essential tips for selling your golf course home

#4. Think about storage.
Even when you've downsized and organized, there might be too much "stuff" in your home. Let's look at closets, for example. When your house is on the market, your closet should generally be only a third full. Any more than that and you risk showing buyers that the closet is cramped and that they'll have a hard time fitting their own clothing inside. You might want to consider storage, not just for clothing, but for excess furniture that interrupts a normal traffic flow, extra kitchen appliances you don't use that often, and other items that can make your home appear cluttered.
Related: 7 home staging tips every home needs
Are You Selling a Golf Home in Scottsdale?
If you're selling your home, we're here to help you sell quickly and at the right price. Call us at 480-405-4228 or fill out the form below to talk to a REALTOR now.
While you're here, you can also check out:
Don Matheson
REALTOR® | Founder
The Matheson Team – RE/MAX Fine Properties
21000 N. Pima Rd., #100, Scottsdale, AZ 85255
480-405-4228
Explore Luxury Homes in Scottsdale