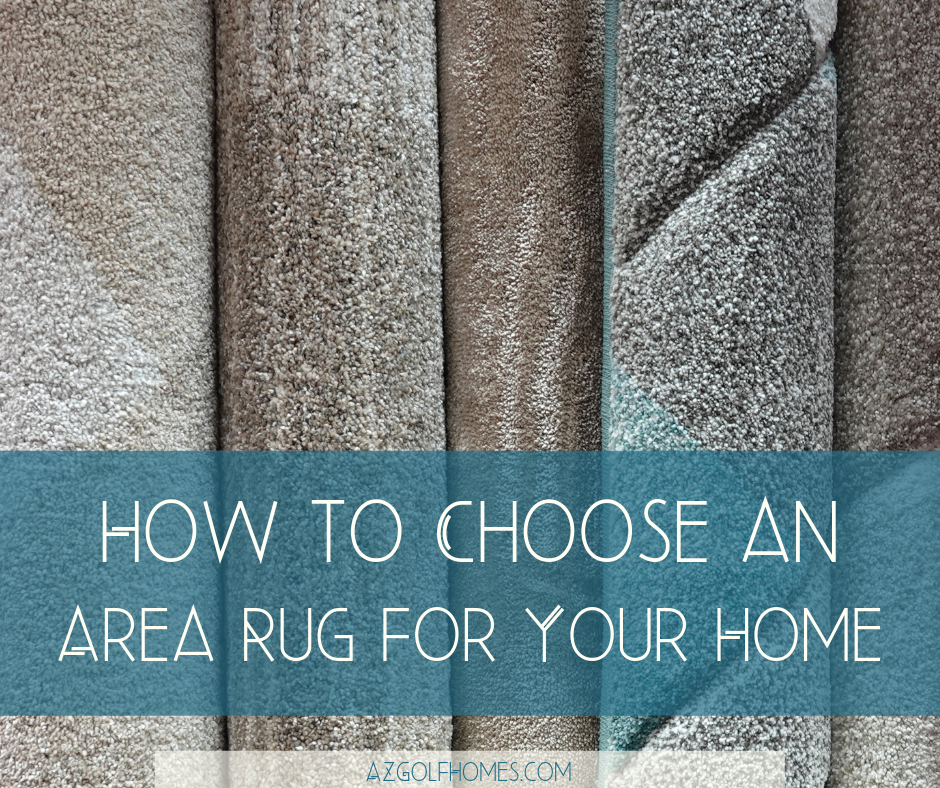 Whether you're staging your home for sale or you've just bought a new home and it's time to decorate, you need to know how to choose the right area rug – and this guide walks you through the process.
How to Choose an Area Rug for Your Home
If you're selling your house and want to use a rug to freshen up your decor a bit, or if you've moved into your new home and you need something to pull everything together, here's what you need to know about choosing an area rug.
When you're choosing a rug, the most important things to think about are:
Let's take a closer look at each of these.
Rug Color: What You Need to Know
Color is where you start – you narrow down your choices based on the colors that match your existing palette. If the room your rug is destined for is already packed with color, you might want to stick with a neutral, single-colored rug. However, if it's all neutral and could use a pop of vibrant color, the rug is the perfect place to do it.
The bottom line is that the rug you choose will be – visually, at least – the biggest piece of furniture in the room. Remember all the tones in your flooring, on your walls and in your decor when you're choosing a color or a pattern to make sure you're doing the right thing for your space.
Related: 7 design tips to help you sell your home faster
Rug Texture: What's Right for Your Space?
Texture is often one of the most overlooked parts of buying a rug – but it's incredibly important. If your space has a variety of textures, it feels more dimensional. Your furniture's finishes should guide you in creating contrast. For example, if your seating is made from ultra-smooth leather, a rug with a long pile may be a wonderful addition.
Choosing the Right Rug Size
The size your your rug is perhaps the most important consideration. If your rug is too small, it's going to look silly and lost on your floor.
The bottom line is that the rug you choose should fit the size of your seating area, and it should be as large as it can possibly be within it. If possible, all your furniture should be on the rug. However, if you can't pull off putting all your furniture on the rug, the front two legs of things like your sofa will do just fine.
Related: 7 staging tips for the master bedroom
Tips for Choosing a Rug
Use these tips to make sure you're getting the right rug for your space:
Choose bold patterns on a small rug to make a room look larger
Don't cover the design with furniture if you're using a small rug to make a room look larger
Use runners along both sides of your bed rather than a large area rug beneath it
Use two rugs to create two separate living areas in an open floor plan
Are You Buying or Selling a Home in Scottsdale?
If you're selling your home in Scottsdale, we can help you sell it quickly and at the right price. Using tried-and-true marketing strategies as well as innovative new methods in print, online and other mediums, we'll put your house in front of all the right buyers.
If you're also looking for a new home, check out all Scottsdale golf course homes for sale or take a check out these communities:
You can also check out listings in all Scottsdale's golf communities here.
Don Matheson
REALTOR® | Founder
The Matheson Team – RE/MAX Fine Properties
21000 N. Pima Rd., #100, Scottsdale, AZ 85255
480-405-4228
[email protected]
 [gravityform id="1″ title="false" description="false"]