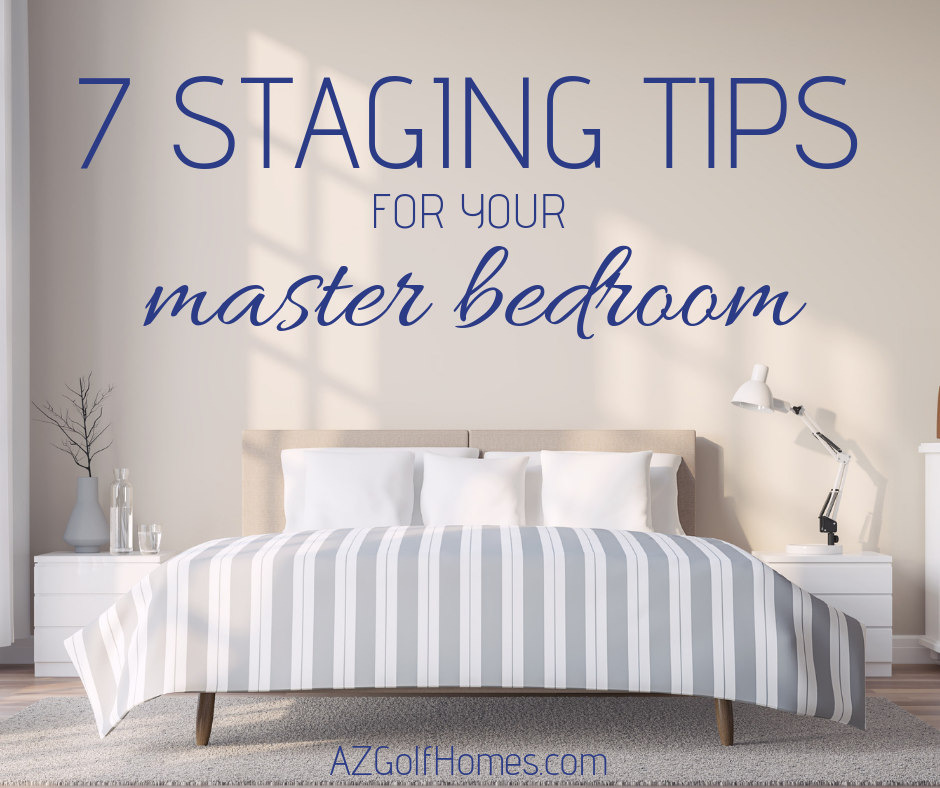 While kitchens and bathrooms – especially master bathrooms – are generally the rooms that sell your home, you have to stage every inch of the house when you're listing it for sale.
And that includes the master bedroom, which needs to look like a beautifully relaxing haven where prospective buyers can see themselves unwinding after a long day.
7 Staging Tips for Your Master Bedroom
Check out these seven tips from the pros to find out how you can turn your bedroom into an idyllic retreat that makes buyers fall in love with your home:
Invest in calm, neutral paint colors
Minimize your furniture
Take out all the clutter
Make the bed beautifully
Update window dressings
Let there be light
Bring in plants
1. Invest in calm, neutral paint colors
Your prospective buyers expect the bedroom to be relaxing – a space where they can kick back after a long day. Choose pale blue, green, gray or a soft beige, which are all soothing colors. Pick a paint with an eggshell, low gloss or satin finish, which will help it reflect natural light.
2. Minimize your furniture
You want your bedroom to appear as spacious as possible, so take out everything but the bed, nightstands and your dresser. Make use of mirrors; if there's one attached to your dresser, that's great, but you may want to invest in a full-length standing mirror, too, which can add even more depth to the room. Leave clear walking paths on both sides of the bed and between the bed and dresser.
3. Take out all the clutter
Nobody wants to see clutter when they're trying to relax, and if you leave a mess in your bedroom, your buyers will feel the stress it causes. Take out everything that could make it appear cluttered, including décor, laundry baskets, excess pillows and personal items. Don't leave anything on the floor – not even a basket.
4. Make the bed beautifully
Pull out your best linens and coordinate the bedspread, pillows and duvet with the wall colors. Make sure you cover your box spring with a bed skirt or an additional sheet.
5. Update window dressings
Make sure your window dressings match the room's colors. Don't put up heavy drapes, even if you personally prefer to sleep in very dark rooms. Instead, open the binds wide to let in as much natural light as possible so prospective buyers can get a good feel for the space.
6. Let there be light
While you're letting in that natural light, make sure you place lamps on your bedside tables. If you have a reading nook in your master bedroom, place one there, too.
7. Bring in plants
A live plant does more than you can imagine for a space. You don't have to get anything big – even a few stalks of lucky bamboo (Dracaena sanderana)will be fine – the point is to show that your master bedroom is a naturally relaxing place.
Are You Buying a Golf Course Home for Sale in Scottsdale?
Ready to start exploring golf course communities in Scottsdale? Check out our:
You can also check out listings in all Scottsdale's golf communities here.
Don Matheson
Realtor | Founder
The Matheson Team – RE/MAX Fine Properties
21000 N. Pima Rd., #100, Scottsdale, AZ 85255
480-405-4228 
[email protected]