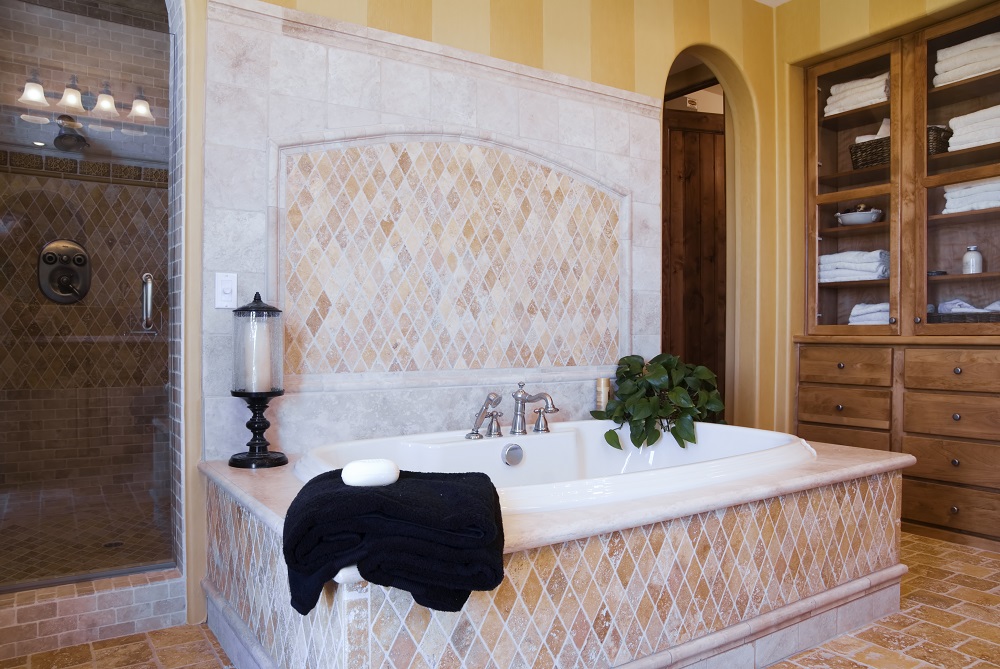 If you're like most people who are considering a bathroom remodel – whether you're doing it to help sell your home faster or you've just moved into a new golf course home in Scottsdale and need to make a few improvements – these are seven questions you need to ask yourself before you dive in with both feet.
7 Questions to Ask Yourself Before You Remodel Your Bathroom
Remodeling a bathroom is a big job, so ask yourself:
How much can you spend?
Who's the remodel for?
Will you expand the space?
How long will it take, realistically?
Are you going for an "age-in-place" design?
What kind of storage options do you want?
What "extras" do you want?
Let's take a closer look at each of these.
Related: How much is my home worth?
#1. How much can you spend?
Your budget will determine just how much remodeling you can get done. An average bathroom remodeling project costs a little over $20,000, but that's an average – you may spend a lot less (or a lot more, depending on which "extras" you want in your space.
Crunch the numbers before you dive into a bathroom remodeling project. That way, you'll have the most realistic expectations, and you'll know when you're getting close to the edges of what you're able to spend.
#2. Who's the remodel for?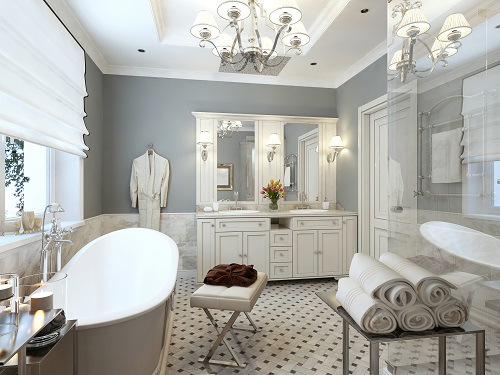 Are you remodeling so buyers will love your home, or are you doing a master bathroom for your personal use? Is it a guest bathroom?
While you'll need to consider what you want most from your bathroom, remember things like polished stone floors can be slippery – so if your intent is to age in place, you may want to reconsider. Likewise, if you already have a tub elsewhere in the house, think about switching to a walk-in shower (which might get far more use than a tub will). Sometimes it's best to look ahead five to ten years when you're considering a remodeling project.
Related: 7 ways to make your bathroom sparkle
#3. Will you expand the space?
If your intent with remodeling is to make more space, you'll have to invest more in it. An average bathroom takes up about 40 square feet of room in your home, but if that's too small, you'll probably have to move walls, downsize other rooms or dip into your closet space.
#4. How long will it take, realistically?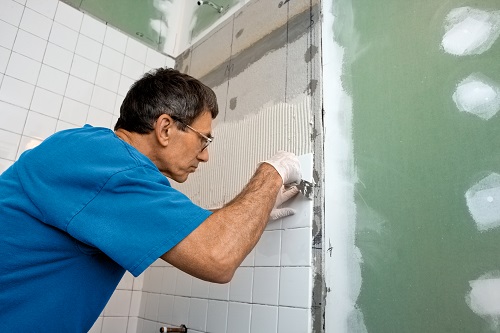 Bathroom remodeling projects typically take about a month to complete, but you can expect it to take longer if you're doing things like moving walls or changing fixture locations (like moving the toilet to the other side of the room, away from the current plumbing).
When you hire a contractor, he or she should give you an estimate on how long the whole project will take. If you're not happy about having your life disrupted for that amount of time – remember, you can't use a bathroom that's being worked on, so you'll have to share the other lavatories in your home – then it might be a good idea to talk to another contractor. Just be careful that you're not picking someone who's fast-but-sloppy!
#5. Are you going for an "age-in-place" design?
If you're in your forever home and you intend to grow old in it, remember that your needs will likely change over time. Maybe you'll want to install grab bars near the facilities, or you might want to use a curbless shower rather than a step-in tub.
#6. What kind of storage options do you want?
The storage you need for toiletries, towels and other bathroom accessories will impact your choices on cabinets and other storage spaces. Now is the time to plan for those things so you don't come up short when the bathroom is all finished.
#7. What "extras" do you want?
When you're remodeling, the sky's the limit. Well, actually, your budget is the limit – but it's the perfect time to add in all the amenities you want. Heated towel rack? Check. Heated floors? Check. Double vanity? Check!
Remember, though, that "extras" add up quickly – and they can make a huge impact on your bottom line.
Related: 7 tips to turn your bathroom into a personal spa
Are You Buying or Selling a Home in Scottsdale?
If you're selling your home in Scottsdale, we can help you sell it quickly and at the right price. Using tried-and-true marketing strategies as well as innovative new methods in print, online and other mediums, we'll put your house in front of all the right buyers.
If you're also looking for a new home, check out all Scottsdale golf homes for sale or take a deep-dive in these communities:
You can also check out listings in all Scottsdale's golf communities here.
Don Matheson
REALTOR® | Founder
The Matheson Team – RE/MAX Fine Properties
21000 N. Pima Rd., #100, Scottsdale, AZ 85255
480-405-4228
[email protected]
 [gravityform id="1″ title="false" description="false"]