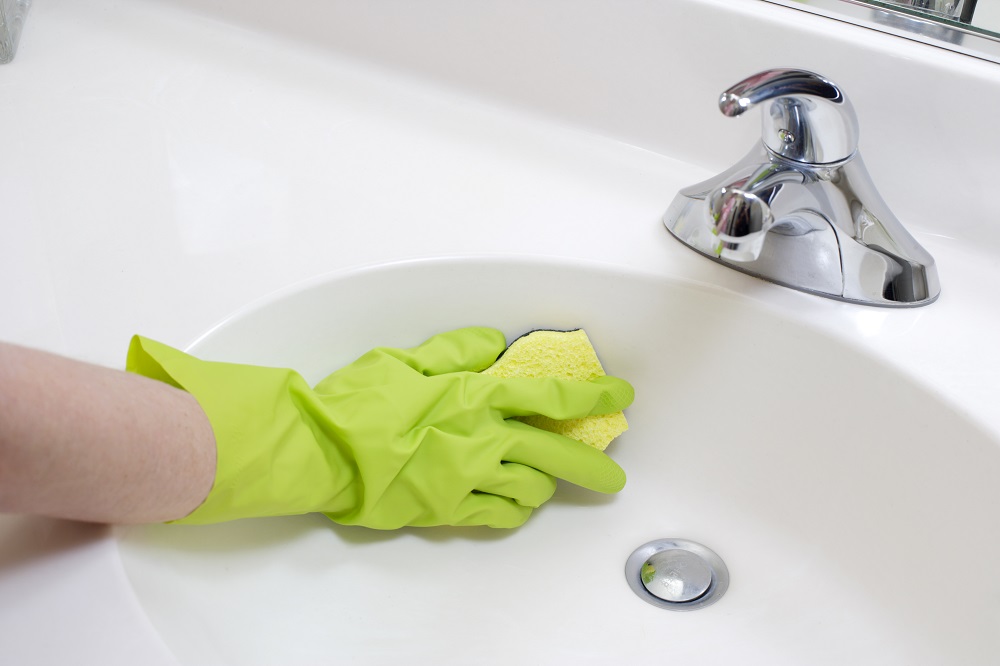 If you're selling a golf course home in Scottsdale, you know how important it is to make sure your bathrooms are spotlessly clean and staged properly. You can't start staging until you've cleaned your bathrooms from top to bottom though – and for many people, that means hiring a professional cleaning service. But even if you don't hire a professional cleaning service, there are things you can do to make sure your whole bathroom sparkles.
Related: 7 tips to turn your bathroom into a personal spa
7 Ways to Make Your Bathroom Sparkle When You're Selling Your Home
A bathroom deep-clean doesn't have to be an all-day event. Use these tips to make sure you're hitting all the right spots:
Clean your shower from top to bottom
Scour the tile, walls and ceiling
Scrub the toilet
Clean the sink thoroughly
Rid the vent of germs
Tackle the baseboards
Shine the floors
#1. Clean your shower from top to bottom
When you clean your shower and tub, start at the top – literally. Use these tips to make sure it's gleaming:
Pour white vinegar into a plastic grocery bag and tie it around your shower head nozzle. Make sure the shower head is completely submerged, and leave it to soak overnight. When you remove the bag in the morning (don't stand directly under it – learn from our experience, please), just run the shower to rinse it clean.
Put your plastic shower curtain liner in the washing machine with detergent and a few old towels. Hang them back up in the shower to dry.
If you have a shower door, make a paste from distilled white vinegar and a cup of baking soda. Apply it directly to the door and let it sit for an hour, then rub it away with a microfiber cloth. Rinse it and dry it with a clean microfiber cloth.
#2. Scour the tile, walls and ceiling
Spray down all the tile, counter tops and walls with an all-purpose cleaner, then turn on the shower at its hottest temperature. Let the steam build up for about five minutes, then turn off the water and close the door on your way out. Let the steam and the cleaner work together for about 20 minutes, and then head back in to wipe everything off with a clean cloth.
To wipe down the ceiling, use a clean and dry microfiber mop. Save the floors for last!
#3. Scrub the toilet
Pour a cup of baking soda into the toilet bowl, let it sit for five minutes, and then scrub and flush. You can do the same with your regular toilet bowl cleaner, too. If you have lime build-up or mineral deposits, you can try a pumice scouring stick – they're tough enough to remove lime and minerals, but not hard enough to damage the porcelain surface.
#4. Clean the sink thoroughly
Drains are packed with germs, so pour some baking soda down yours and chase it with white vinegar. After it stops actively foaming, turn on the hot water and flush it all away.
Use disposable disinfecting cloths to clean the rest of the sink and the counter top – they're superior to regular cloths, which can just move germs and bacteria from one place to another.
#5. Rid the vent of germs
Turn off the power to your bathroom and remove your vent cover. Soak it in warm water and dish soap (preferably in the tub you haven't cleaned yet) and wipe down the fan blades with a damp cloth. You can also remove dust from the fan's motor with a stiff brush.
#6. Tackle the baseboards
Nobody wants to get down on the bathroom floor, but to get every piece of fuzz and dust off your baseboards, you'll have to do it. Use a broom to get as much as you can first, though; then, use disposable disinfecting cloths to wipe them down thoroughly.
#7. Shine the floors
Sweep and mop – business as usual!
Are You Selling Your Home in Scottsdale?
If you're selling your home in Scottsdale, we can help you sell it quickly and at the right price. Using tried-and-true marketing strategies as well as innovative new methods in print, online and other mediums, we'll put your house in front of all the right buyers.
If you're also looking for a new home, check out all Scottsdale golf homes for sale or take a deep-dive in these communities:
You can also check out listings in all Scottsdale's golf communities here.
Don Matheson
Realtor | Founder
The Matheson Team – RE/MAX Fine Properties
21000 N. Pima Rd., #100, Scottsdale, AZ 85255
480-405-4228
[email protected]
[gravityform id="1″ title="false" description="false"]