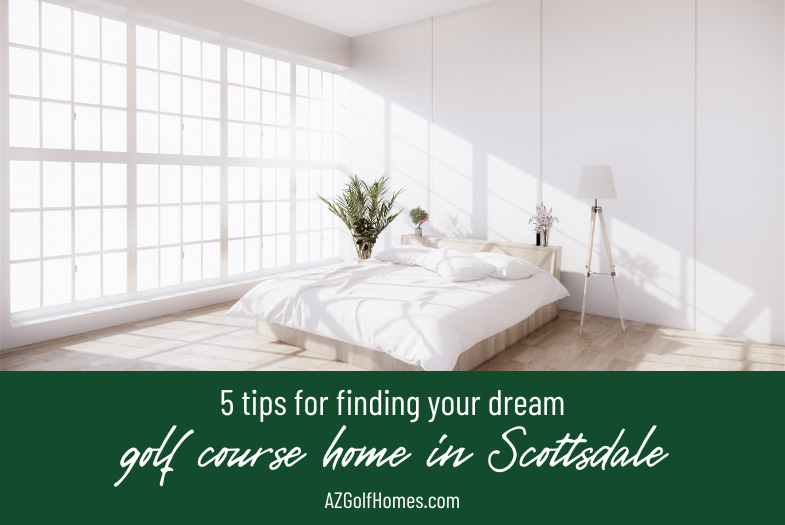 5 Tips for Finding Your Dream Home on a Golf Course in Scottsdale
If you're looking for your dream home on a golf course in Scottsdale, there are five things you should know before you start your search. This guide explains. 
5 Tips for Finding Your Dream Home on a Golf Course in Scottsdale
Check out the five things you should know about before you begin your home search:
Defining your lifestyle needs
Researching Scottsdale golf communities
Considering home amenities
Working with a REALTOR® who specializes in golf course homes
Doing your due diligence
Here's a closer look at each. 
Defining Your Lifestyle Needs
Your dream home should really align with your lifestyle. For example, if you're an avid golfer, you'll most likely want a home that has easy access to the course you live on. Do you enjoy hosting social events? You'll probably prefer a home with a large patio overlooking the green. Make a list of your lifestyle needs and share it with your real estate agent. Your agent can help you find the perfect home on a golf course in Scottsdale.
Related: 9 tips to help you sell your golf course home fast this summer
Researching Scottsdale Golf Communities
Scottsdale is teeming with golf communities, and each has its own vibe and amenities. Some golf course communities cater to those who prefer tranquil, laid back atmospheres, while others offer more vibrant social environments. It's up to you to take the time to explore different communities to find one that fits your lifestyle. If you're not sure about the way a community feels, ask your real estate agent to walk you through what it's like living there. You can also tour homes in various golf course communities and talk to those in charge of memberships so you can get a feel for what you'll experience if you buy in the neighborhood.
Considering Home Amenities
What amenities are important to you in a golf course home? Do you want a large garage for your golf cart, a private putting green, or a spacious deck with views of the golf course? You should make a list of all the amenities you need to be comfortable in your new home. Make sure you share your list with your real estate agent, who will be able to help you find your dream home based on your list of wants and needs.
Related: 9 spring home maintenance tasks to tackle before you list your home
Working With a REALTOR® Who Focuses on Golf Course Homes
It's important for you to work with a real estate agent who specializes in golf course homes. That's because golf course communities are different from other communities. Your real estate agent should have in-depth knowledge of local golf communities and be able to give you the guidance you need so you can find homes that meet your specifications.
Doing Your Due Diligence
After you find your dream home, it's very important that you do your due diligence. That includes verifying the homes condition, having inspections and appraisals done on time, understanding homeowners association rules, and getting a clear picture of your potential golf membership fees. You should talk to your real estate agent if you have any questions about any of these issues – or anything else. 
FAQ About Finding Your Dream Home on a Golf Course in Scottsdale
Here are some frequently asked questions about finding your dream home on a golf course in Scottsdale. If you don't see the answers you're looking for here, please call our office. We're here to help.
Related: 5 habits of successful sellers in crazy real estate markets 
How much does a golf course home in Scottsdale cost? 
Prices vary widely based on location, size, and amenities. You can expect prices to range from mid-six figures to several million dollars.
Are there extra fees associated with living on a golf course? 
Yes, most golf communities have HOA fees, and you may also need to pay golf membership fees.
Is living on a golf course noisy? 
While you can expect some noise during the day, most golfers respect community guidelines for early morning and late evening hours.
Can I use the golf course any time? 
This depends on your community's rules and your golf membership.
Related: How much does it really cost to sell a home?
Can non-golfers enjoy living in a golf community?
Absolutely! Many golf communities offer a variety of amenities, such as fitness centers, spas, dining options, and more.
Are You Buying a Golf Course Home for Sale in Scottsdale?
If you're selling your home and buying another one, call us at 480-405-4228 or fill out the form below to talk to a REALTOR now.
While you're here, you can also check out:
Don Matheson
REALTOR® | Founder
The Matheson Team – RE/MAX Fine Pro