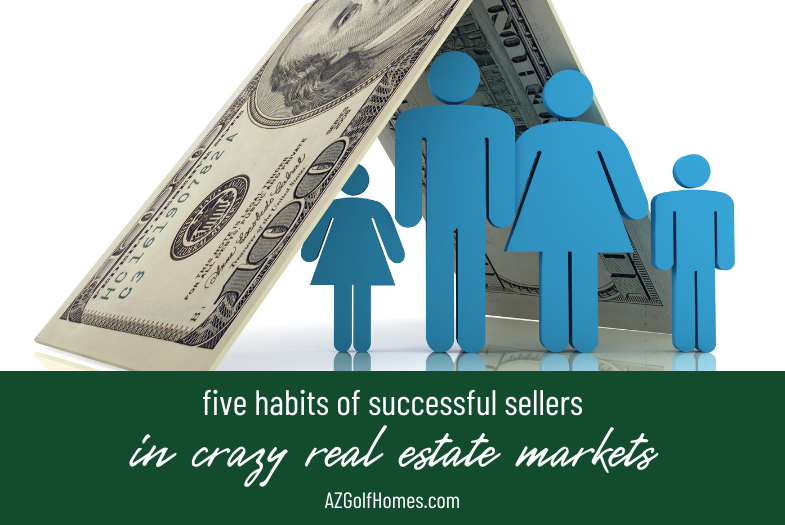 If you're gearing up to sell your home this summer, you already know that the real estate market is crazy. Some homes sell quickly, while others sit on the market for much longer. As a seller, you naturally want to sell as quickly as possible, and at the best possible price. This guide outlines five habits of successful sellers in crazy real estate markets so you can adjust your tactics as necessary.
5 Habits of Successful Sellers in Crazy Real Estate Markets
Check out these five habits of successful sellers in crazy real estate markets:
They make repairs
They know curb appeal is important
They're willing to compromise
They're realistic with listing prices
They accommodate showings
The following sections explain each in greater detail.
Successful Seller Habit #1: They Make Repairs
When your house is in good condition, it's more likely to sell faster. That's particularly important right now, when the COVID-19 pandemic is all but over and buyers aren't as desperate to move as they once were. In fact, during the pandemic, many Americans were clamoring for new homes, with many purchasing them sight unseen. Now, things are different. Having a turnkey home is incredibly important because of the way the housing market is moving.
Successful sellers figure out what repairs their home needs and make them before putting it on the market.
Related: SMoCA and other great art museums in and around Scottsdale
Successful Seller Habit #2: They Know Curb Appeal is Important
Prospective buyers start forming an opinion of your home before they even get out of the car. With more houses available than there have been in the past several years, buyers are becoming a bit more selective about homes' exterior appearances. That's why curb appeal is such a big deal. If you want to impress buyers, keep your outdoor areas clean, well maintained and looking sharp. Make sure your landscaping is on point and your yard is free from clutter.
Successful Seller Habit #3: They're Willing to Compromise
If you want to sell your home, you may need to compromise on a few things. This is a big difference from what people experienced during the pandemic, when someone could put a home up on the market and wait for a bidding war to begin period now, because there are more homes available, buyers can easily choose one that isn't yours. You may need to compromise on price, concessions or contingencies.
Related: Scottsdale's most prestigious golf course communities
Successful Seller Habit #4: They're Realistic With Listing Prices
Your real estate agent will tell you how much your home is worth on the current market. They don't just pull this number out of thin air. Instead, they perform a series of calculations that tells them what buyers are most likely willing to pay for a home like yours. They do these calculations by evaluating your homes size, condition, age and location and comparing it to homes that are currently on the market, homes that have recently sold in the same area, and homes that were on the market but never sold. It's very important to work closely with your real estate agent on home pricing, because they have eyes on what fires are actually paying right now. Don't make the mistake of overpricing your home because you're assigning sentimental value to it rather than dollar value.
Successful Seller Habit #5: They Accommodate Showings
Successful sellers know that the more available their home is for showings, the more likely they are to sell it quickly. If you remain flexible with your showing times, more prospective buyers will be able to tour your home. The more people who tour your home, the better. Trying to be as open as possible to showings during the day, in the evenings and on the weekends.
Related: The ultimate guide to buying a luxury golf course home in Scottsdale
Are You Buying a Golf Course Home for Sale in Scottsdale?
If you're selling your home and buying another one, call us at 480-405-4228 or fill out the form below to talk to a REALTOR now.
While you're here, you can also check out:
Don Matheson
REALTOR® | Founder
The Matheson Team – RE/MAX Fine Pro