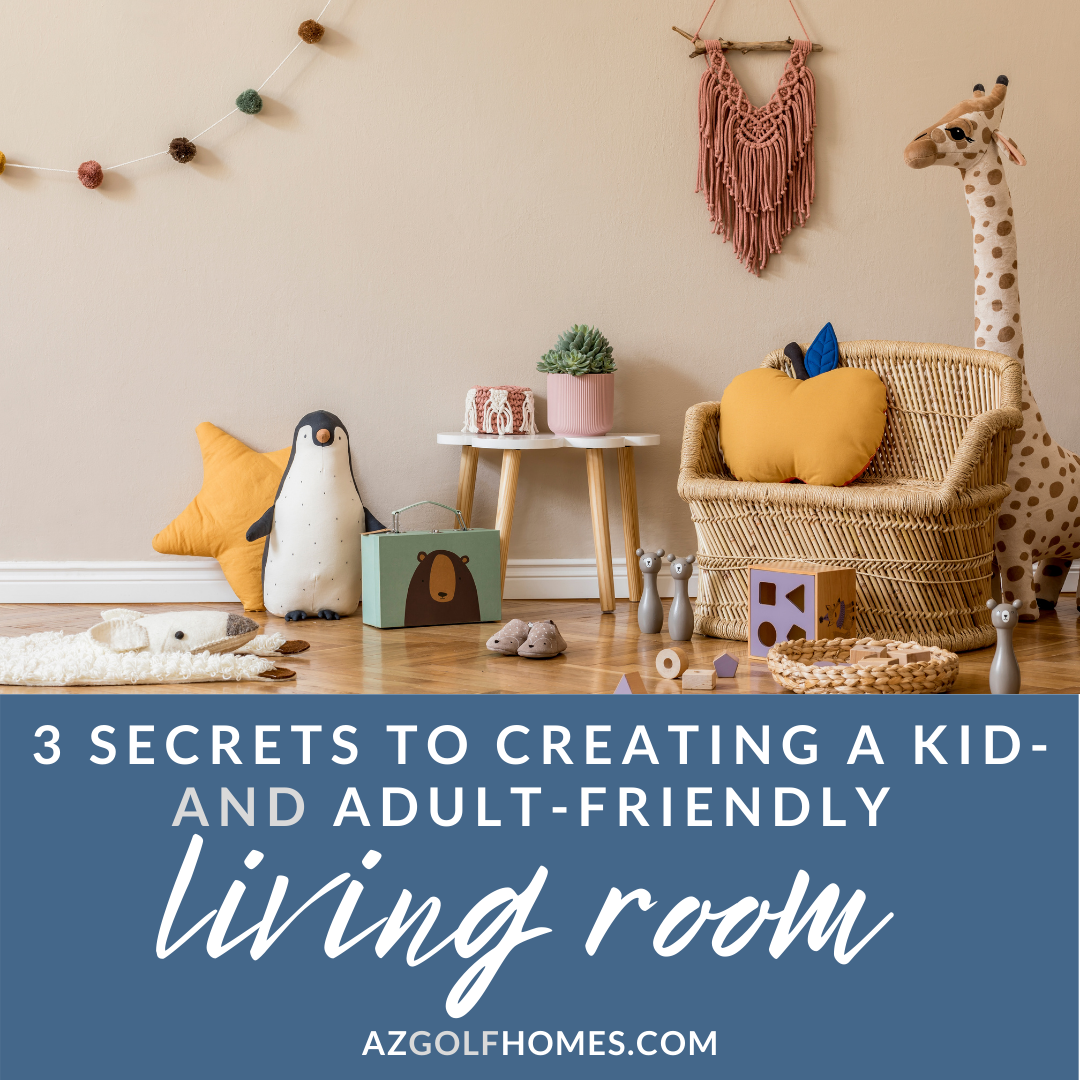 When you move to Scottsdale, you already know that the city itself is full of great amenities – there's always something to do and see here, even if you've lived here for decades. There are plenty of things for kids to do, too… and you can extend that kid-friendliness to your new golf course home without sacrificing style. Check out these three secrets to creating a stylish, kid-friendly living room in your new home in Scottsdale.
3 Secrets to Creating a Stylish, Kid-Friendly Living Room in Your New Home
First things first: The living room is, perhaps, the most important room in your new home to blend function and style. It's your communal hangout – and in most homes where children live, it's the main play space. Check out these three secrets to creating a stylish, kid-friendly living room that your whole family will love:
Invest in tough fabrics for furnishings
Be smart about storage
Find kids' furniture in adult colors
Here's a closer look at each.
Secret #1 to Creating a Stylish, Kid-Friendly Living Room: Invest in Tough Fabrics for Furnishings
No matter how old your children are, your furniture will likely pay the price. Look for furnishings that feature performance fabrics – those are fabrics tough enough to withstand spills and resist stains, plus stand up to everyday wear and tear. Most furniture manufacturers, including many with local stores (like Pottery Barn at Scottsdale Quarter and Macy's at Scottsdale Fashion Square), offer sofas, loveseats and chairs made with performance fabrics.
Pro Tip: Sofas with deep seats and removable cushions make great fort materials, in case you were wondering.
Secret #2 to Creating a Stylish, Kid-Friendly Living Room: Be Smart About Storage
Every kid-friendly living room has plenty of storage space for toys. Look for a multiple-cube shelf you can fill with organizing baskets, a cabinet with doors designed for little hands, or a storage ottoman your little ones can manage.
Make the most out of kids' toys lives by rotating them in and out as the children's interests change. This Montessori-based principle enables you to help kids play with what they enjoy – and learn from – most when they need the items, and it helps you keep the number of toys in your home under control, as well. You can rotate in toys that they miss and rotate out those that they're tired of easily, especially when there's a consolidated storage space for everything.
Related: The 5 best playgrounds in Scottsdale
Secret #3 to Creating a Stylish, Kid-Friendly Living Room: Find Kids' Furniture in Adult Colors
Kids definitely need furniture in their own sizes, but you don't have to get chalky pastels or colors that don't match your living room decor. It's easy to find children's furniture that matches your shared living space; look for finishes in birch, dark blue or black so you don't have to compromise style to give little ones what they need.
Most children's furniture manufacturers, like Pottery Barn Kids at Kierland Commons and even IKEA in Tempe, offer several options that would look great with your living room's style.
Are You Buying a Golf Course Home for Sale in Scottsdale?
If you're selling your home and buying another one, call us at 480-405-4228 or fill out the form below to talk to a REALTOR now.
While you're here, you can also check out:
Don Matheson
REALTOR® | Founder
The Matheson Team – RE/MAX Fine Pro