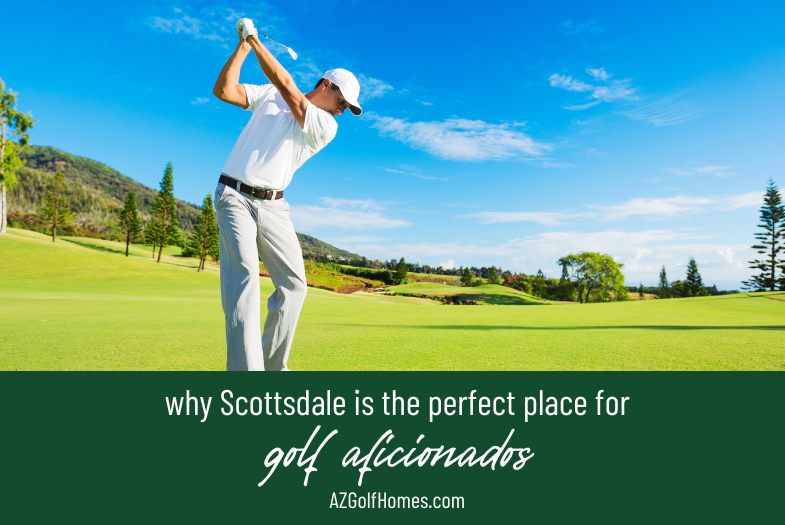 Scottsdale, Arizona, is a haven for golf enthusiasts. With its pristine golf courses, luxurious amenities, and the backdrop of the stunning Sonoran Desert, it's no wonder that many choose to buy or sell homes here, especially in golf course communities. Whether you're a seasoned golfer or someone who simply appreciates the lifestyle that comes with living in such communities, Scottsdale has something to offer.
Why Scottsdale is the Perfect Place for Golf Aficionados
Scottsdale's reputation as a premier golf destination is well-deserved. The city's golf courses stand out not just for their design but also for their setting. Set against the dramatic backdrop of the Sonoran Desert, these courses provide a unique blend of natural beauty and challenging play. The desert's distinct topography and flora introduce a level of complexity to the game, making it engaging for both novice and seasoned players. The greens are maintained to perfection, ensuring that the playing conditions are always optimal. Beyond the technical aspects, the panoramic views of the desert landscape elevate the golfing experience, making each round memorable. In Scottsdale, golf is not just a sport; it's an experience that combines the thrill of the game with the beauty of nature.
The allure of Scottsdale golf courses
Benefits of living in golf course communities
Luxury living in Scottsdale
The vibrant local culture and activities
Here's a closer look at each.
The Allure of Scottsdale Golf Courses
Scottsdale's golf courses are a testament to the city's dedication to the sport and its enthusiasts. These courses, set against the backdrop of the Sonoran Desert, offer a playing experience that's both visually stunning and technically challenging. The desert landscape, with its unique flora and undulating terrains, adds a distinct character to each hole. Golfers can expect varying levels of difficulty, ensuring that both novices and seasoned players find something to their liking. The greens are maintained with utmost precision, ensuring smooth play. Additionally, the panoramic vistas of the desert, with its vibrant sunsets and expansive skies, add a touch of magic to every game. It's not just about playing golf; it's about immersing oneself in an environment where nature and sport coalesce beautifully.
Related: How to choose the right real estate agent to help you sell your golf course home in Scottsdale
Benefits of Living in Golf Course Communities
Choosing to live in a golf course community in Scottsdale is about embracing a holistic lifestyle that goes beyond the love for the sport. These communities are designed keeping in mind the needs and preferences of their residents. There's a strong sense of community, where neighbors bond over shared interests and regular social events. Many of these communities boast state-of-the-art clubhouses that become the hub of social life, offering dining options ranging from casual to gourmet. Social events, tournaments, and gatherings are frequent, allowing residents to forge strong bonds. The homes in these communities reflect elegance and comfort. They are often equipped with upscale amenities, and many offer stunning views of the golf course, making everyday living a visual delight. It's not just about the home; it's about being part of a community that shares your passions and values.
Related: 5 rainy day activities anyone can do in Scottsdale
Luxury Living in Scottsdale
Scottsdale is synonymous with luxury, and this is evident in its golf communities. For those with a penchant for the finer things in life, the city offers homes that are nothing short of architectural marvels. These homes come equipped with modern amenities that cater to every conceivable need. Imagine homes with expansive private swimming pools, landscaped gardens, state-of-the-art fitness centers, home theaters, and gourmet kitchens. But luxury in Scottsdale isn't just confined to the four walls of a home. The communities themselves offer an ambiance of exclusivity and tranquility. Tree-lined avenues, manicured lawns, and serene water bodies add to the charm. The sense of privacy, combined with top-notch security features, ensures that residents can enjoy their opulent lifestyle without any concerns.
Related: 10 tips for simplifying your move to Scottsdale
The Vibrant Local Culture and Activities
Scottsdale is not just about golf and luxury homes. The city is a cultural hub, teeming with activities that cater to a diverse range of interests. Art enthusiasts can explore numerous galleries showcasing works of local and international artists. Museums in Scottsdale offer insights into the region's history, art, and culture. For those who enjoy culinary adventures, Scottsdale is a gastronomic delight. The city is home to a plethora of restaurants serving global cuisines, from authentic Italian to spicy Thai. Shopping aficionados can indulge in retail therapy at upscale boutiques, local markets, and modern shopping centers. Throughout the year, Scottsdale plays host to various events, be it art festivals, music concerts, or culinary fests, ensuring that there's always something happening. For residents and visitors, Scottsdale offers a vibrant mix of cultural experiences, making it a lively place to live and visit.
FAQ About Golf Living in Scottsdale
Here are some frequently asked questions about golf living in Scottsdale. If you don't see the answers you're looking for here, please call our office. We're here to help.
What Makes Scottsdale Golf Courses Unique?
The blend of challenging play, impeccable maintenance, and the stunning backdrop of the Sonoran Desert sets Scottsdale golf courses apart from the rest.
Are There Membership Fees in Golf Communities?
Yes, many golf communities in Scottsdale require residents to pay membership fees, which cover access to the course, clubhouses, and other amenities.
How Close are Golf Communities to Downtown Scottsdale?
Most golf communities are a short drive away from downtown Scottsdale, ensuring residents have easy access to the city's attractions.
Do All Golf Homes Come with a View of the Course?
While many homes in golf communities offer views of the course, it's not a guarantee. It's best to check with individual listings or communities.
Is Scottsdale Weather Suitable for Year-Round Golfing?
Absolutely! Scottsdale's climate is perfect for golfing, with over 300 sunny days a year.
Scottsdale is more than just a golfer's paradise. It's a city that offers a unique blend of luxury, community, and culture. Whether you're looking to buy, sell, or simply explore, Scottsdale promises an experience like no other.
Are You Buying a Golf Course Home for Sale in Scottsdale?
If you're selling your home and buying another one, call us at 480-405-4228 or fill out the form below to talk to a REALTOR now.
While you're here, you can also check out:
Don Matheson
REALTOR® | Founder
The Matheson Team – RE/MAX Fine Pro