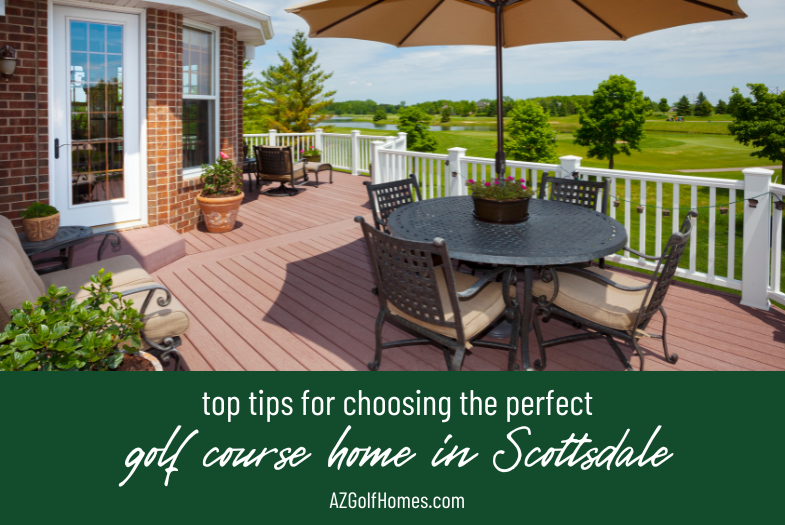 Scottsdale, with its sprawling golf courses and luxurious homes, is a dream destination for many. If you're considering investing in a golf course home in this beautiful city, it's essential to make an informed decision. This guide is here to help you navigate the process and find the perfect home that aligns with your preferences and lifestyle.
Top Tips for Choosing the Perfect Golf Course Home in Scottsdale
Finding the right golf course home in Scottsdale can be both exciting and challenging. This guide will walk you through:
Understanding your priorities
Researching golf communities
Evaluating home features and amenities
Considering the location and accessibility
Seeking expert advice
Here's a closer look at each.
Understanding Your Priorities
Before diving into the home search, it's crucial to understand what you're looking for. Are you primarily interested in the golfing aspect, or are the home's luxury features more important? Do you value privacy, or is a vibrant community life more appealing? By identifying your priorities, you can narrow down your options and focus on properties that truly resonate with your needs.
Related: 10 tips for simplifying your move to Scottsdale
Researching Golf Communities
Scottsdale is home to several golf communities, each with its unique offerings. Take the time to research these communities to understand what they offer in terms of golfing facilities, amenities, and overall lifestyle. Some communities might have renowned golf courses, while others might boast state-of-the-art clubhouses or exclusive events. Your choice should align with what you value most in a golf community.
Evaluating Home Features and Amenities
Golf course homes in Scottsdale are synonymous with luxury. However, the features and amenities can vary significantly between properties. Look for homes that offer the amenities you desire, be it private pools, landscaped gardens, spacious patios, or modern kitchens. Ensure that the home's design and layout align with your preferences and that it offers the comfort and luxury you're looking for.
Related: How to choose the right real estate agent to help you sell your golf course home in Scottsdale
Considering the Location and Accessibility
While the allure of a golf course home is undeniable, it's also essential to consider its location in relation to other parts of Scottsdale. Think about its proximity to downtown, shopping centers, restaurants, and other attractions. Accessibility can play a significant role in your overall living experience, so choose a location that offers both tranquility and convenience.
Related: 5 rainy day activities anyone can do in Scottsdale
Seeking Expert Advice
Navigating the real estate market can be complex, especially when looking for specialized properties like golf course homes. It's always a good idea to seek expert advice. Engage with a real estate agent familiar with Scottsdale's golf communities. Their insights and expertise can be invaluable in helping you find a home that's a perfect fit.
FAQ About Choosing a Golf Course Home in Scottsdale
Here are some frequently asked questions about choosing a golf course home in Scottsdale. If you don't see the answers you're looking for here, please call our office. We're here to help.
What Should I Consider When Choosing a Golf Course?
When choosing a golf course, consider its reputation, maintenance, facilities, and the challenges it offers. It's also essential to think about the community's overall vibe and the amenities it provides.
Are Golf Course Homes More Expensive Than Regular Homes?
Golf course homes often come with a premium due to their location, views, and the amenities they offer. However, prices can vary based on the community, the home's features, and its proximity to the golf course.
How Important is the Home's Orientation to the Golf Course?
The home's orientation can determine the views you get and the amount of sunlight the property receives. It can also impact privacy, especially if it's close to teeing grounds or fairways.
Do Golf Course Homes Have Stricter HOA Rules?
Golf course communities often have HOA rules to maintain the area's aesthetics and ensure a harmonious living environment. It's essential to familiarize yourself with these rules before making a purchase.
Can I Redesign or Renovate My Golf Course Home?
While you can make changes to your home, there might be restrictions imposed by the community's HOA. It's always advisable to check with them before undertaking any significant renovations.
Choosing the perfect golf course home in Scottsdale is about finding a balance between your golfing passions and your lifestyle needs. With the right approach and expert guidance, you can find a property that offers the best of both worlds.
Are You Buying a Golf Course Home for Sale in Scottsdale?
If you're selling your home and buying another one, call us at 480-405-4228 or fill out the form below to talk to a REALTOR now.
While you're here, you can also check out:
Don Matheson
REALTOR® | Founder
The Matheson Team – RE/MAX Fine Pro