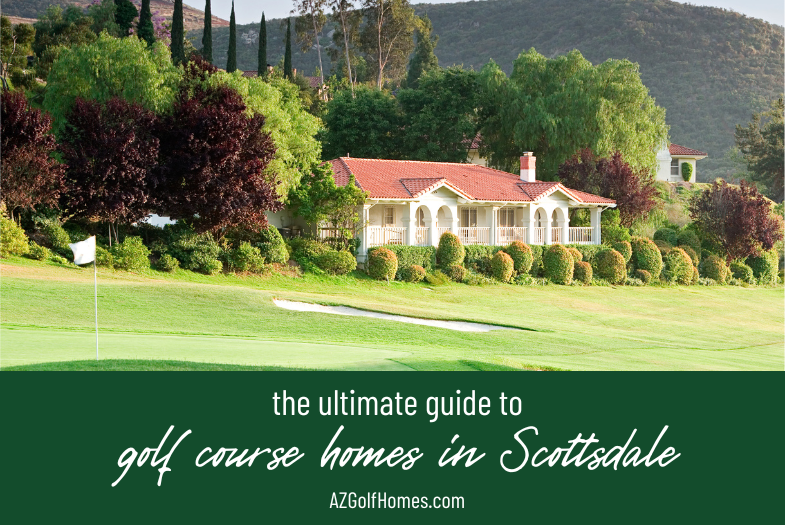 Scottsdale, renowned for its luxurious lifestyle and stunning landscapes, is a dream destination for many, especially those passionate about golf. The city's golf course homes are a reflection of this passion, offering residents an unparalleled living experience. If you're considering making Scottsdale your home, or simply want to know more about what it offers, this guide is for you.
The Ultimate Guide to Golf Course Homes in Scottsdale
Scottsdale's golf course homes are more than just properties; they're a lifestyle statement. In this guide, we delve deep into:
The appeal of Scottsdale's golf course homes
Features of golf course homes
The communities and their unique offerings
Making the most of the Scottsdale lifestyle
Here's a closer look at each.
The Appeal of Scottsdale's Golf Course Homes
Living in a golf course home in Scottsdale is about embracing a life of luxury, comfort, and passion for the sport. These homes, often set against the picturesque backdrop of meticulously maintained greens and the expansive Sonoran Desert, offer residents breathtaking views and immediate access to the golf courses. The serene environment, combined with the city's pleasant weather, makes it an ideal place for golf enthusiasts to call home. Moreover, the strategic location of these homes ensures that residents are never too far from the city's other attractions.
Related: How to choose the right real estate agent to help you sell your golf course home in Scottsdale
Features of Golf Course Homes
Golf course homes in Scottsdale are designed to offer residents the best of luxury and comfort. These properties often come with expansive living spaces, modern amenities, private pools, and landscaped gardens. Large windows and patios ensure that residents can always enjoy the stunning views, be it the lush greens of the golf course or the desert's natural beauty. Additionally, these homes are built with high-quality materials and craftsmanship, reflecting the city's commitment to luxury and elegance.
The Communities and Their Unique Offerings
Scottsdale is home to several golf communities, each with its unique charm and offerings. These communities are designed to cater to the varied needs and preferences of their residents. While all of them offer access to top-notch golf courses, many also boast other amenities like clubhouses, fitness centers, dining options, and social event spaces. Living in these communities provides residents with a sense of belonging, where they can connect with like-minded individuals and partake in community events and tournaments.
Related: 5 rainy day activities anyone can do in Scottsdale
Making the Most of the Scottsdale Lifestyle
Beyond the golf courses and luxury homes, Scottsdale offers a vibrant lifestyle. The city is a cultural hub, with numerous art galleries, museums, restaurants, and shopping centers. Residents can indulge in a range of activities, from exploring the city's rich history and culture to dining at gourmet restaurants or shopping at upscale boutiques. The city's events calendar is always packed, ensuring that there's always something happening, be it an art festival, music concert, or culinary fest.
Related: 10 tips for simplifying your move to Scottsdale
FAQ About Golf Course Homes in Scottsdale
Here are some frequently asked questions about golf course homes in Scottsdale. If you don't see the answers you're looking for here, please call our office. We're here to help.
What Differentiates Scottsdale's Golf Course Homes from Others?
Scottsdale's golf course homes stand out for their luxurious design, modern amenities, and proximity to some of the best golf courses in the country. The city's commitment to luxury and quality is evident in every property.
Are There Membership Fees in Golf Communities?
Yes, many golf communities in Scottsdale have membership fees, which provide residents access to the golf course, clubhouse, and other amenities.
How Close are Golf Course Homes to Downtown Scottsdale?
Most golf course homes are a short drive away from downtown Scottsdale, ensuring residents have easy access to the city's attractions.
Do All Golf Course Homes Offer Views of the Course?
While many golf course homes offer stunning views of the course, it's best to check individual listings to know what each property offers.
Is Maintenance of the Golf Course Included in the Home Price?
Maintenance of the golf course is typically covered by the community's membership fees or homeowner's association fees.
Living in a golf course home in Scottsdale is about embracing a lifestyle that combines luxury, comfort, and a passion for golf. Whether you're a golf enthusiast or someone who appreciates the finer things in life, Scottsdale's golf course homes promise an experience like no other.
Are You Buying a Golf Course Home for Sale in Scottsdale?
If you're selling your home and buying another one, call us at 480-405-4228 or fill out the form below to talk to a REALTOR now.
While you're here, you can also check out:
Don Matheson
REALTOR® | Founder
The Matheson Team – RE/MAX Fine Pro