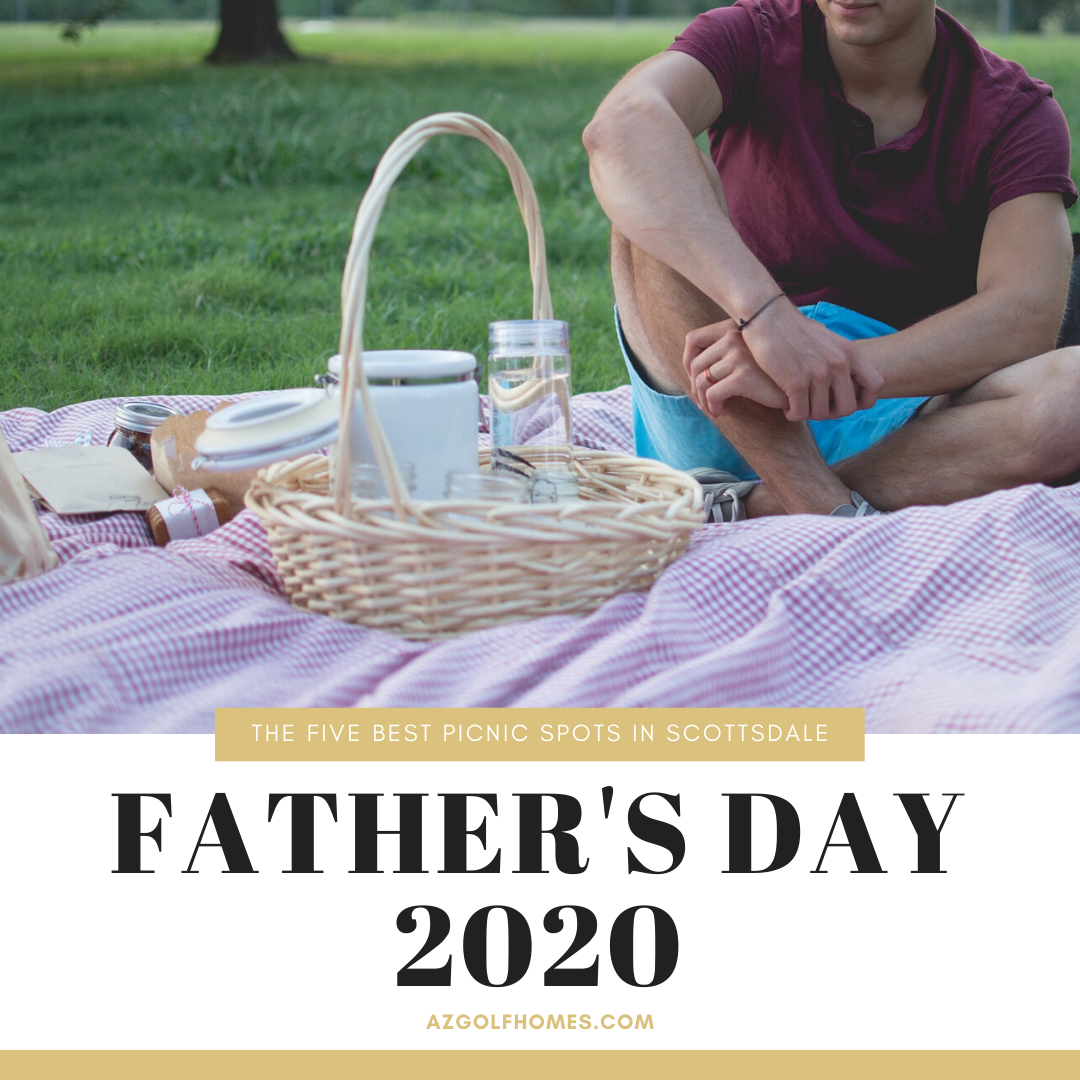 Father's Day 2020 is right around the corner, and this year – with social distancing and other safety measures in place – you might think about celebrating a little differently. Check out these top five picnic spots in Scottsdale to create a really memorable day for your favorite dads, grandpas, great-grandpas and other special guys.
The 5 Best Picnic Spots for Father's Day 2020 in Scottsdale
Any dad can tell you that the best gift he'll get is time with the people he loves, so this year, an outdoor Father's Day picnic is a great idea. You can plan yours at:
Sonoran Hills Park
Pinnacle Peak Park
Chaparral Park
McCormick-Stillman Railroad Park
Camelback Park
Here's a closer look at each.
#1. Father's Day at Sonoran Hills Park
Scottsdale's beautiful Sonoran Hills Park is a 10-acre landscaping masterpiece. With two drop-in ramadas, two basketball courts, a tennis court, a playground and a huge open turf area, it's the perfect place for a Father's Day picnic in town. There are also several picnic tables throughout the park, and many are shaded, so you'll be able to chill with your favorite dad.
Learn more here.
#2. Father's Day at Pinnacle Peak Park
Pinnacle Peak Park is 150 acres across, and it's home to four picnic tables and a shaded ramada. There are hikes and rock climbing routes in the park if your favorite dad is the adventurous sort (and there are restrooms and drinking fountains in the park, too).
Learn more here.
#3. Father's Day at Chaparral Park
The 100-acre Chaparral Park in Scottsdale has something for everyone. With a fenced-in dog park, even your four-legged family members can enjoy the day with Dad! You can boat and fish in the lake, play a family game of baseball or softball on one of six fields, play volleyball on one of a pair of courts, stroll or bike along the multi-use path, send the little ones to the playground while you watch and take pictures, or play a quick game of basketball.
Learn more here.
#4. Father's Day at McCormick-Stillman Railroad Park
McCormick-Stillman Railroad Park has train and carousel rides (open with social distancing measures in place), concessions through the Snack Stop Caboose, and a beautiful grassy area where you can spread out a picnic blanket and enjoy the day in the shade. There are several playgrounds and play areas for kids, too.
Learn more here.
#5. Father's Day at Camelback Park
The city of Scottsdale's Camelback Park features a lake and a multi-use path where you can bike, walk or – if you're up for it – rollerblade. There are plenty of shady, grassy areas to relax and enjoy the scenery, too.
Learn more here.
Are You Buying a Golf Course Home for Sale in Scottsdale?
If you're selling your home and buying another one, we're here to help you. Call us at 480-405-4228 or fill out the form below to talk to a REALTOR now.
While you're here, you can also check out:
Don Matheson
REALTOR® | Founder
The Matheson Team – RE/MAX Fine Properties
21000 N. Pima Rd., #100, Scottsdale, AZ 85255
480-405-4228
Explore Luxury Homes in Scottsdale