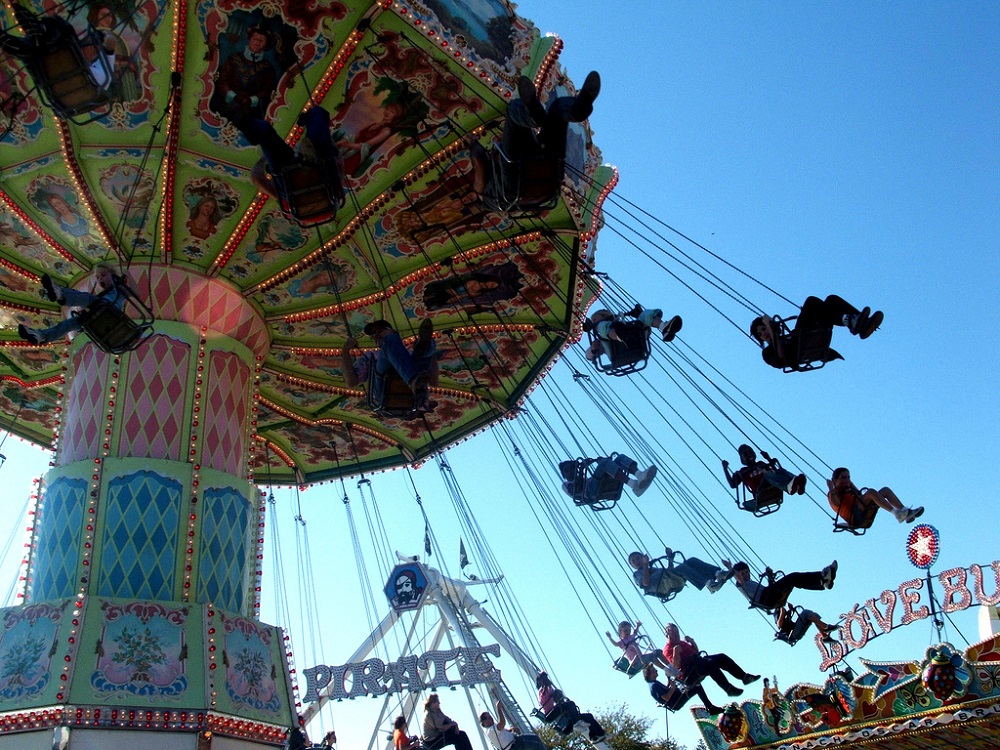 If you're like most people, you have great memories of the Arizona State Fair – and it's back this year, better than ever before. This guide explains what you'll see and what there is to do at the 2021 Arizona State Fair.
The 2021 Arizona State Fair in Phoenix
Located at the Arizona State Fairgrounds (1826 West McDowell Road in Phoenix), the 2021 Arizona State Fair has been going strong since 1905. This year marks the 116th anniversary of the event, which runs from now until October 30, 2021.
2021 Arizona State Fair Hours
Admission gates are open Wednesday through Sunday, and the hours are as follows:
Wednesday: Noon to 9 p.m.
Thursday: Noon to 9 p.m.
Friday: Noon to 10 p.m.
Saturday: 11 a.m. to 10 p.m.
Sunday: 11 a.m. to 9 p.m.
The midway area, food vendors and other vendors typically stay open until 11 p.m. or later, and the time they actually close depends on how many people are still using their services. Rides stop after the La Grande Wheel goes dark, and the Shopping Pavilion closes at 10 p.m. The livestock barns close at 9 p.m. to give the animals some much-needed rest.
Admission to the 2021 Arizona State Fair
Admission is as follows:
Kids under 5 are free
Kids aged 5 to 13: $10
Adults aged 14 through 54: $12
Seniors aged 5 and up: $10
Ride tickets are $0.50 each, and every ride has its own ticket requirement. You can also download the FunPass app to buy tickets on your phone, then scan them at rides and games to redeem.

AZ State Fair Calendar of Events
Check out this calendar of events for the 2021 Arizona State Fair.
| | | | | |
| --- | --- | --- | --- | --- |
| Friday, October 8 | Saturday, October 9 | Sunday, October 10 | Wednesday, October 13 | Thursday, October 14 |
| Hispanic Heritage Friday, Monster trucks | Monster Trucks, Fortunate Son (Credence Clearwater Revival tribute band) | Monster trucks, Evil Waze (Santana tribute band) | We Care Wednesday, Friends 55+ day, Journey Unauthorized (Journey tribute band) | High school rodeo, AZ/DC (AC/DC tribute band) |
| | | | | |
| --- | --- | --- | --- | --- |
| Friday, October 15 | Saturday, October 16 | Sunday, October 17 | Wednesday, October 20 | Thursday, October 21 |
| Armed Forces Day, All Indian Rodeo, Country artist tribute | Daisy the Cow by AZ Milk Producers, All Indian Rodeo, Metalachi band performances | Metalachi band performances | We Care Wednesday, Life in the Fastlane (Eagles tribute band), Quarter Midgets | Quarter Midgets, Bad Miller (Bad Company tribute band) |
| | | | | |
| --- | --- | --- | --- | --- |
| Friday, October 22 | Saturday, October 23 | Sunday, October 24 | Wednesday, October 27 | Thursday, October 28 |
| Uptown Funk (Bruno Mars tribute band), monster trucks | AZ State Fair arm wrestling event, monster trucks, Riff Raff (AC/DC tribute band) | Monster trucks, Adventure in Parrotdise band performances | We Care Wednesday, Synnyn Lynnyrd (Lynyrd Skynyrd tribute band) | Hard Day Night (Beatles tribute band), Figure 8 racing |
| | |
| --- | --- |
| Friday, October 29 | Saturday, October 30 |
| Figure 8 racing | Daisy the Cow by Arizona Milk Producers, Figure 8 racing |

Are You Buying a Golf Course Home for Sale in Scottsdale?
If you're selling your home and buying another one, call us at 480-405-4228 or fill out the form below to talk to a REALTOR now.
While you're here, you can also check out:
Don Matheson
REALTOR® | Founder
The Matheson Team – RE/MAX Fine Pro