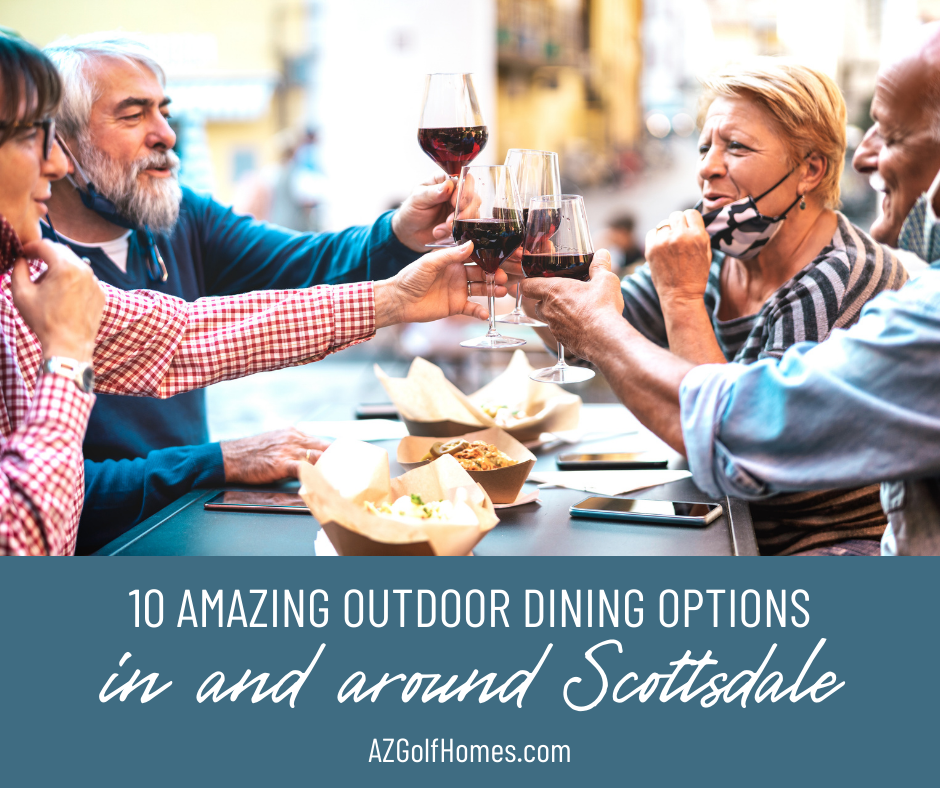 If you're buying a golf course home in Scottsdale and you happen to be a big fan of al fresco dining, you're in luck – this city has some of the most spectacular outdoor dining experiences in the state. Check out this list to get you started.
The 10 Best Restaurants for Outdoor Dining in Scottsdale
These are our top picks as the five best restaurants for outdoor dining in Scottsdale:
Olive & Ivy
Citizen Public House
Grassroots Kitchen & Tap
Craft 64 Scottsdale
Roaring Fork
Cafe Monarch
The Mission
El Chorro
ZuZu
The House Brasserie
Here's a closer look at each.
Olive & Ivy Outdoor Dining in Scottsdale
If you're looking for a classic outdoor dining experience, look no further than Olive & Ivy. This restaurant offers beautiful patio seating that overlooks the water. You'll enjoy stunning views of the Scottsdale skyline while you dine on fresh, seasonal dishes.
Address: 7135 E Camelback Rd, Scottsdale, AZ 85251
Phone: (480) 797-1000
Website: https://www.foxrc.com/olive-ivy
Citizen Public House Outdoor Dining in Scottsdale
Citizen Public House is another great option for outdoor dining in Scottsdale. The restaurant has a large patio that's perfect for enjoying the beautiful Arizona weather. You can order classic pub fare like burgers and fries, or try something new from the seasonal menu.
Address: 7111 E 5th Ave, Scottsdale, AZ 85251
Phone: (480) 398-4208
Website: http://www.citizenpublichouse.com
Grassroots Kitchen & Tap Outdoor Dining in Scottsdale
If you're looking for a more casual outdoor dining experience, Grassroots Kitchen & Tap is the perfect spot. The restaurant has a large patio with plenty of seating, and it's located in Old Town Scottsdale, so you can enjoy the views of the city while you eat.
Address: 8120 N Hayden Rd, Scottsdale, AZ 85258
Phone: (480) 947-8723
Website: http://www.grassrootsaz.com
Craft 64 Outdoor Dining in Scottsdale
If you're a fan of craft beer, you'll love Craft 64. This restaurant has an extensive list of local and national craft beers, as well as a menu of wood-fired pizzas. The patio is the perfect place to enjoy a meal and a beer on a sunny day.
Address: 6922 N Hayden Rd, Scottsdale, AZ 85253
Phone: (480) 947-1313
Website: https://craft64.com
Roaring Fork Outdoor Dining in Scottsdale
If you're in the mood for steak or seafood, Roaring Fork is the place to go. The restaurant has a stylish patio that's perfect for a night out. You'll find a menu of American classics, as well as a selection of fine wines.
Address: 4800 N Scottsdale Rd, Scottsdale, AZ 85251
Phone: (480) 947-8723
Website: https://www.foxrc.com/roaring-fork
Cafe Monarch Outdoor Dining in Scottsdale
If you're looking for a place to enjoy some fantastic outdoor dining in Scottsdale, look no further than Cafe Monarch. This restaurant is located in the heart of Old Town Scottsdale and offers a wonderful patio area that's perfect for enjoying a meal with friends or family. The menu features a variety of American and French-inspired dishes, and the service is always top-notch.
Address: 6922 E Main St, Scottsdale, AZ 85251
Phone: (480)970-7683
Website: https://www.cafemonarch.com
El Chorro Outdoor Dining Near Scottsdale
If you're looking for breathtaking views while you enjoy some outdoor dining, then you'll want to head to El Chorro. This restaurant is located on a hillside in North Scottsdale and offers stunning views of the surrounding desert landscape. The menu features a variety of American and Southwestern dishes, and the service is always excellent.
Address: 5550 E Lincoln Dr, Paradise Valley, AZ 85253
Phone: (480) 948-5170
Website: https://www.elchorro.com
The Mission Outdoor Dining in Scottsdale
The Mission is one of Scottsdale's most popular restaurants, and it's easy to see why when you experience the outdoor dining options here. The restaurant is located in Old Town Scottsdale and offers a beautiful patio area that's perfect for enjoying a meal. The menu features a variety of American and Mexican-inspired dishes, and the service is always top-notch.
Address: 3815 N Brown Ave, Scottsdale, AZ 85251
Phone: (480) 636-5005
Website: https://www.themissionaz.com
ZuZu Outdoor Dining in Scottsdale
If you love Italian food, then you'll definitely want to check out ZuZu at the Hotel Valley Ho. This restaurant offers a wonderful patio area that's perfect for enjoying a meal, and the views of Scottsdale are simply stunning. The menu features a variety of traditional Italian dishes, and the service is always excellent.
Address: 6850 E Main St, Scottsdale, AZ 85251
Phone: (480) 376-2600
Website: https://www.hotelvalleyho.com/eat-drink/zuzu
The House Brasserie Outdoor Dining in Scottsdale
The House Brasserie is a great option for outdoor dining in Scottsdale. The restaurant has a beautiful patio area designed for enjoyment.
Address: 7003 N Scottsdale Rd, Paradise Valley, AZ 85253
Phone: (480) 947-8700
Website: https://www.thehousebrasserie.com
Are You Buying a Golf Course Home for Sale in Scottsdale?
If you're selling your home and buying another one, call us at 480-405-4228 or fill out the form below to talk to a REALTOR now.
While you're here, you can also check out:
Don Matheson
REALTOR® | Founder
The Matheson Team – RE/MAX Fine Pro