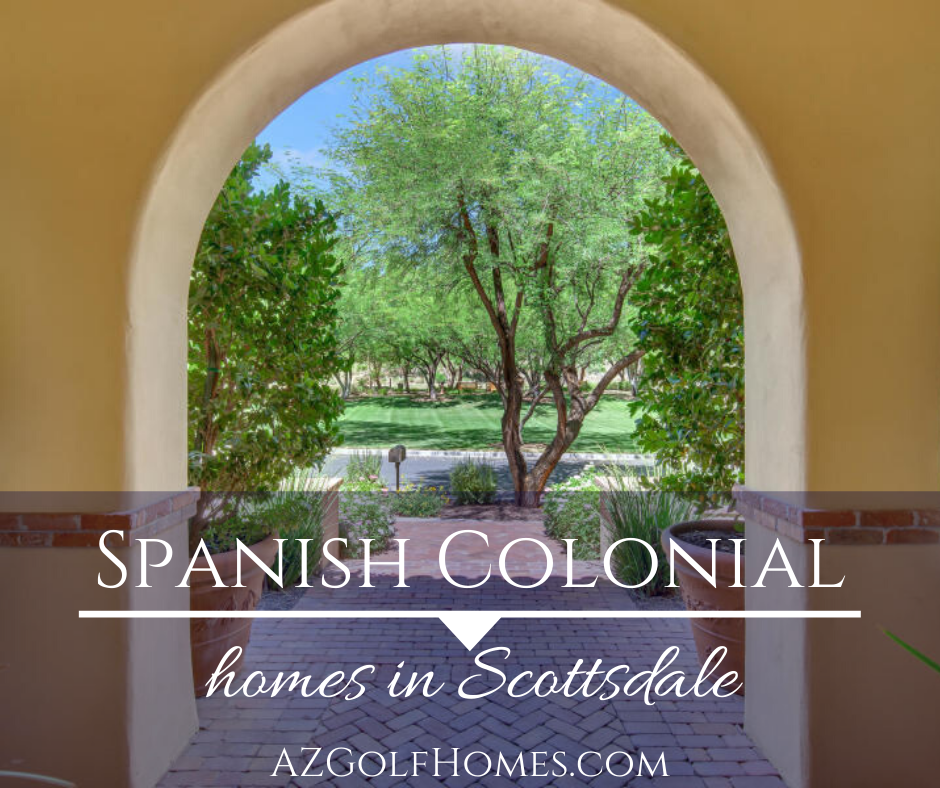 Spanish Colonial design – an exceptionally popular architectural style in Scottsdale's most prestigious golf communities – was the primary home style in areas of the U.S. that were settled by Spaniards from the 1600s to the mid-1800s. This architecture was built across a large geographic area, so these homes were marked by small style distinctions. Notably, in Arizona, the homes were built with thick walls (usually white stucco over adobe brick or stone to keep them cool), and nearly always, they feature red barrel tile roofs with low pitches.
The primary characteristic of Spanish Colonial homes, though, is their casual and warm feel. These types of homes, while built out of practical necessity in earlier centuries, are now spectacular design choices and come appointed with modern amenities that their predecessors didn't have. Really, the key to this type of architecture is that it captures the imagination and serves as an ideal example for homes in the Southwest.
Related: List of private golf communities in Scottsdale
Examples of Spanish Colonial Architecture in Scottsdale Homes for Sale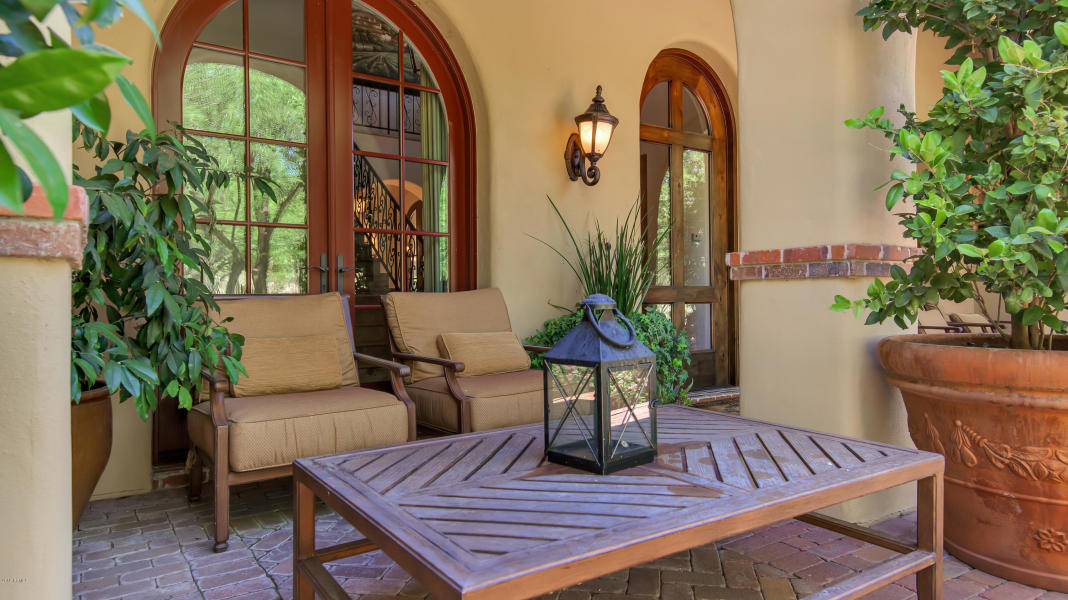 The carefully arched doorways along this home's charming corredor – a long, external porch that was also called a portale – are classic examples of Spanish Colonial architecture. In the 1600s, colonists built these narrow porches to line side yards and courtyards to connect add-on rooms as homes grew larger; these types of homes didn't often feature hallways that you'll find in their modern counterparts. Doorways inside these homes were also arched, reminiscent of homes in Spain at the time.
Explore this home at 19946 North 103rd Street in Scottsdale
Spanish Colonial Fusion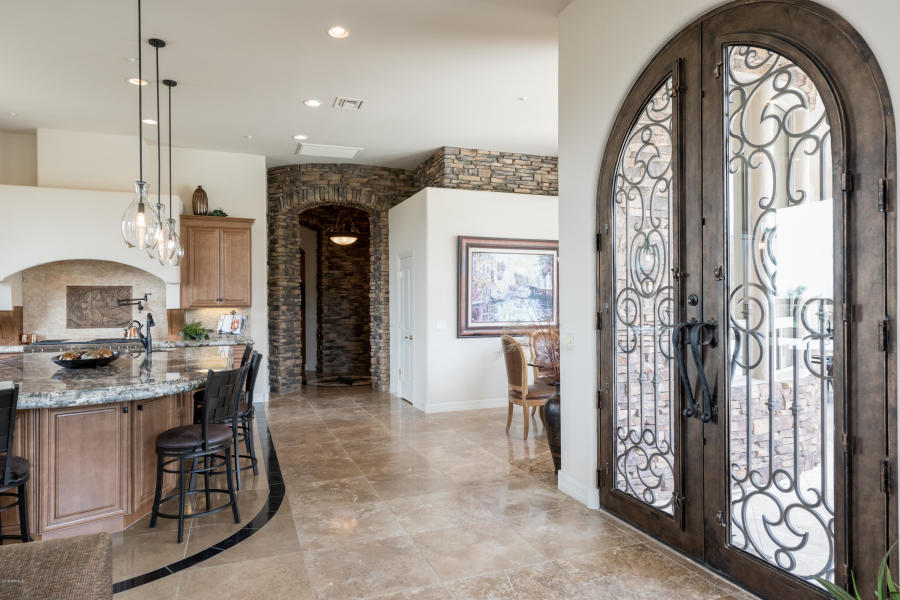 Spanish Colonial fusion – the architectural style when traditional design meets modern amenities – incorporates built-in design, such as brick arches and accents between rooms and combinations of layered lighting schemes like you see here. These ultra-modern homes are adorned with built-in style, relying heavily on design to blend beauty and functionality.
Explore this home at 9201 East Diamond Rim Drive in Scottsdale
Exposed Wooden Support Beams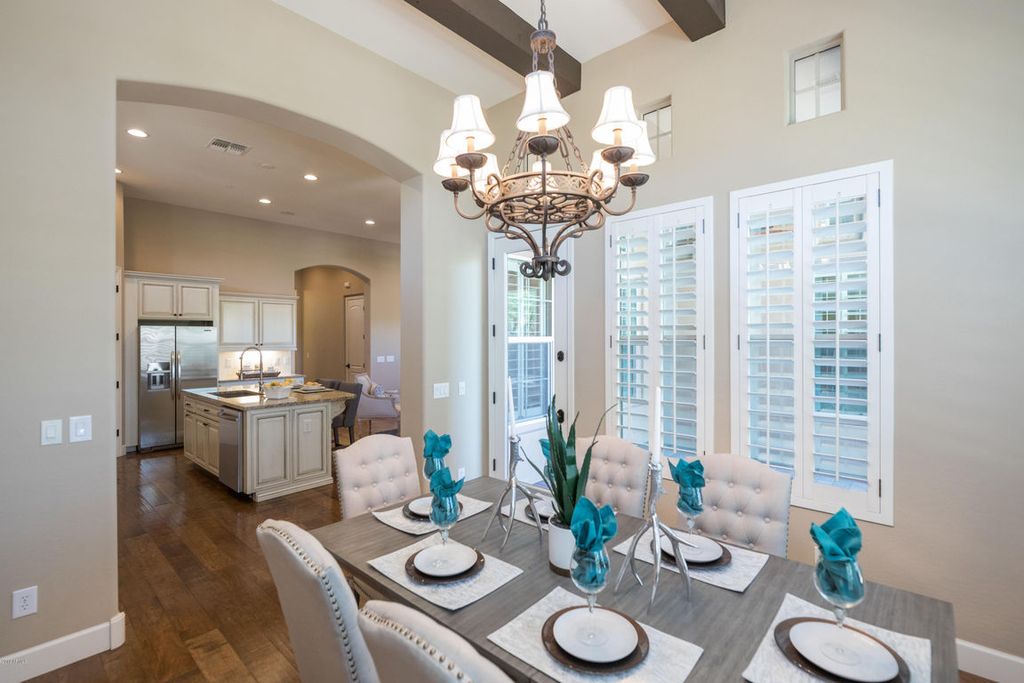 Exposed wooden support beams are characteristic of Spanish Colonial architecture, although you typically won't find them in every home. In this spectacularly designed home's dining room, two large beams hold true to Spanish Colonial style –in the past, these beams would've been throughout the entire home and used as a decorative design feature to add beauty and warmth to the space.
Explore this home at 20498 North 98th Place in Scottsdale
Lavish Interior Courtyards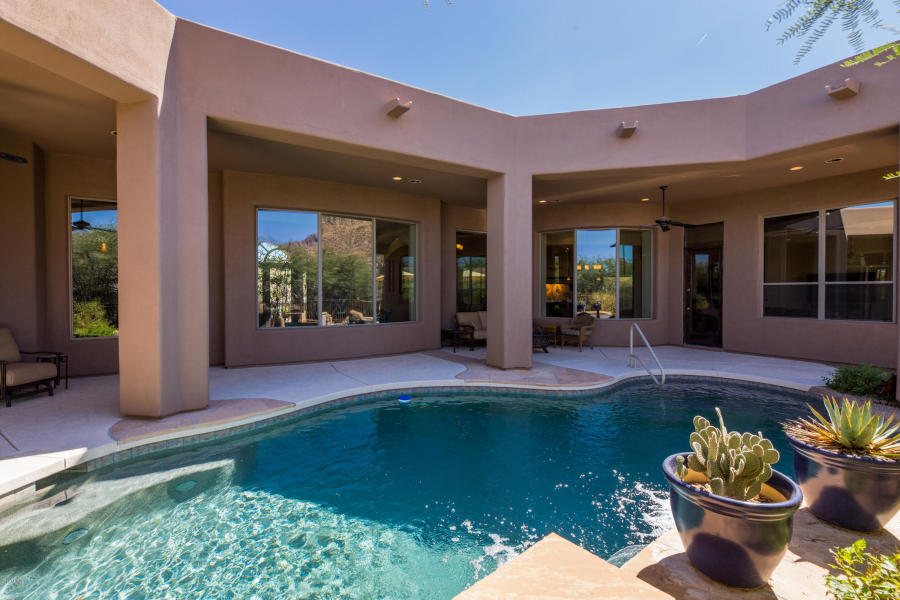 An inner courtyard was a must-have in traditional Spanish Colonial design, like this home features. The courtyard was typically used for cooking, which generated a lot of heat and steam; today, they're ideal spots for outdoor kitchens, swimming pools and extended outdoor living space. Because the Spanish colonists were highly social, these informal gathering places were in nearly every home during the 1600s, 1700s and 1800s.
Explore this home at 12163 East Casitas del Rio in Scottsdale
Building materials on Spanish Colonial homes – typically stucco-clad adobe walls – thrive in hot, arid climates. And while many of these homes were built with flat roofs in the past, now it's common to find slopes accented with chimneys, skylights and solar panels that bring this style well into the 21st century.
Are You Buying or Selling a Luxury Home in Scottsdale?
We can help you find your dream home – or sell your house to move on to the next chapter – in any golf community in Scottsdale. While you're here, you can check out all Scottsdale golf course homes for sale or get in touch with us to tell us what you're looking for.
You can also check out:
Don Matheson
REALTOR® | Founder
The Matheson Team – RE/MAX Fine Properties
21000 N. Pima Rd., #100, Scottsdale, AZ 85255
480-405-4228
Explore Luxury Homes in Scottsdale