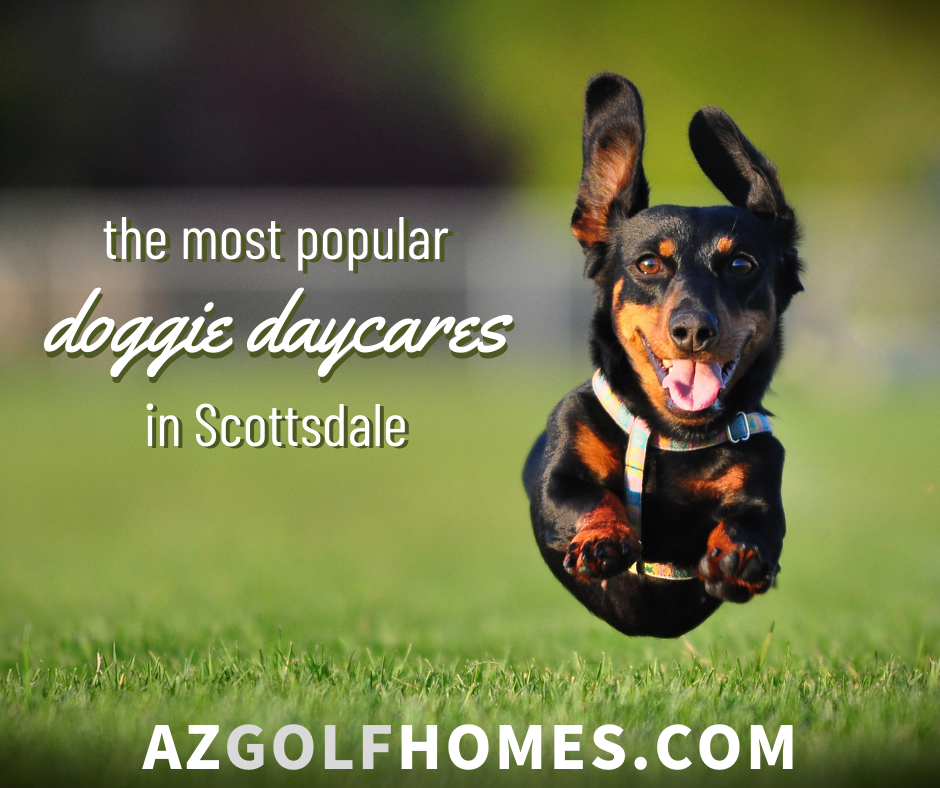 If you're a pet parent, you know that it's important to find a great place for your four-legged family member to stay when you go to work or need to leave town – but where do you even start? Fortunately, there are plenty of dog daycare facilities in Scottsdale, and while we don't endorse one over the other, this list will get you started in choosing the one that's right for your pup.
List of the Best Dog Daycares in Scottsdale
Check out the most popular dog daycares in Scottsdale here:
Raintree Pet Resort
Dogtopia
D Pet Hotels
Paw Commons
The Barking Dog
FurBabies Resort and Spa
Here's a closer look at each.
Name and Link
Address and Phone
Amenities
Raintree Pet Resort
8215 East Raintree Drive
480-991-3371
Playtime with similar-sized dogs
Heated in-ground pool
Splash pad
Misted grassy play yards
Indoor play space
Individual play
Treats
Dogtopia
14747 North Northsight Boulevard
480-494-8833
Plenty of interaction with humans and other dogs
Supervised open play
Obstacle courses
Climate-controlled play areas
Webcam access so you can see your dog
D Pet Hotels
15060 North Northsight Boulevard
480-696-3738
4,000-square-foot indoor dog park divided into three areas for size and temperament
Full-time park staff to play, interact and maintain safety
Rubberized epoxy flooring
Agility equipment, hoops, tunnels and toys
Paw Commons Pet Resort
3639 North Marshall Way
480-300-0080
Splash pad
Play structures
Bubble time
Snack time
Movie time
Toys
Large indoor dog park
The Barking Dog
8330 North Pima Center Parkway
480-434-6685
Indoor pool
Toys
Supervised playtime
Outdoor recreation area
Obstacle equipment
Staff interaction
FurBabies Resort and Spa
7030 East Indian School Road
480-699-1077
4,900-square-foot facility
Cage-free daycare
Single and group play
Three play areas separated by size and anxiety levels
Bubble sessions every hour
Fun toys and games
Indoor grass
Doggie treadmill sessions
Photo session for doggie report cards
How to Choose the Right Doggie Daycare in Scottsdale
Choosing the right doggie daycare can be tough – so the first thing you should do is take your pooch with you to tour some facilities. Generally, you have to call first; then, you can schedule a meet-and-greet with staff and some of the dogs who regularly attend.
During your meet-and-greet:
Find out how dogs are grouped together for playtime
See how much time your four-legged family member will spend in a kennel
Learn about how much (and what type of) training staff has
Ask about the staff-to-dog ratio
Find out what kind of schedule they follow
What it really comes down to is how comfortable your dog is with the environment. If your pup shies away and doesn't want anything to do with a facility, it's probably not the right choice. However, if your pooch is excited to meet new friends and seems to like the environment, you may have a winner on your hands.
Are You Buying a Golf Course Home for Sale in Scottsdale?
If you're selling your home and buying another one, call us at 480-405-4228 or fill out the form below to talk to a REALTOR now.
While you're here, you can also check out:
Don Matheson
REALTOR® | Founder
The Matheson Team – RE/MAX Fine Pro