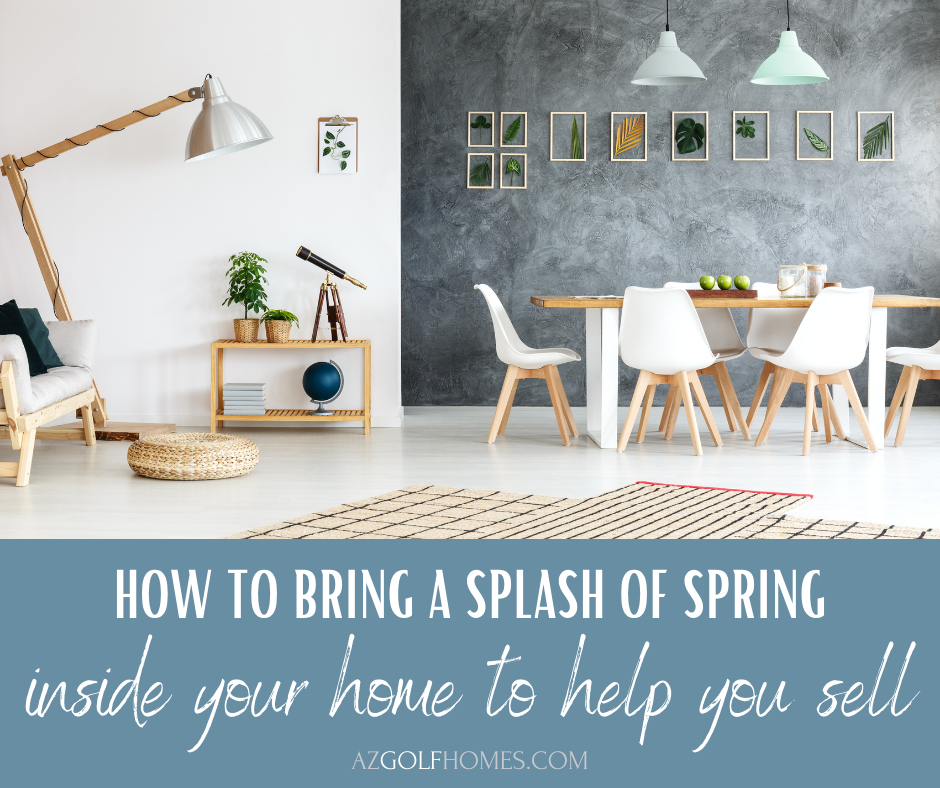 If you're selling your golf course home in Scottsdale, you know that you're not the only one – and that means your space has to compete with other, similar homes to capture buyers' attention. Fortunately, there are several things you can do to make your home stand out (and ensure that buyers are more likely to submit an offer on yours than on someone else's). Here's how to add a splash of spring to your home to impress prospective buyers.
How to Add a Splash of Spring to Your Home and Impress Buyers
You don't have to scroll through Instagram and gather all your inspiration on your own – we'll tell you the tried-and-true ways to add a fabulous splash of spring color to your home to impress buyers. You can start with:
Sprucing up your light fixtures
Swapping out your everyday dining room chairs for some in brighter colors
Taking down warm, wintry decor and replacing it with pastels and an occasional bold color
Adding a natural-wash wood dining table
Changing out your welcome mats and rugs
Here's a closer look at each.
Spring Home Decor Tip #1: Spruce Up Your Light Fixtures
Light fixtures are some of the first features to date a home, so start spring fresh and replace yours. You can find affordable light fixtures at your favorite home improvement store, and generally, installing them is a DIY job.
So what's in this year?
Clear and opaque glass where the bulb is the focal point is a great way to make a style statement. When it comes to pendant lights – those that hang down – quirky shapes and symmetry are the way to go.
Spring Home Decor Tip #2: Swap Out Everyday Dining Room Chairs for Brighter Colors
Your everyday wood chairs are great in the dining room, but consider changing things up by adding upholstered chairs. If that's not in the cards, think about adding a few tie-on seat cushions in beautifully bright shades that catch the eye and make the whole space appear lighter.
Spring Home Decor Tip #3: Take Down Warm, Wintry Decor and Replace it With Pastels (or Maybe Something Bold)
Your warm, wintry decor in fiery shades, browns and neutrals could use a rest – pack it away and change it out for bright colors that make people feel like spring is inside your home. Look for light pastels – blues and greens are great this time of year – or for much bolder colors (but only for accents) such as fuschia.
Spring Home Decor Tip #4: Add a Natural-Wash Dining Table
Lighter wood tones are making a comeback, and the best part of that is that light colors make spaces appear larger. If your dining table is dark, it may be time to trade it in for a lighter model – but if that's not high on your priority list, think about adding a spring-friendly table runner embroidered with delicate flowers, pastel patterns or even a solid-colored piece that's bright enough to draw attention.
Spring Home Decor Tip #5: Change Out Your Welcome Mats and Rugs
Spring is the perfect time for a fresh welcome mat at your front and back door (and in the garage, too). While you're changing those out, consider updating the darker-colored rugs in your home. Look for fabulous rugs for your living room, dining room and bedroom that feature light colors, symmetrical patterns or whimsical designs to make the most of all the natural sunlight that comes into your home.
Are You Buying a Golf Course Home for Sale in Scottsdale?
If you're selling your home and buying another one, call us at 480-405-4228 or fill out the form below to talk to a REALTOR now.
While you're here, you can also check out:
Don Matheson
REALTOR® | Founder
The Matheson Team – RE/MAX Fine Pro