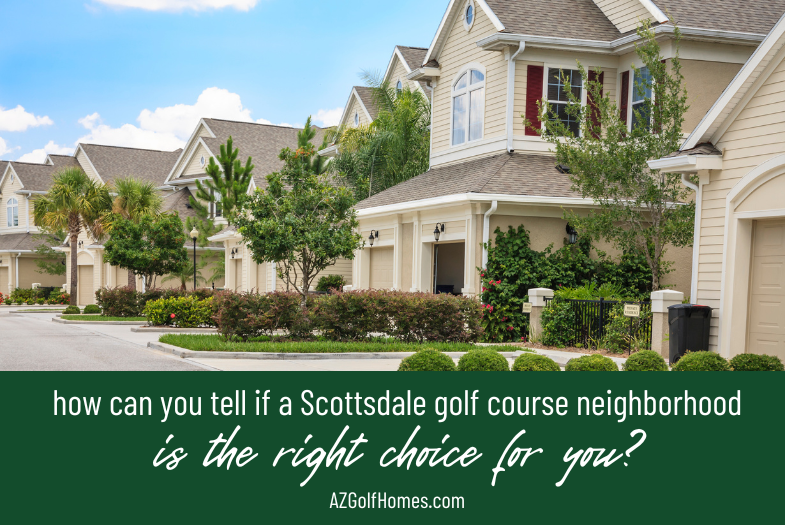 Choosing a neighborhood is about more than just finding a house; it's about finding a community that resonates with your lifestyle and aspirations. For golf enthusiasts, living in a golf course neighborhood in Scottsdale can be a dream come true. But how can you be sure it's the right fit for you? This guide will walk you through the key considerations to help you make an informed decision.
How Can You Tell if a Scottsdale Golf Course Neighborhood is the Right One for You?
When considering a move to a golf course neighborhood in Scottsdale, it's essential to weigh various factors. In this guide, we'll explore:
The quality and reputation of the golf course
Amenities and facilities offered by the community
The neighborhood's vibe and social scene
Proximity to essential services and other attractions
Home styles and architectural appeal
Here's a closer look at each.
The Golf Course's Quality and Reputation
When contemplating a move to a golf course neighborhood, the course itself is often the centerpiece of your decision. It's essential to delve deep into the course's reputation. Start by checking reviews, ratings, and any accolades the course might have received. A championship course that hosts tournaments indicates a high standard of maintenance and might attract a more serious golfing crowd. On the other hand, a course that caters to casual golfers might have a more relaxed atmosphere, perfect for those who enjoy leisurely rounds without the pressures of competition. Additionally, the course's design, including its layout, the variety of holes, and the challenges it presents, can significantly impact your golfing experience. A well-maintained course with a thoughtful design not only enhances your game but also adds to the scenic beauty of the neighborhood.
Related: 10 tips for simplifying your move to Scottsdale
The Community's Amenities and Facilities
A golf course neighborhood is more than just about golf; it's about the lifestyle it offers. Many of these communities in Scottsdale go above and beyond to provide residents with a plethora of amenities. Clubhouses often become the hub of social activities, offering spaces for residents to mingle, celebrate special occasions, or simply relax. Fitness centers equipped with modern equipment cater to those who like to stay active, while swimming pools offer a refreshing escape from the Arizona heat. Some neighborhoods might even boast gourmet dining options, allowing residents to enjoy a meal without venturing far from home. When evaluating a community, consider the range and quality of these amenities, as they play a pivotal role in enhancing your day-to-day living experience.
Related: How to choose the right real estate agent to help you sell your golf course home in Scottsdale
The Neighborhood's Vibe and Social Scene
Every neighborhood has its distinct character, and golf course communities are no exception. Some are teeming with activity, marked by regular events, tournaments, and social gatherings. These communities are perfect for those who thrive on social interactions and love being part of a bustling environment. In contrast, others prioritize tranquility, offering residents a serene backdrop, perfect for relaxation and introspection. When choosing a neighborhood, reflect on your personal preferences. If you cherish peaceful evenings watching the sunset over the golf course, a quieter community might be ideal. Conversely, if you're keen on making new friends and participating in community events, look for neighborhoods with a vibrant social calendar.
Related: 5 rainy day activities anyone can do in Scottsdale
Proximity to Essential Services and Other Attractions
Living in a golf course neighborhood doesn't mean you're isolated from the essentials. It's crucial to assess the community's accessibility to vital services. Check the distance to the nearest medical facilities, ensuring that healthcare is within easy reach should you need it. Shopping centers, grocery stores, and other retail outlets should also be conveniently located. Beyond essentials, consider the neighborhood's proximity to Scottsdale's attractions. The city is renowned for its art galleries, gourmet restaurants, shopping districts, and natural parks. Living close to these attractions means you can immerse yourself in Scottsdale's vibrant culture whenever you wish.
Home Styles and Architectural Appeal
Your home is not just a dwelling; it's a reflection of your style and preferences. Golf course neighborhoods in Scottsdale offer a diverse range of architectural styles. Some communities feature modern homes with sleek designs, large glass windows, and contemporary finishes. Others lean towards the traditional Southwestern style, characterized by stucco walls, terracotta roofs, and rustic charm. As you explore various neighborhoods, pay attention to the homes' exterior designs, the quality of construction, and the features they offer. Whether you're looking for a sprawling mansion with luxurious amenities or a cozy home with classic designs, ensure that the architectural style resonates with your personal aesthetic.
FAQ About Choosing a Scottsdale Golf Course Neighborhood
Here are some frequently asked questions about selecting a golf course neighborhood in Scottsdale. If you don't see the answers you're looking for here, please call our office. We're here to help.
How Important is the Golf Course's Membership Structure?
The membership structure can influence the community's exclusivity and vibe. Some courses might be private, catering only to residents or members, while others might be open to the public. Consider what level of exclusivity you're comfortable with.
Are There Additional Fees Associated with Living in a Golf Course Neighborhood?
Often, golf course neighborhoods come with homeowners' association (HOA) fees. These fees cover the maintenance of common areas, amenities, and sometimes even the golf course itself. It's essential to be aware of these fees and what they cover.
How Does Living on a Golf Course Impact Home Maintenance?
Living adjacent to a golf course can sometimes mean stray golf balls landing in your yard or the occasional golfer retrieving a ball. While these instances are part and parcel of golf course living, it's something to be aware of.
Is Resale Value Higher for Homes in Golf Course Neighborhoods?
Typically, homes in golf course neighborhoods tend to have a higher resale value due to their prime location, views, and the amenities they offer. However, market trends can vary, so it's always good to consult with a local real estate expert.
Can I Customize My Home in a Golf Course Neighborhood?
Most golf course neighborhoods have specific architectural guidelines to maintain a cohesive look. While you might have some flexibility in customizing your home, there will likely be some restrictions to ensure the community's aesthetic integrity.
Choosing the right golf course neighborhood in Scottsdale is a blend of personal preferences and practical considerations. By weighing the factors outlined in this guide, you can find a community that not only meets your golfing aspirations but also offers a holistic living experience.
Are You Buying a Golf Course Home for Sale in Scottsdale?
If you're selling your home and buying another one, call us at 480-405-4228 or fill out the form below to talk to a REALTOR now.
While you're here, you can also check out:
Don Matheson
REALTOR® | Founder
The Matheson Team – RE/MAX Fine Pro