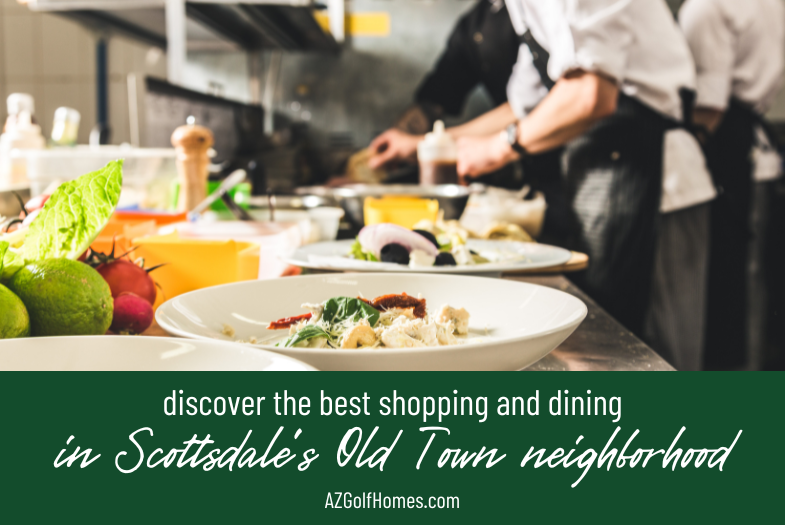 Scottsdale's Old Town is a vibrant and historic neighborhood that offers visitors and residents a unique blend of western charm and modern convenience. It is widely considered as one of the best shopping and dining destinations in the city, attracting millions of tourists every year. In this article, we will take a closer look at the top shopping and dining hotspots in Scottsdale's Old Town that you shouldn't miss.
Shopping in Old Town
Scottsdale's Old Town is home to a variety of shops, boutiques, and galleries that cater to all interests and budgets. Whether you're looking for one-of-a-kind souvenirs, artisanal goods, or designer clothing, you're sure to find something that suits your style. Here are a few of the best shopping destinations in Old Town.
Related: Where to go in Scottsdale to get pumpkin spice… everything
Scottsdale Fashion Square
Scottsdale Fashion Square is one of the largest and most popular malls in Arizona, offering a wide range of shopping and dining options. From high-end designer boutiques like Gucci and Louis Vuitton to department stores like Macy's and Nordstrom, there's something for everyone. In addition to the shopping, the mall also features a movie theater and several dining options, making it a great place to spend the whole day.
Fifth Avenue Shops
The Fifth Avenue Shops are a charming outdoor shopping center that features a collection of unique boutiques and specialty shops. From jewelry and clothing to home decor and souvenirs, you'll find a wide range of items to peruse. The shopping center is surrounded by lush greenery, fountains, and benches, making it a peaceful and enjoyable place to walk and shop.
Old Town Artisans
Old Town Artisans is a cluster of adobe buildings that date back to the mid-1900s, showcasing the work of local artists and artisans. The buildings house a variety of shops selling handcrafted pottery, jewelry, textiles, and other items, making it a great place to find one-of-a-kind gifts. In addition to the shopping, the buildings also feature a restaurant, a cafe, and a courtyard that host live music performances and other events.
Related: Great places to take your grandkids when they visit you in Scottsdale
Dining in Old Town
Scottsdale's Old Town is also home to a variety of dining options, from casual cafes to upscale restaurants. Whether you're in the mood for breakfast, lunch, dinner, or a snack, you're sure to find something that appeals to your taste buds. Here are a few of the best dining destinations in Old Town.
The Mission
The Mission is a trendy and upscale restaurant that serves contemporary Latin cuisine. The menu features a range of dishes, including tacos, ceviche, and paella, that are made with fresh, locally-sourced ingredients. The restaurant is known for its creative cocktails, warm and inviting atmosphere, and its stunning views of the city.
FnB
FnB is a farm-to-table restaurant that focuses on using local, seasonal ingredients to create innovative and delicious dishes. The menu changes regularly based on what's in season, but you can expect to find dishes like roasted carrots with tahini and dates, or grilled octopus with smoked paprika. The restaurant has a cozy and intimate atmosphere, making it a great place for a romantic dinner or a special occasion.
Cowboy Ciao
Cowboy Ciao is a fun and quirky restaurant that serves southwestern-style cuisine with a twist. The menu features dishes like corn and green chili tamales, or chicken-fried quail with chipotle honey, that are inspired by traditional recipes but have a modern spin. The decor is just as quirky, with a mishmash of vintage western memorabilia and eclectic art pieces. Cowboy Ciao is a popular spot for locals and visitors alike, and is especially loved for its creative cocktails, like the Prickly Pear Margarita, made with cactus fruit.
Related: What is aging in place, and how do you do it?
The Mission
For a chic and sophisticated dining experience, head to The Mission. This contemporary eatery offers upscale Latin-inspired cuisine, with dishes like grilled octopus with poblano rajas, or pan-seared scallops with black bean puree. The chic and stylish decor sets the stage for an elevated dining experience, while the warm lighting and cozy seating make it a perfect spot for a romantic night out.
Old Town Farmers Market
For a taste of the local bounty, head to the Old Town Farmers Market. Held every Saturday, this outdoor market features vendors selling everything from fresh produce and artisanal cheeses to handmade crafts and jewelry. It's the perfect place to pick up some ingredients for a picnic, or to find a unique gift for a friend. While you're there, be sure to sample some of the delicious food from the local food vendors, like spicy Korean-style tacos or fluffy cinnamon rolls.
Whether you're looking for an upscale dining experience, a fun night out, or just some local flavor, Old Town Scottsdale has something for everyone. So next time you're in the area, be sure to check out these popular hotspots and experience all that this vibrant neighborhood has to offer.
Are You Buying a Golf Course Home for Sale in Scottsdale?
If you're selling your home and buying another one, call us at 480-405-4228 or fill out the form below to talk to a REALTOR now.
While you're here, you can also check out:
Don Matheson
REALTOR® | Founder
The Matheson Team – RE/MAX Fine Pro