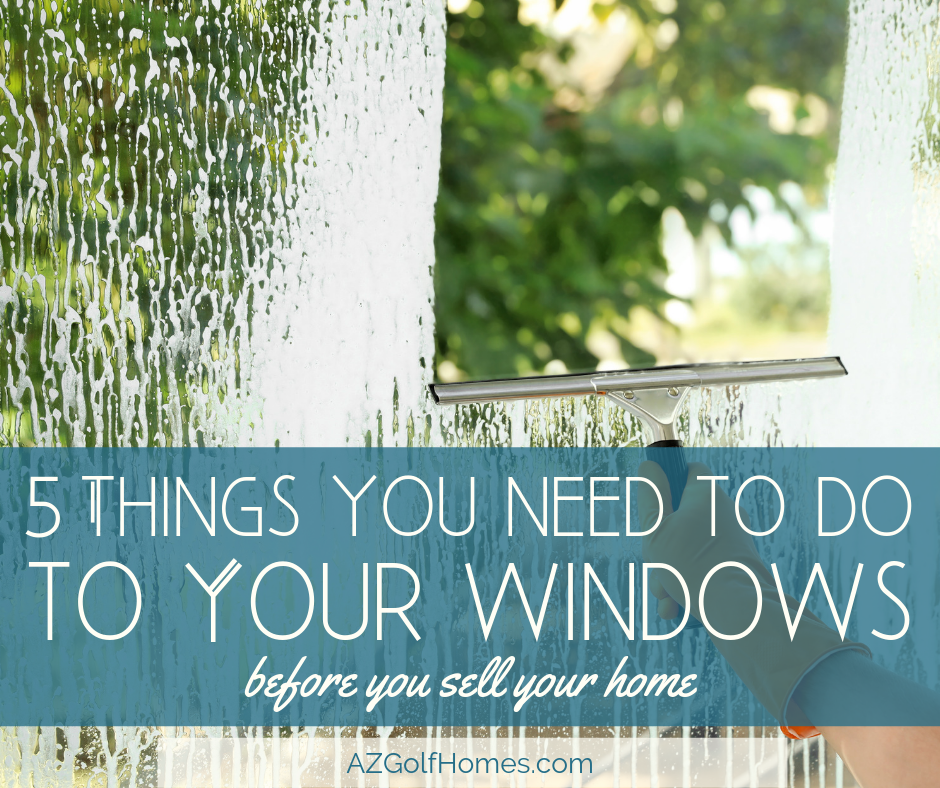 When you're selling a home in a golf course community, you know that curb appeal is incredibly important – and so is what prospective buyers see on the inside, too. The one part of your home that ties into both: Your windows.
Check out these five things you must do to your windows when you list your home.
Related: What's my home worth? Get a free report now!
5 Things You Must Do to Your Windows Before You List Your Home
Your real estate agent will walk through your home with you and point out areas that could use a little TLC, but in the meantime, here's what you need to do to get your windows showing-ready:
Clean the glass thoroughly (with a squeegee)
Clean the reservoir beneath your screen
Repaint the window frame, if necessary
Get rid of outdated or room-darkening window treatments
Make sure your windows enhance the space – and that the view is good
Let's take a closer look at each of these.
Related: How to help your Realtor® sell your home quickly
Window Tip #1: Clean the glass thoroughly (with a squeegee)
When you squirt your windows with an ammonia-based cleaner and put your back into scrubbing them, they look great – for a while. But what you're actually doing is moving dirt from one place to another and creating a static charge, which attracts more dirt and dust. The pros use a squeegee, and so should you.
Pop out your screens and follow these steps to make your windows sparkle like never before:
Apply hot, soapy water to your windows; then rinse with hot water.
Squeegee it off, using a reverse-S pattern from the top down.
Dry off the edges and the sill with a chamois.
Window Tip #2: Clean the reservoir beneath your screen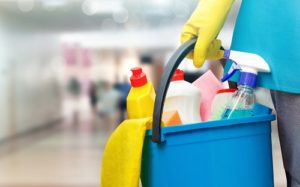 The reservoir beneath your screen is a fantastic dust- and dirt-catcher. You might even find little bug carcasses in there – and you have to get rid of all of them (plus the grime) when you're staging your home to sell, because buyers don't want to see any of it.
Brush away whatever solid debris you can. Then, spray an all-purpose cleaner on the tough spots and either scrape it or scrub it away. (Don't douse it with water, especially if you're upstairs – those reservoirs are built so liquid can flow down the side of your house, and you'll just create a dirty streak.)
Window Tip #3: Repaint the window frame, if necessary
If your window frames have seen better days, repaint them – doing so can transform the look of an entire wall. Make sure you clean and scrape before you paint… or that you hire a professional to come in and perform the work for you. (We vote for the pro, because it'll save you time and effort.)
Window Tip #4: Get rid of outdated or room-darkening window treatments
Buyers love to see bright, open spaces. If you have heavy drapes hanging in your rooms, now may be the perfect time to replace them with something breezy and simple. This is especially important if you feel like your window treatments are outdated, because if they are, they'll contribute to an overall "dated" feeling that buyers get from touring your home. (That's the last thing we want!)
Pro tip: If you're hanging new window treatments, place the curtain rods higher than the window to make it appear bigger.
Window Tip #5: Make sure your windows enhance the space – and that the view is good
Take the time to consider what would make your windows look more appealing. In some cases, placing a small table with a live plant in front of a window works wonders; in others, mounting a mirror opposite a window makes a tremendous visual impact.
Are You Buying or Selling a Home in Scottsdale?
If you're selling your home in Scottsdale, we can help you sell it quickly and at the right price. Using tried-and-true marketing strategies as well as innovative new methods in print, online and other mediums, we'll put your house in front of all the right buyers.
If you're also looking for a new home, check out all Scottsdale golf course homes for sale or take a check out these communities:
You can also check out listings in all Scottsdale's golf communities here.
Don Matheson
REALTOR® | Founder
The Matheson Team – RE/MAX Fine Properties
21000 N. Pima Rd., #100, Scottsdale, AZ 85255
480-405-4228
[email protected]
 [gravityform id="1″ title="false" description="false"]