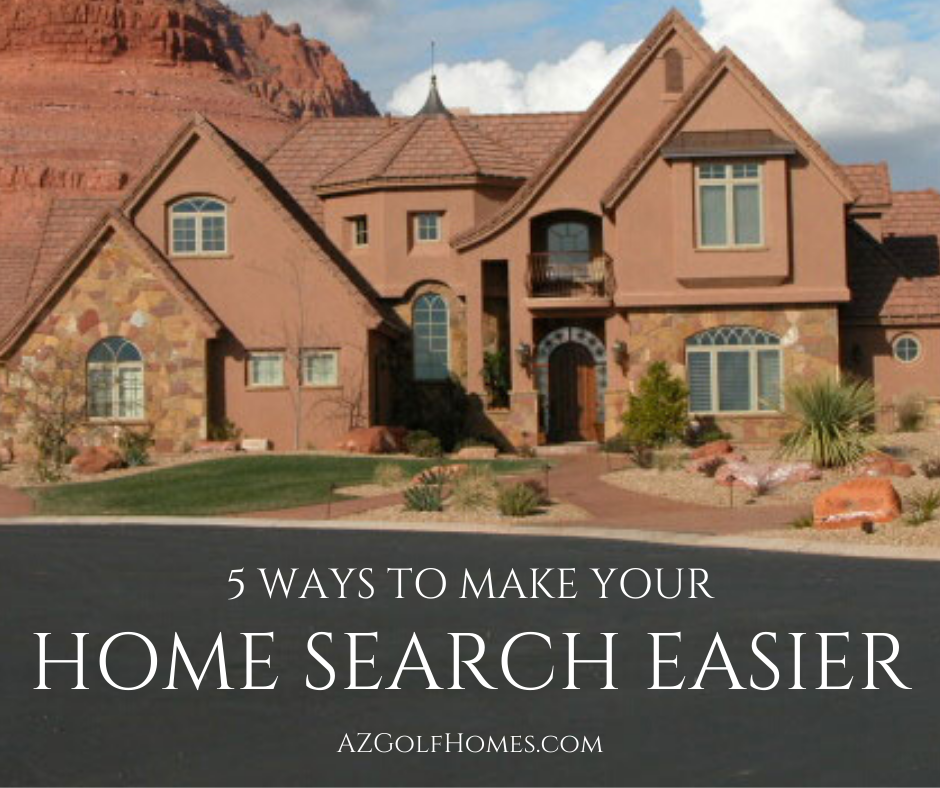 When you're looking for a new home on a golf course in Scottsdale, there's a lot to take in. You've probably spent hours looking at real estate listings online – but what can you do to simplify your search and make buying your dream home easier?
Here's what you need to know, whether you're buying your first home or your tenth.
5 House-Hunting Tips to Make Your Search Easier
Check out these five house-hunting tips to make your search easier:
Get loan preapproval
Find the right REALTOR®
Create a list of must-haves (and must-not-haves)
Zero in on your price range and the right communities
Tour the homes you like
Here's a closer look at each.
#1. Get Loan Preapproval
For most people, the best idea is to get mortgage preapproval first. That'll give you a good starting point for your home search, at least as far as budget goes. (If it's been a while since you've purchased a home, this is definitely worth a reminder – today, most people start searching homes online long before they think about getting preapproved.)
#2. Find the Right REALTOR
Ideally, you'll find a real estate agent who can help you find a new home while concurrently selling your old one. Working with two agents complicates the process – and you'll have to be the go-between for information between both of them.
Related: How to find the right REALTOR to sell your home in Scottsdale
#3. Create a List of Must-Haves (and Must-Not-Haves)
Your list of must-have features is probably different than it was the first time you bought a home. Maybe you're looking for a home with a heated swimming pool, a first-floor master suite or spectacular outdoor living space that includes a kitchen. While you're searching for your dream home in Scottsdale, your "Must-Have" list will likely evolve – and you might even find that some of the features you thought were important aren't as necessary.
You also need a list of things you can't live with. Knowing your deal-breakers before you begin seeing homes in person can help you quite a bit. However, like your "Must-Have" list, this one might change – especially when the items on it are easy cosmetic fixes.
#4. Zero in on Your Price Range and the Right Communities
Talk to your REALTOR about your budget and which communities are most desirable to you. He or she will focus on all the right properties – and you can still continue looking at homes online. Your dream home is out there!
#5. Tour the Homes You Like
When you find a home you like, don't wait – schedule a tour with your agent as soon as you can. The market moves quickly in Scottsdale, which means you don't have time to sit on your laurels.
Are You Selling a Home in Scottsdale?
We can help you sell your home in any golf community in Scottsdale.
While you're here, you can also check out all Scottsdale golf course homes for sale or get in touch with us to tell us what you're looking for.
You can also check out:
Don Matheson
REALTOR® | Founder
The Matheson Team – RE/MAX Fine Properties
21000 N. Pima Rd., #100, Scottsdale, AZ 85255
480-405-4228
Explore Luxury Homes in Scottsdale

$7,995,000
10585 E CRESCENT MOON Drive 44 Scottsdale, Arizona
5 Beds 7 Baths 7,748 SqFt 0.666 Acres
$3,580,000
9820 E THOMPSON PEAK Parkway 604 Scottsdale, Arizona
3 Beds 4.5 Baths 4,195 SqFt 0.670 Acres
$169,900
41682 W WARREN Lane Maricopa, Arizona
3 Beds 2 Baths 2,004 SqFt 0.104 Acres