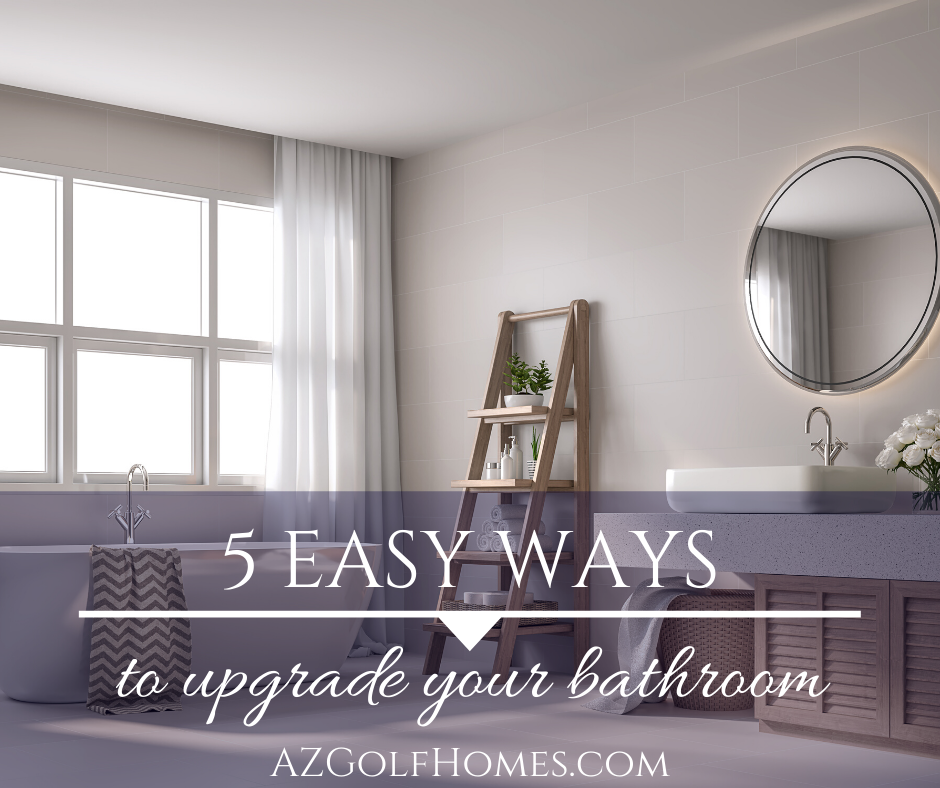 When you're selling your golf course home in Scottsdale, your REALTOR® will talk to you about upgrades and updates you can make so buyers find it more appealing – and some of those tasks will belong in lavatory territory. But before you even list your home, check out these five easy ways to upgrade your bathroom that can help buyers fall in love.
5 Easy Ways to Upgrade Your Bathroom Before You Sell Your Home
If your bathroom is a little dated – or even if it just needs some sprucing up – these five easy ways to upgrade it can make a tremendous difference:
Change the shower rod, curtain and window treatments
Upgrade your faucets, knobs and drawer pulls
Add storage
Up-do your light fixtures
Revive your grout
Let's take a closer look at each.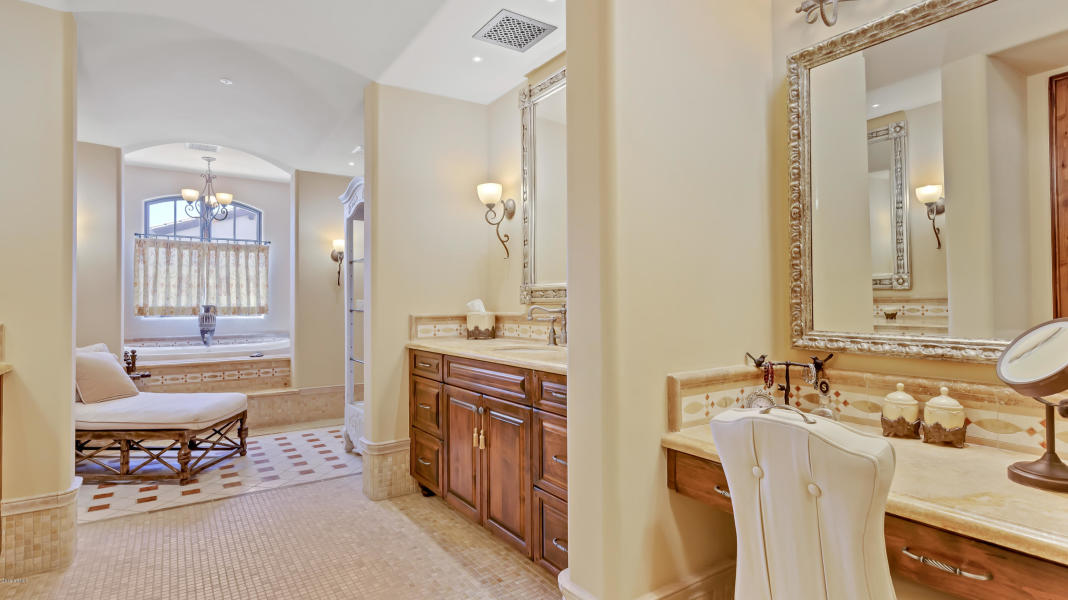 Check out this home at 19946 North 103rd Street
#1. Change the shower rod, curtain and window treatments.
Making minor changes, like updating your shower rod, shower curtain and window treatments, is a basic necessity in nearly any bathroom, and it's a complete DIY project. Choose modern pieces in neutral tones to make your bathroom as appealing as possible to prospective buyers. Check out these tips:
Avoid plastic shower curtains at all costs (not including the liner)
Opt for a textured shower curtain, which provides visual appeal
Don't be afraid of plain white shower curtains, but don't think you have to steer clear of color, either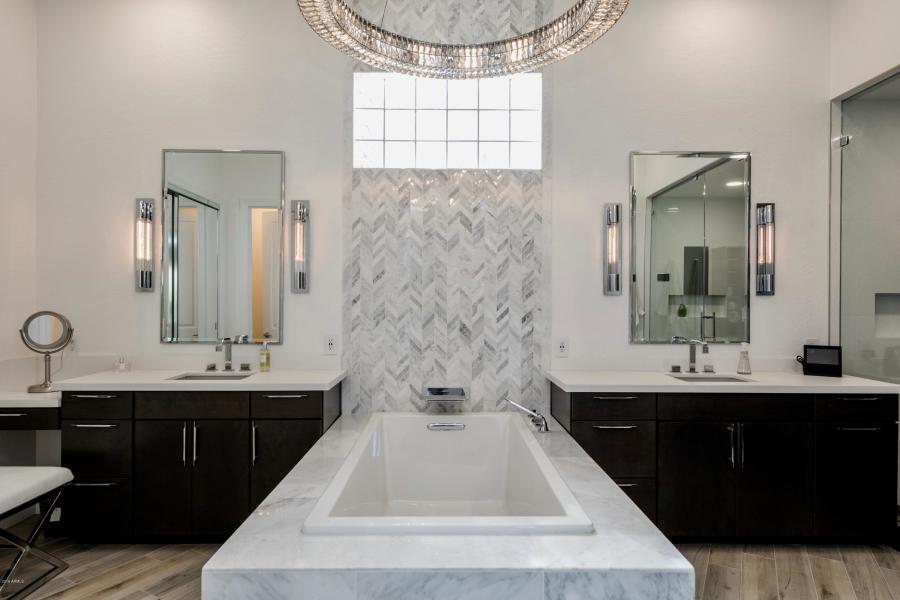 Check out this home at 9290 East Thompson Peak Parkway
#2. Upgrade your faucets, knobs and drawer pulls.
You can add a splash of style to your vanity when you upgrade faucets, knobs and drawer pulls. These three items pack powerful style punches, so although they're little upgrades, they make a big statement to buyers who are considering your home. Check out these tips:
Match your faucets to knobs and drawer pulls
Choose matte black for a sleek, modern look (provided it matches the style of the rest of the room)
Think about replacing your mirror if it's seen better days
#3. Add storage.
Bathroom storage is one of the most sought-after features in modern homes, but surprisingly, most lavatories still don't have enough. Think about adding small pieces, like wicker baskets (the back of the commode might be the ideal spot), to show buyers that they can do it too – and if you have space, consider installing wall shelves or a floor shelf. Check out these tips:
Wicker is a great addition to bathrooms because it adds warmth and textural appeal
Simple wall shelves in common-sense locations (like over the toilet) are great additions
Replacing a cabinet vanity with open shelving can modernize the entire space (but it's a bigger project)
Check out this home at 11280 North 106th Street
#4. Up-do your light fixtures.
Changing out light fixtures is quick and easy for most people, so if yours are dated, it might be worth your while. Opt for new sconces, vanity lighting or overhead lighting to create a stunning impact on prospective buyers. Check out these tips:
If you're adding all-new lighting, bring in an electrician to tackle the wiring
Think about replacing standard light fixtures that come from the ceiling with pendant lights
Upgrade wall sconces and vanity lighting with modern fixtures that match your faucets and drawer pulls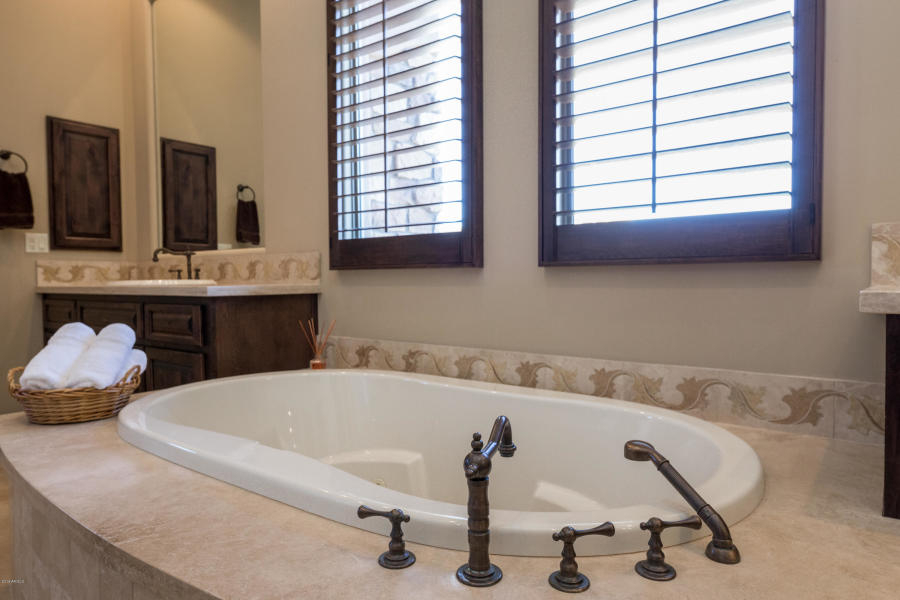 Check out this home at 12163 East Casitas del Rio
#5. Revive your grout.
Over time, grout shows its age – but you can revive it with a few household cleaning products (vinegar, baking soda and bleach are typically the best). Check out these homemade cleaning solutions to use before you scrub your grout with a stiff-bristled brush:
Soak the grout with a 1 part vinegar, 1 part water solution and let it sit for 15 minutes
Pour hydrogen peroxide on the grout and let it soak for 15 minutes
Apply oxygen bleach for up to 15 minutes
Are You Buying or Selling a Luxury Home in Scottsdale?
We can help you find your dream home – or sell your house to move on to the next chapter – in any golf community in Scottsdale. While you're here, you can check out all Scottsdale golf course homes for sale or get in touch with us to tell us what you're looking for.
You can also check out:
Don Matheson
REALTOR® | Founder
The Matheson Team – RE/MAX Fine Properties
21000 N. Pima Rd., #100, Scottsdale, AZ 85255
480-405-4228
Explore Luxury Homes in Scottsdale