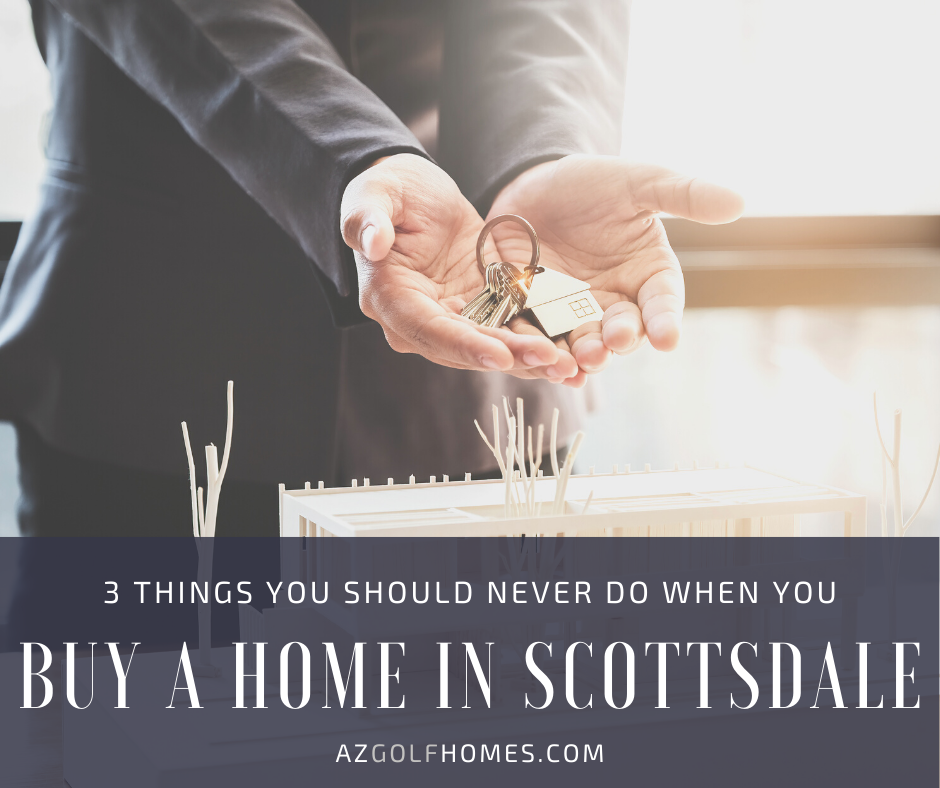 Buying a home is a huge deal – and if you're looking for a golf course home for sale in Scottsdale, you may already know that you have plenty of options. This area has some of the most masterfully crafted golf course homes in Arizona, and people from all over the world choose to live here. But even the most experienced buyers (including those who have bought and sold several homes in the past) can make mistakes, so check out these three things you should never do when you buy a home in Scottsdale.
3 Things You Should NEVER Do When You Buy a Home in Scottsdale
When you're ready to buy a home, the first thing you'll likely do is start looking at available houses online (you can search AZ golf homes for sale here). That's a great way to get the lay of the land, and it's a fantastic first step. After that, though, it's time to get serious and avoid these three mistakes:
House-hunting without a REALTOR®
Talking to only one or two mortgage lenders
Making big purchases before you close
Here's a closer look at each.
Home-Buying Mistake #1: House-Hunting Without a REALTOR
House-hunting without a REALTOR can be a big mistake. First, an agent can help you find the ideal home; they know about houses that are coming to the market soon, as well as about those that are already on the market. Other reasons to work with a knowledgeable REALTOR:
It doesn't cost buyers anything to work with a REALTOR; the seller pays the buyer's agent's commission
Real estate agents are trained in negotiation and can help you get the best deal on a home you're interested in purchasing
Your REALTOR will handle all the legal aspects of your transaction, including filling out and filing all the forms necessary for your transaction to go through
Home-Buying Mistake #2: Talking to Only One or Two Mortgage Lenders
Even if you have a preferred lender you've been working with for years, it pays to talk to more than a few others. That's because not all lenders have the same loan products, and one may have a loan product that's a better fit for you. You may choose to work with a mortgage broker, who can compare different loan products from a variety of lenders, as well.
Home-Buying Mistake #3: Making Big Purchases Before You Close
As you may already know, the last thing you want to do is interrupt the mortgage loan process – but making a major purchase can do just that. It's important that you wait on that new car, a new set of furniture or even a new line of credit until after the ink is dry on your mortgage documents. Any major purchases or new lines of credit can send up red flags that could derail your plans for using a mortgage to buy a golf course home in Arizona.
Are You Buying a Golf Course Home for Sale in Scottsdale?
If you're selling your home and buying another one, call us at 480-405-4228 or fill out the form below to talk to a REALTOR now.
While you're here, you can also check out:
Don Matheson
REALTOR® | Founder
The Matheson Team – RE/MAX Fine Pro