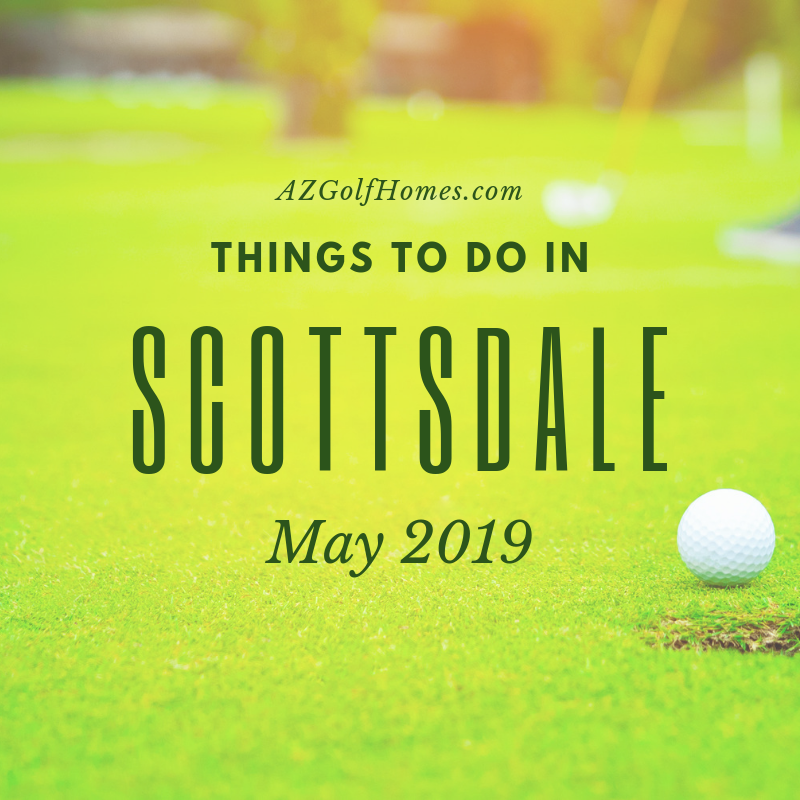 If you're buying a golf course home for sale in Scottsdale, you probably already know that there's always something to do – and May 2019 is no exception. Check out these great events happening in and around town next month.
Things to Do in Scottsdale, May 2019
There are several golf events in Scottsdale this month, as well as community and cultural activities. Check out these lists to plan your fun.
May 2019 Golf Events in Scottsdale
Check out these golf events that are right around the corner:
AZ CPCU 2019 Charity Golf Tournament (May 2)
Holy "Guacamole" Open (May 2)
10th Annual Wingman Open Golf Tournament (May 3)
MCLEF 15th Annual Golf Tournament (May 3)
On Par Golf Networking Troon North May Event (May 8)
The National Invitational at Whisper Rock (May 9)
MM4MISSIONS Golf Tournament (May 10)
37th Annual Big 10 Golf Classic at Troon North (May 11)
20th Annual Charity Golf Tournament Hosted by VABC (May 11)
Drive One for Dane 2019 (May 13)
Scottsdale Adult Open (May 17)
20th Annual Spina Bifida of AZ Charity Golf 2019 (May 17)
Golf for Home – Glow in the Dark Golf Tournament (May 18)
GMES 2019 Golf Tournament (May 18)
Arizona Senior Stroke Play Championship (May 20)
Thunderbird International Junior (May 24)
Scottsdale Events for May 2019
Check out these fun events happening in and around Scottsdale during May:
New Beginnings
Janel Garza: Environ
Davis Circus of Illusion
Spring Butterfly Exhibit
New Beginnings
New Beginnings, a spectacular traveling exhibition that offers a fresh take on Western Art, is making its debut in Scottsdale's Museum of the West. You'll find art by 70 well-known artists, including those who belong to the Taos Society of Artists, as well as numerous artists who were living in the 1920s and 1930s in Santa Fe and Taos who are a bit less-well-known.
Janel Garza: Environ
Janel Garza: Environ is the new mural at SMoCA. It reflects features directly surrounding the space in the courtyard, and every aspect of the inner courtyard serves as the perfect complement. While you're there viewing Environ, you can go in and check out a series of new and existing exhibits, including "Now Playing: Video 1999 – 2019," a fabulous peek at video art from the past 20 years.
Davis Circus of Illusion
Davis Circus of Illusion has two shows in May – the 4th and the 18th – where you can enjoy spectacular tricks, balance acts, juggling, magic and hilarious comedy. The show, which plays at the theater at Cattle Track, is a must-see and only lasts through August, so there's not much time left to catch it while it's here.
Spring Butterfly Exhibit
The Spring Butterfly Exhibit at Desert Botanical Garden doesn't last long – many of the butterflies will be hatched and on their way by the end of the month. However, right now, hundreds of butterflies native to the area are currently on display and in the caterpillar nursery.
Are You Selling Your Home in Scottsdale?
If you're selling your home in Scottsdale, we can help you sell it quickly and at the right price. Using tried-and-true marketing strategies as well as innovative new methods in print, online and other mediums, we'll put your house in front of all the right buyers.
If you're also looking for a new home, check out all Scottsdale golf homes for sale or take a deep-dive in these communities:
You can also check out listings in all Scottsdale's golf communities here.
Don Matheson
Realtor | Founder
The Matheson Team – RE/MAX Fine Properties
21000 N. Pima Rd., #100, Scottsdale, AZ 85255
480-405-4228
[email protected]
[gravityform id="1″ title="false" description="false"]