Can you buy or sell a home while social distancing?
Absolutely.
Here's what you need to know.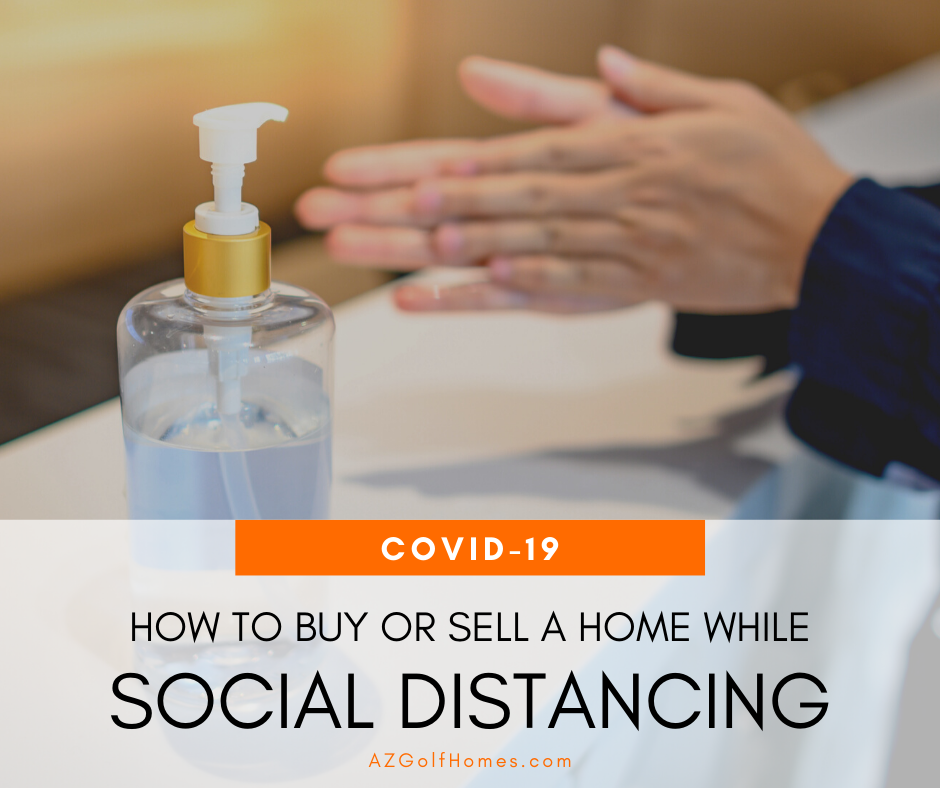 Buying or Selling a Home While Social Distancing
Buyers and sellers aren't letting social distancing guidelines keep them from diving into real estate transactions – and they're doing it all safely, too.
Home-listing site Zillow recently said it saw a nearly 200 percent increase in the creation of 3D home tours in one week when compared to the number created in February, which is a great indicator of people still ready to buy and sell across Scottsdale (and beyond). Likewise, digital lockbox services that let people tour homes on their own have seen massive upticks in usage.
The bottom line is that the real estate market hasn't stopped. People still need to buy and sell, whether they're transferring for work or have been waiting to buy – and the best Scottsdale REALTORS® are stepping up and making it happen. Only now, temporarily, a lot of transactions are moving online to keep people safe.
Add in dropping interest rates and you have the perfect time to buy or sell, according to many experts. With rates coming down the way they have, there may be a homebuying surge – and agents still need to make sure people can see their listings.
Finally, people who are buying and selling now seem to be more serious about completing transactions – the "tire-kickers" and people who are "just browsing" aren't coming out as much as they were even a few months ago, in the off-season.
An increasing number of people are even making offers on homes they've never been in. And while that's always happened, it's happening with increasing frequency now.
But here's what you need to know about staying safe while you see homes – or when you're showing your home – during the coronavirus pandemic.
3 Ways to Stay Safe in a Real Estate Transaction During the COVID-19 Pandemic
There are plenty of precautions you can take during the coronavirus pandemic while still moving forward with a real estate transaction. You can expect your real estate agent to take precautions, too.
COVID-19 Safety Tips for Homebuyers
If you're touring homes while following social distancing guidelines, here's what you can do:
Ask your real estate agent for a video tour. He or she can walk you through the home virtually – and answer your questions or show you more detail in real-time.
Drive your own car to home tours, and don't touch anything when you're seeing a house in person. If you're going to touch things, wear gloves – and certainly wash your hands (or use alcohol-based hand sanitizer) when you leave.
Limit your tour to two people – don't bring your whole family. Only key decision-makers should come along to minimize everyone's risk for exposure when touring a home.
COVID-19 Safety Tips for Home-Sellers
If you're selling your home, use these tips to keep your space safe when people come to check it out:
Leave your interior doors open when you leave the house. That way, people won't have to touch your door handles on tours – they'll just be able to walk from room to room.
Keep hand sanitizer at the entryway, if you can, and make hand-pump soap available at every sink. If you don't have sanitizer, that's okay; if you do, it's a nice touch.
Disinfect surfaces, especially doorknobs and handles, when you come back home after someone has toured your house. In fact, make that the first order of business – leave your family and pets in the car while you sweep through the house to hit all the hot spots.
Are You Buying or Selling a Golf Course Home in Scottsdale?
If you're buying or selling, we are always here to help you. Our agents are taking all the proper precautions to keep our clients safe – and we can help you through every aspect of a real estate transaction, from walking through homes while you're on Skype or FaceTime to explaining how you can keep your home clean and sanitized for showings.
Call us right now at 480-405-4228 or get in touch with us online to schedule a consultation with a Scottsdale REALTOR now.
While you're here, you can also check out:
Don Matheson
REALTOR® | Founder
The Matheson Team – RE/MAX Fine Properties
21000 N. Pima Rd., #100, Scottsdale, AZ 85255
480-405-4228
Explore Luxury Homes in Scottsdale

$7,995,000
10585 E CRESCENT MOON Drive 44 Scottsdale, Arizona
5 Beds 7 Baths 7,748 SqFt 0.666 Acres
$3,580,000
9820 E THOMPSON PEAK Parkway 604 Scottsdale, Arizona
3 Beds 4.5 Baths 4,195 SqFt 0.670 Acres
$169,900
41682 W WARREN Lane Maricopa, Arizona
3 Beds 2 Baths 2,004 SqFt 0.104 Acres