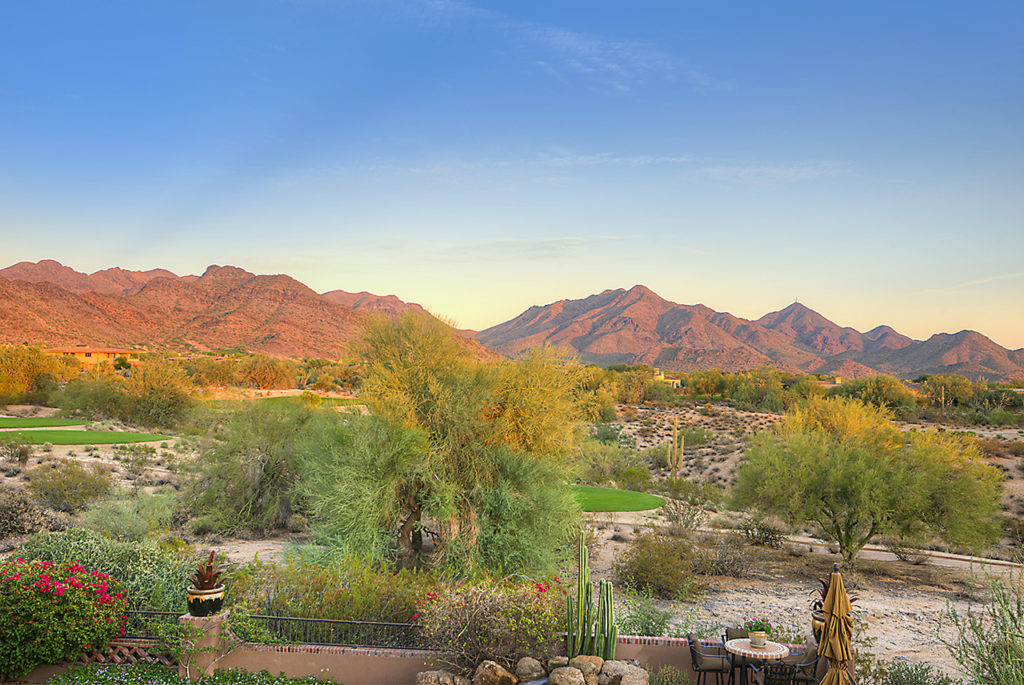 If you're like many people searching for golf course homes for sale in Ancala, Desert Highlands, Kierland or a similar community, you're looking at your financing options – and a VA loan might be one of them.
But what is a VA loan, who's eligible for it, and how does it work?
What is a VA Loan?
If you're a veteran or active-duty member of the U.S. Armed Forces, or if you're the dependent of a qualifying member, you could be eligible for a VA loan.
Although these loans aren't made by the Department of Veterans Affairs, they are backed by them – and that typically allows lenders to offer buyers more favorable terms than they ordinarily would. These loans come from private lenders, and the VA guarantees a portion of them by telling lenders that if you can't make your payments, the lender can ask the VA to cover its losses.
Even if you've had a hard time getting conventional financing, a VA loan could be a game-changer for you.
What Can You Use a VA Loan to Buy?
You can use your VA loan benefit on a single-family home or condominium, or to build a home in the community of your choice.
Benefits of VA Loans
If you qualify for a VA loan, you'll be able to take advantage of the benefits designed to turn veterans and service members into homeowners, such as:
No down payment, as long as the home's sale price doesn't exceed its appraised value
No private mortgage insurance premiums, or PMI, which you ordinarily have to pay when you aren't giving your lender a 20% down payment on your mortgage loan
Limited closing costs that can be paid by sellers
No early repayment penalties
Help making payments if you run into difficulty down the road
What is the Maximum Loan Amount on a VA Loan?
There's no maximum loan amount on a VA loan, but the VA does limit how much it will guarantee. The current limit is $417,000 in most of the U.S., although it does vary based on an area's cost of living.
What is the Maximum Debt-to-Income Ratio on a VA Loan?
There's no maximum debt-to-income, or DTI ratio on a VA loan. However, the lender does have to provide the VA with compensating factors if your DTI exceeds 41 percent.
What is the Minimum Credit Score Required for a VA Loan?
Although these loans come from private lenders that have minimum credit score requirements, lenders aren't allowed to make a lending decision based solely on your credit score. Instead, a lender has to look at your entire loan profile when making a lending decision.
The VA has no minimum credit score requirement for loans it will guarantee.
Who is Eligible for VA Loans?
The Department of Veterans Affairs maintains a complete list of who's eligible for these types of loans based on the service member's affiliation and duration of service here. Generally speaking, if you were discharged under honorable conditions and you served the minimum amount of time required for the era in which you served, you should be eligible for a VA loan. Also eligible:
Current active-duty personnel
Some reservists and Guardsmen
Un-remarried spouse of a veteran who died while in service or from a service-connected disability, prisoner of war, or a recipient of Dependency and Indemnity Compensation benefits
Spouse of a veteran
Some U.S. citizens who served in allied forces during World War II
Members of some organizations, such as cadets and midshipmen at the U.S. military academies or some Public Health Service officers
If you think you may be eligible for a VA loan, you'll need a Certificate of Eligibility from the VA. Bring your certificate to your lender before you apply for a loan so you can claim your benefit.
Are You Buying a Golf Course Home in Scottsdale?
If you're looking for your dream home in one of Scottsdale's premier golf communities, we're here to help.
Call us at 480-405-4228 or contact us online to talk about what you need. We'll start searching right away.
In the meantime, check out all our real estate listings in golf communities, or our:
Don Matheson
Realtor | Founder
The Matheson Team – RE/MAX Fine Properties
21000 N. Pima Rd., #100, Scottsdale, AZ 85255
480-405-4228 
[email protected]