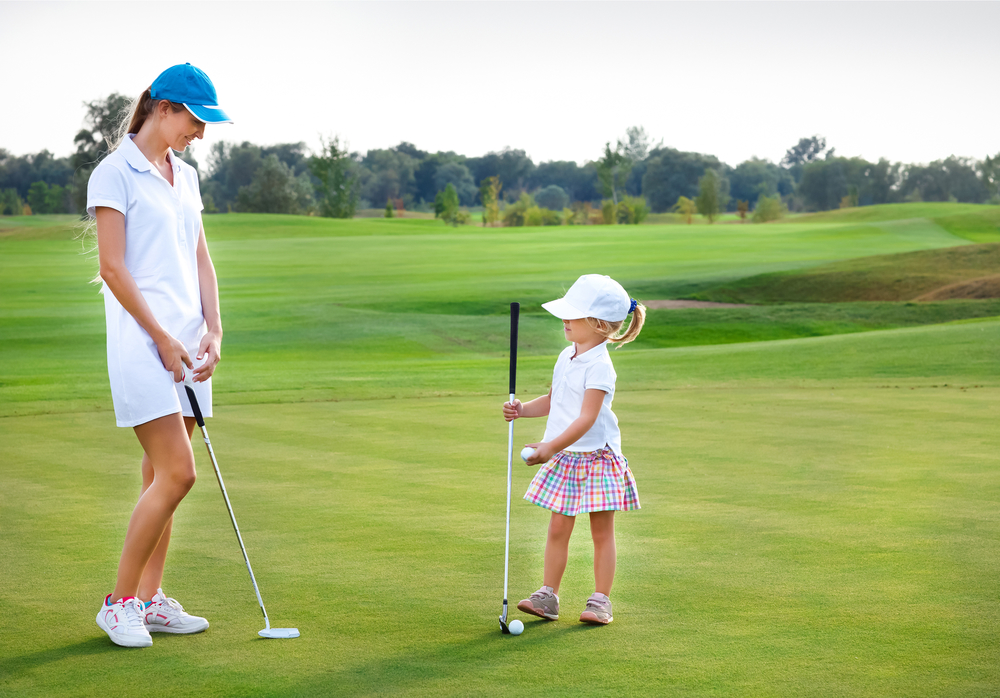 We've all heard that learning sports young can be incredibly beneficial for children. It helps them learn coordination, motor skills, sportsmanship, social interaction, and a number of other essential aspects of development.
Proving that you're really never too young to boost development and start playing golf in Arizona, the Junior Golf Association of Arizona (JGAA) is hosting the 2016 Itty Bitty Open on January 16, 2016.
The Itty Bitty Open is for kids three to five years old and will be held at 15 different golf courses across the Valley. The free event will run during three different time slots on January 16, allowing in as many youngsters as possible. The junior golfers are required to bring with them an adult "caddy," but you are asked to leave any clubs or equipment at home.
Together, the golfing pair get a brief lesson from a PGA or LPGA pro, followed by non-competitive golf games and tournaments. Mini-golfers will get their own set of plastic clubs, balls, a bag, and visor to play with during the tournament and take home.
Scott McNevin, Executive Director of the JGAA, is excited to help parents introduce golf to their children, and enjoys thinking that a three-year-old may be introduced to golf through this program and could then continue playing for decades. "We're honored to help them begin that journey," McNevin commented.
This adorable tournament would not be possible without sponsorships: along with the JGAA, The Phoenix Parks & Recreation Department and The Thunderbirds have stepped up to the tee to help. The Thunderbirds are big proponents of golf in Arizona and are involved in many golf tournaments and events, including the upcoming Waste Management Phoenix Open.
In addition to the clinic, tournament, and clubs, golfers will receive a congratulatory letter, a trophy and two tickets to the R.S. Hoyt Dream Day Activities at the Waste Management Phoenix Open. Kids can attend the event at no charge whether they participate in the Itty Bitty Open or not, so the tickets can be passed on to adults. This event will be at the TPC on Tuesday, February 2 at 10 am and features speeches by PGA TOUR Pros, a trick shot show, and a junior golf clinic.
Locations for the Itty Biity Open are spread out across the Valley, from Scottsdale Ranch Park (near the Gainey Ranch, McCormick Ranch and Ancala Arizona golf communities) to Tempe Kiwanis Park, Pecos Park in Phoenix, and Surprise Stadium. The multiple locations and times really open up golf in Arizona to just about anyone.
Know a potential little golfer who could take advantage of this opportunity? Registration is open online until January 11th, and you can also call (602) 944-6168 to check availability.
Don Matheson
Realtor | Founder
The Matheson Team – RE/MAX Fine Properties
21000 N. Pima Rd., #100, Scottsdale, AZ 85255
480-405-4228 
don@azgolfhomes.com