Dining in Scottsdale restaurants is about more than just good food and fine wine. The city has become a tourist hot spot known for supreme golf courses, sprawling Scottsdale golf homes, world-class shopping, and an eclectic mix of never-ending dining options. So what's trending in Scottsdale restaurants these days?
Wide, open spaces with sleek minimalist design has become a familiar décor option in many restaurants. Not just because it's the design trend of the time, but it can also be cost effective and eco-friendly to use elements like reclaimed wood, cements floors, Edison light bulbs and re-purposed wine bottles as glasses.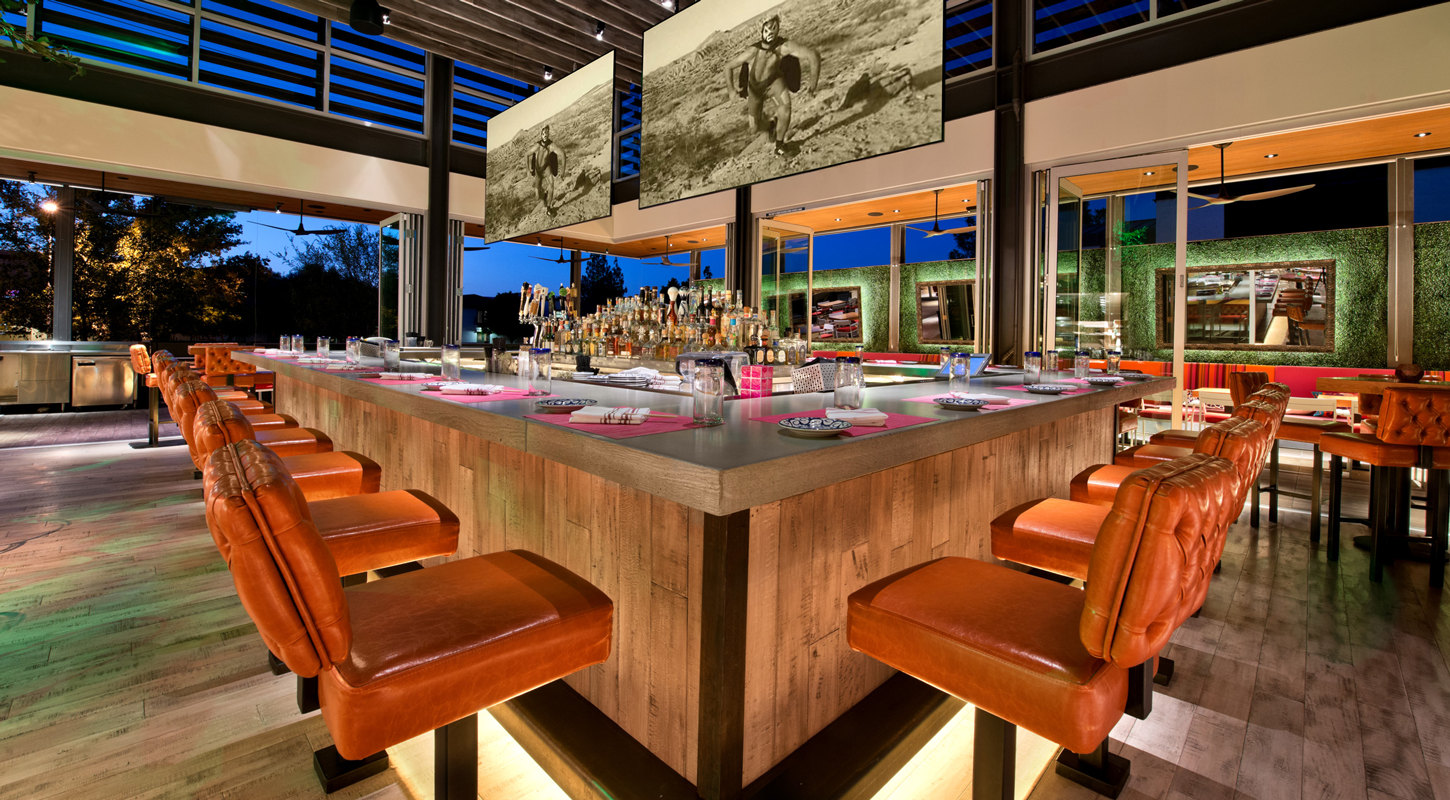 Last fall we told you about the new Boulders Resort remodel and design plan for the Palo Verde restaurant. The restaurant has been unveiled and stayed true to its intention and the light, bright, and clean trend. Clean, white plaster adorns the walls while geometric parquet wood sprawls underfoot. The seating is more open than before, with picture windows bringing in the great outside views of the golf course, pond and gardens. The windows also help blend the popular patio area with the interior restaurant.
Another example of this minimalist design approach is the new BLK Live. The open seating with cement table tops, iron stools and open lighting fixtures are the exact example of the industrial chic style.
The healthy food movement is not going away any time soon, thus it's hard to even call it a trend anymore. Down town Scottsdale Restaurants like the Farm + Craft and Chophouse are capitalizing on the interest. Farm + Craft recently took over the Stingray Sushi location on Sixth Avenue and Scottsdale Road. So you might say the sushi trend is on it's way out, at least the sushi place on every corner trend, not the delicious fresh seafood that has been popular across the world for decades.
Not only does Farm + Craft promote a healthy menu full of gluten-free, organic and vegetarian options, but it's also quick and casual during the weekdays, catering to the working person on the go. Of course on evenings and weekends you can dine on the probiotic salad or rustic farm bowl and linger over the hormone-free, anti-inflammatory food just like a more traditional restaurant dining experience.
Then there's the international fusion trend, combining different cultures' flavors to create something unique and not so traditional. SumoMaya on Scottsdale Road, near Gainey Ranch and McCormick Ranch communities, is a prime example. This restaurant brings together the distinct tastes and spices of Mexican and Asian food, served in the Mediterranean tapas (small plates) style. Tons of fresh seafood, ceviches, rolls, ramen and grilled land roamers fill the eclectic menu.
So whether you're trying to please a large group with multiple flavors, or looking for an open and modern dining experience, Scottsdale restaurants stay on top of the trends. What's not to love about living amidst the trends? Several Arizona golf communities also boast award-wining restaurants and dining experiences. Contact The Matheson Team to find out which community offers the best amenities and location for you!
Don Matheson
Realtor | Founder
The Matheson Team – RE/MAX Fine Properties
21000 N. Pima Rd., #100, Scottsdale, AZ 85255
480-405-4228 
don@azgolfhomes.com