With temperatures high, it's nice to have options for complete, cool entertainment. The new BLK Live at the Scottsdale Airpark is a perfect stop for a drink, a dip, a concert, or a pseudo-vacation getaway (for a few hours).
You may remember the BLK Live space as El Santo Cantina in its previous life. Then California-based Skydoor Restaurants and Entertainment came in and created the 20,000 square foot "casual yet sophisticated" restaurant; however, it's not just a restaurant.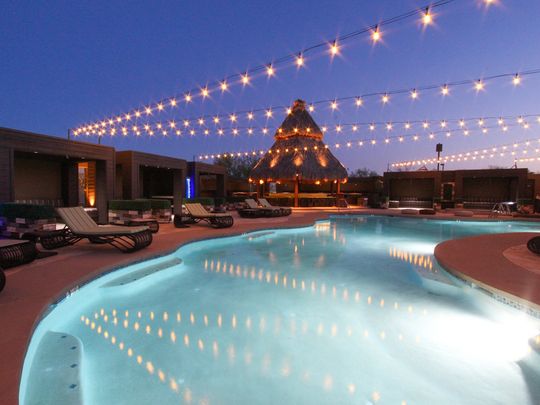 Across the almost half-acre complex you can dine in the restaurant, sip a drink on the patio, pull up a stool at the palapa-covered bar, go for swim in the pool, layout in a private cabana, or take in a concert. The sweet sounds of live music extend to the dining room and poolside on weekends. BLK Live may very well become the hangout for those dreaming of an island getaway.
When you step inside the venue you'll notice the simple, modern décor sometimes known as industrial chic with wood planks, galvanized steel, and deconstructed lighting. The décor centers around the musical artwork adorning the walls. Icons like Jimi Hendrix, Janis Joplin, Jim Morrison, and David Bowie are realistically airbrushed onto acrylic and backlit, aiding in a moody glow.
What to order? The new kid in town's name actually refers to the premium quality meat that comes from black Wagyu cattle, so you can expect some select cuts of the good stuff. Choose from hand-cut Kobe steak, Akaushi steak, half-pound filet, and home-style meatloaf. Other land roamers like friend chicken, pork belly, and frog legs can also be found, as well as some fresh catches like scallops, calamari, and coconut shrimp. Top things off with a cronut or S'more sphere (with bourbon caramel glaze) and you'd got yourself a complete, mouthwatering meal.
While this seems like an adults-only type of place, and most of the time it probably will be, there are some family friendly events planned. Friday Family Funday features a kid-friendly pool party with a special menu and music to be enjoyed by all. Other weekly entertainment events include live band karaoke Wednesdays and rotating bands and DJs on the weekends.
If you're looking for a laid back place to sip your sangria in peace, BLK Live probably isn't the place for you. If you're in the mood for a tasty Kobe burger, some good rock and roll music and a refreshing drink or two, try it out. Especially great for those in nearby Arizona golf communities like Kierland, Grawyhawk and Gainey Ranch.
Scottsdale is certainly not lacking in the restaurant and bar scene – one of the many reasons Arizonans choose Scottsdale golf homes. If you're looking to be part of the action or just want to live within walking distance of some great food and good golf, browse through golf course homes for sale in Scottsdale AZ and contact The Matheson Team to help you find the perfect place.
Don Matheson
Realtor | Founder
The Matheson Team – RE/MAX Fine Properties
21000 N. Pima Rd., #100, Scottsdale, AZ 85255
480-405-4228 
don@azgolfhomes.com