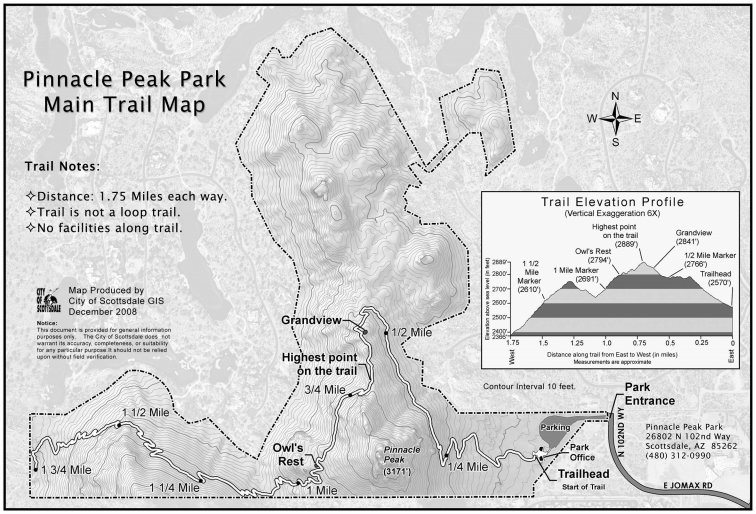 Pinnacle Peak is a spectacular part of Scottsdale's backdrop, and its 1.75-mile (one way) trail allows you to hike to the top, get great views of the city below, and enjoy a cool afternoon breeze when you just want to get away from it all.
(Looking for a home with an amazing, panoramic view of Troon Mountain and Pinnacle Peak? Check out 11181 East Desert Troon Lane for sale  in Scottsdale.)
Hiking to Pinnacle Peak
Pinnacle Peak Park is the perfect place to soak in the beautiful views that only Arizona has. From the top, you'll be able to get great views of nearby Troon Mountain, too. The park is home to several events, including interpretive tours, moonlight walks and astronomy talks, making it the ideal getaway when you want a quick, fairly easy hike.
Amenities at Pinnacle Peak
The trailhead at Pinnacle Peak park has all kinds of informational materials, and you'll find interpretive displays all along the trail itself. It also features:
Restrooms and drinking fountains
Rock climbing routes
A large, paved parking lot with motorcycle spots
A bike rack (you're not allowed to ride a bicycle on the trail – no dogs, either!)
Four picnic tables and a shade ramada
If you have the right gear and you're comfortable with rock climbing, there are three areas of the park designated just for you.
If you want to bicycle or bring your four-legged family member, check out the nearby Brown's Ranch Trail.
More Info on Hiking Pinnacle Peak
The trail is moderate difficulty – it's easier than Camelback Mountain and Piestawa Peak. It's 1.75 miles over to the west end, and 1.75 miles back (although you can go to the gate on Jomax, which is 2 miles each way).
It's an over-and-back trail, not a loop trail, so you'll have to turn around when you hit the end. It usually takes people an hour and a half or two hours to complete the whole trail, but individual fitness levels vary, so set your own pace.
There aren't any restrooms beyond the trailhead, and you'll want to bring your own water (the drinking fountains are at the trailhead, too).
The trailhead's elevation is at 2,570 feet, and the highest point on the trail is 2,889 feet. You'll gain about 1,300 feet over the course of your hike.
Wildlife
If you go at the right time, you'll see all kinds of wildlife native to the Sonoran Desert, including:
Desert tortoises
Rattlesnakes
Gila monsters
Coyotes
Gray foxes
Mule deer
Javelina
Bobcats
Are You Searching for a Golf Course Home in Scottsdale?
We can help you find the perfect golf course home for sale in Scottsdale (or any other home). Check out:
Don Matheson
Realtor | Founder
The Matheson Team – RE/MAX Fine Properties
21000 N. Pima Rd., #100, Scottsdale, AZ 85255
480-405-4228 
[email protected]
[gravityform id="1″ title="false" description="false"]